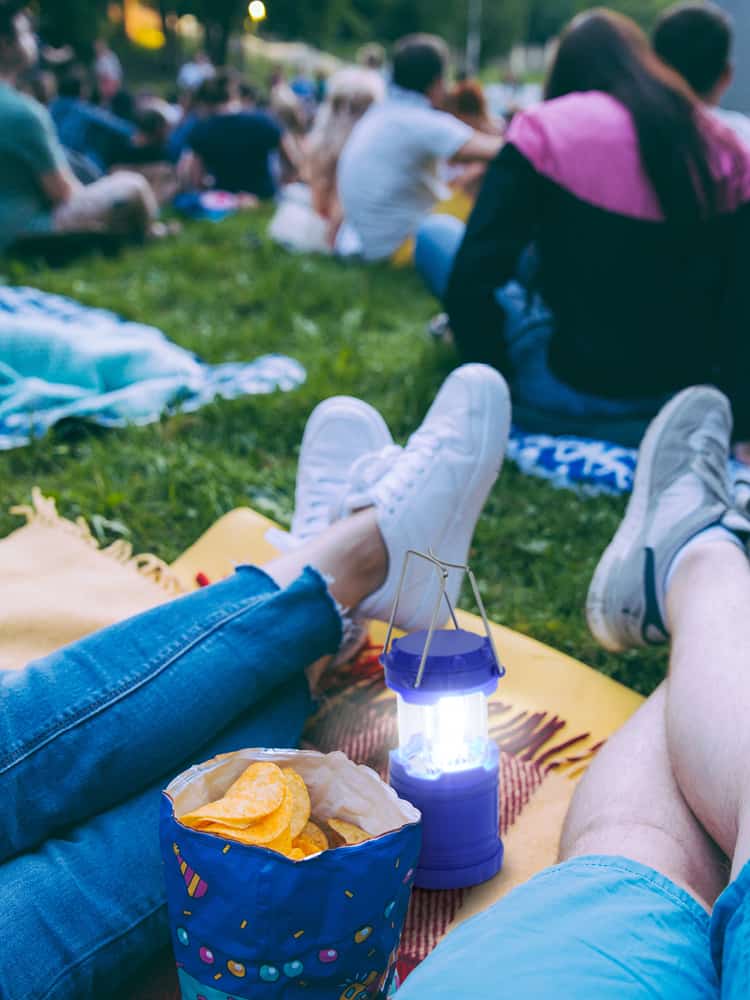 Trend
How to make your outdoor gathering pop with event gifts
Keep them safe
Get everyone weather-ready
Take care of tech needs
Turn drinkware into wins
Make the most of night events
While get-togethers and the outdoors have always made a great pair, over the last year, outdoor events have become more common—and more popular—than ever. In fact, among 2021 event trends, outdoor events are expected to play a role in those that are wellness-themed and those hosted at non-traditional venues. And at many of these gatherings, branded event gifts are on the invitation list. Not only can they keep your organization top of mind, but also they can help ensure your event runs smoothly.
The Inteplast Group in Lolita, Texas, is a great example of how event gifts do double duty. The company gives away a flashlight with carabiner at their employee safety events to accomplish multiple goals—including supporting its safety theme. "Employees use them in many different ways, including putting them on their keychain for quick and easy access," Administrative Assistant Stephanie Escamilla said. "[They] also instill a lot of excitement and generate strong attendance as everyone always enjoys these very useful items."
Even hosting the events outdoors adds to the overall theme of these safety trainings. "We rent very large tents and gather outside [and] we promote many aspects of safety: PPE, guarding, training, etc.," Escamilla said. "Having the event outdoors removes attendance restrictions and always creates a fun, healthy experience for our employees. [Our promotional products] are associated with a safety event and often branded with our safety graphics—every time they pick them up in the future will serve as a reminder to be safe at home and at work."
If you're planning an outdoor gathering, these tips and promo products can help take your event to the next level—and share your brand well into the future.
Tip #1: Keep them safe
While outdoor events may bring to mind barbecues and sunshine, they also create a number of safety considerations—even when pandemics aren't part of the equation. To keep your visitors safe from sun, stings and germs, give everyone a goodie box filled with event promotional products, including:
Your guests will appreciate the gesture and remember you with each use.
Tip #2: Get everyone weather-ready
If your gathering is going to happen "rain or shine," it's a good idea to get everyone ready no matter what the weather forecast.
Preparing your staff and guests to spend the day in the sun by giving them a moisture-wicking polo shirt is a win-win. Its breathable fabric will help keep their bodies cool in the high heat and will dry out quickly after an unexpected rain shower.
Finding items that can be used in both weather scenarios is important and helps make the most of an event budget. Take umbrellas, for example—having these on hand for a potential rain shower is a smart choice for an outdoor event. But the promo item can also be used to provide a much-needed reprieve from direct sun rays.
Tip #3: Take care of tech needs
At any event, staff and customers alike often share their experiences on social media. But using tech outdoors often means battery life may drain before the event is over.
Power up event staff and visitors—and keep your online visibility going all day—by giving away power banks. Include an event-specific hashtag with the event gift and ask participants to tag your organization when they post for extra social reach.
Keep phones charged during events with this custom power bank.
Tip #4: Turn drinkware into wins
With the sun high in the sky, people are going to consume plenty of beverages throughout the day—making drinkware a go-to event promotional product. Serving drinks in a reusable stadium cup or water bottle will help keep attendees hydrated while providing event wins for you:
You'll cut down on cleanup time and garbage removal costs by giving a gift they can take with them.
Because the cups and bottles are plastic, you won't have to worry about glass shattering if dropped.
The cups can also serve as a fundraising win—sell the cups for a discount on drinks.
Tip #5: Make the most of after-dark events
When the stars come out, event gifts can be used for safety, fun and awareness. For example, a Mini COB Pop-Up Lantern can serve as a decoration that lights the way and makes a great end-of-night door prize. Or a Pocket LED Flashlight can be used to help visitors get around safely or play an epic game of flashlight tag.
Communities That Care in Saratoga Springs, Utah, participates in several summer outdoor events. The organization's volunteers help youth make better life decisions by building connections with their families, schools, communities and peer groups. Communities That Care discovered that giving away a picnic blanket at events allowed it to check off several boxes—the blanket attracted attention, helped people enjoy the event, and shared the organization's message.
Monday Fundays, one of the community's summer events, features a different theme every week. And each week, the organization raffled off a branded blanket that encouraged people to visit their booth, while helping families enjoy current and future events all summer long.
"We've had everything from Kite Night to concerts to an evening covering bicycle safety," Coordinator Caryn Nielsen said. "It encourages them to get outside together. It's the perfect place to sit and have a family meal with the dinner they just got from the food trucks." Of course, the blankets can also make the event more comfortable in other ways, helping visitors to keep warm during a chilly evening.
Fresh-air events
When it comes to creating a memorable gathering, event gifts keeps on giving—on the day of the event and for many days to come.
Looking for more information about this topic? Email [email protected] with inquiries.
Nike is a registered trademark of Nike, Inc. CORPORATION OREGON One Bowerman Drive Beaverton OREGON 97005