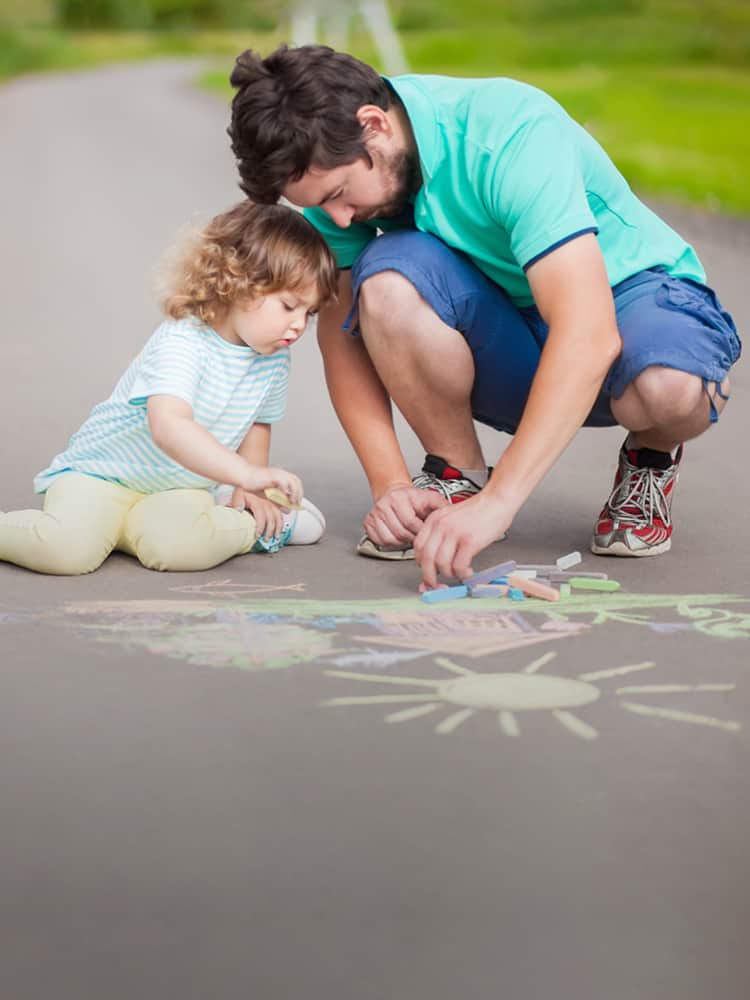 Lasting Impressions
Ideas for how to plan amazing family-friendly community events
Know what you want to achieve
Pick and prepare the proper place
Offer flexible opportunities
Market where families will find it
Reflect and prepare for the next event
When many of the 2020 community events in Perry, Georgia, had to be cancelled due to COVID-19, city event planners knew they wanted to find a way to bring people together—even if that meant keeping them separate. So they took one of their popular community event ideas and found a way to reinvent it.
"What was supposed to happen was an event called Art in the Park, which was going to take place in May," Special Events Manager Anya Turpin said. "It usually has vendors and interactive children's activities."
The new event they created—My Colorful Community—took a twist on the artsy gathering and built an event so successful they brought the family-friendly event back again and again.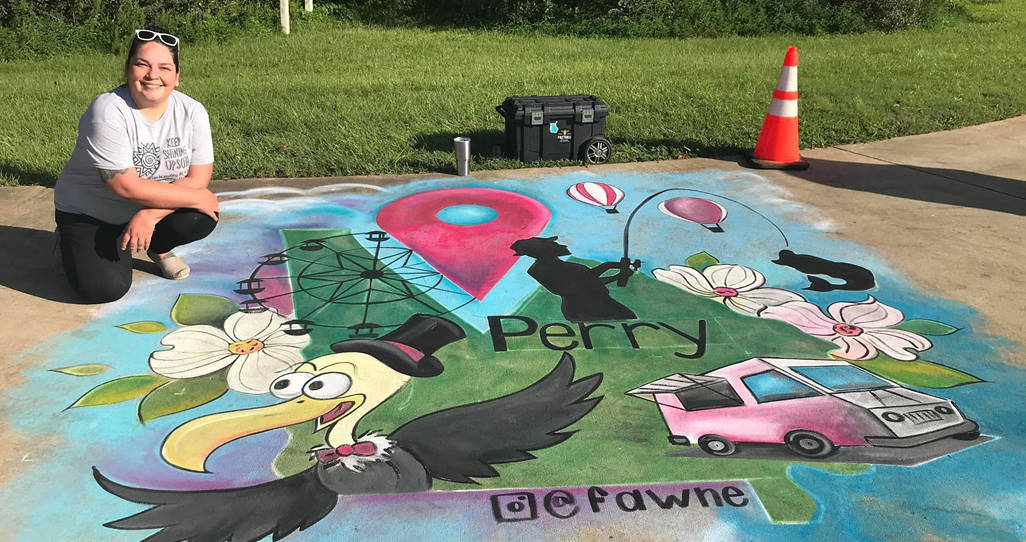 If you're looking for event inspiration and helpful tips, here is how you can build a successful gathering of your own.
Tip #1: Know what you want to achieve
The first step of a new—or reimagined—event is knowing what you want to achieve:
Welcoming new people to your community or organization
Providing training or education
Engaging individuals and family
Once you have your goals in place, event planning is much easier. 
For Perry, it was about bringing the community together while still keeping social distancing and other safety measures in mind. The result was an event that allowed people to work together, separately. The planners gave everyone an apron with pouches. They filled one of the pouches with chalk and directions on how and where to use it.
Tie them to your business with this customized apron.
Bring the community together with this fun promotion. 
Over a three-day period, "children of all ages" were invited to use their chalk event promotional items, select a rectangle on a local trail and use that as their canvas. The artists were then encouraged to take a walk along the rest of the trail to check out everyone else's creations.
Tip #2: Pick the perfect spot
For Perry, a socially distanced park was the ideal gathering place. "We knew our parks were one of the safe spaces that people were still going to, where they could use the trails and hang out in the green spaces with their family," Turpin said.
When selecting your venue, consider the following:
Ease of access: Pick a location that's simple to find and accessible for people of different abilities and mobilities.
Parking options: Make sure there is plenty of parking space available based on your expected turnout.
Signage: Ensure people can find your event, the first-aid station and the bathrooms. Make sure to label important places and consider handing out a map. 
Tip #3: Offer flexible opportunities
When it comes to community event ideas, it's important to remember that "communities" can include people from 9 days to 99+ years old—and they all have different needs. Perry's event not only offered a flexible schedule for participation, but it was easy for people to take the fun home—or anywhere else in the community.
While some families took the chalk home and drew in their driveway, the second art opportunity used event promotional items to encourage people to take their art everywhere. 
"In the other pocket of the apron, we gave everyone a rock and some paint so they could decorate it and then hide it so someone else could find it," Turpin said.
The project had long-reaching effects. "We had rocks showing up months later because someone had just found one or had re-hidden one and someone found it. We found a lot of COVID-related messages like, 'Hang in there' or 'Things will get better.'"

Tip #4: Promote where people hang out
Of course, a great event won't draw much of a crowd if people aren't aware of it. And it's not just enough to announce it—you have to convince people it's going to be worth their time.
To ensure your gathering pulls people in: 
Pick the right promotional channels: Because they wanted to capture people throughout the community, Perry used a combination of marketing tools, including traditional media and social media posts to ensure as many people as possible knew about the event.
Perfect your message: Determine what will appeal to your target audience. For Perry, it was socially distanced fun, free art supplies, and an open timeframe that worked for families on a variety of schedules. 
Perry's Facebook® event post caught even more attention during the event, with families sharing pictures and videos of their chalk and rock-painting creations.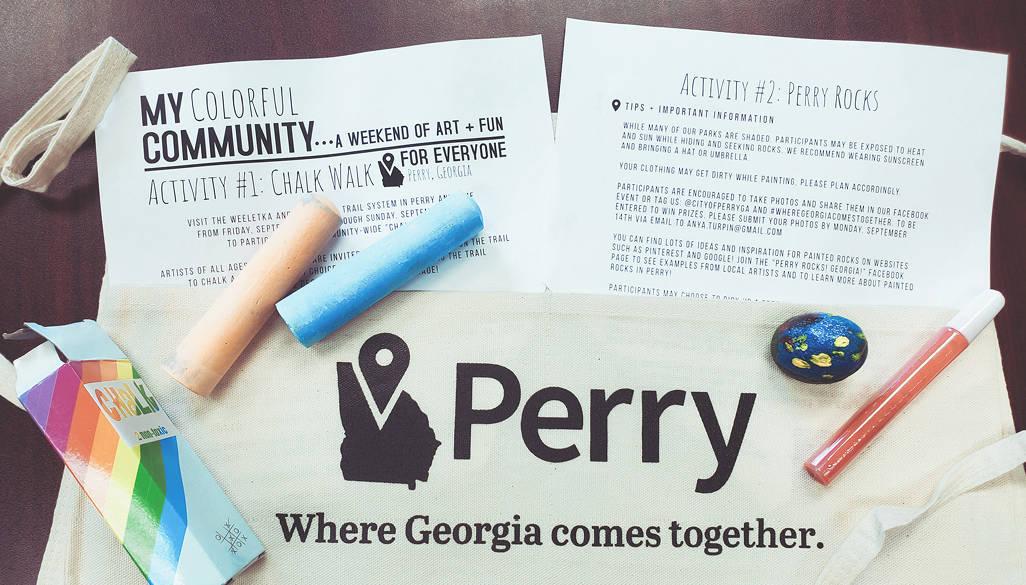 Tip #5: Reflect and prepare for the next event
Once the event is over, use attendee feedback to make your next event better. For Perry, the reaction was so positive, planners chose to create two similar events that added fun holiday twists. "For Halloween we had Halloweleetka on the Weleetka Trail," Turpin said. "We asked people to do Halloween-based drawings and hid family-friendly ghost cut-outs in the trees so families could perform a scavenger hunt."
For Christmas, they traded the ghosts for reindeer and shared fun facts about Santa's famous sleigh-pullers. 

Crafting community fun
Finding the perfect community event idea is all about knowing what your audience needs. And with a little ingenuity and well-chosen event promotional items, you can create a gathering people will talk about for a long time. 
Looking for more information about this topic? Email 4ideas@4imprint.com with inquiries. 
Facebook is a registered trademark of Facebook, Inc. CORPORATION DELAWARE 1601 Willow Road Menlo Park CALIFORNIA 94025