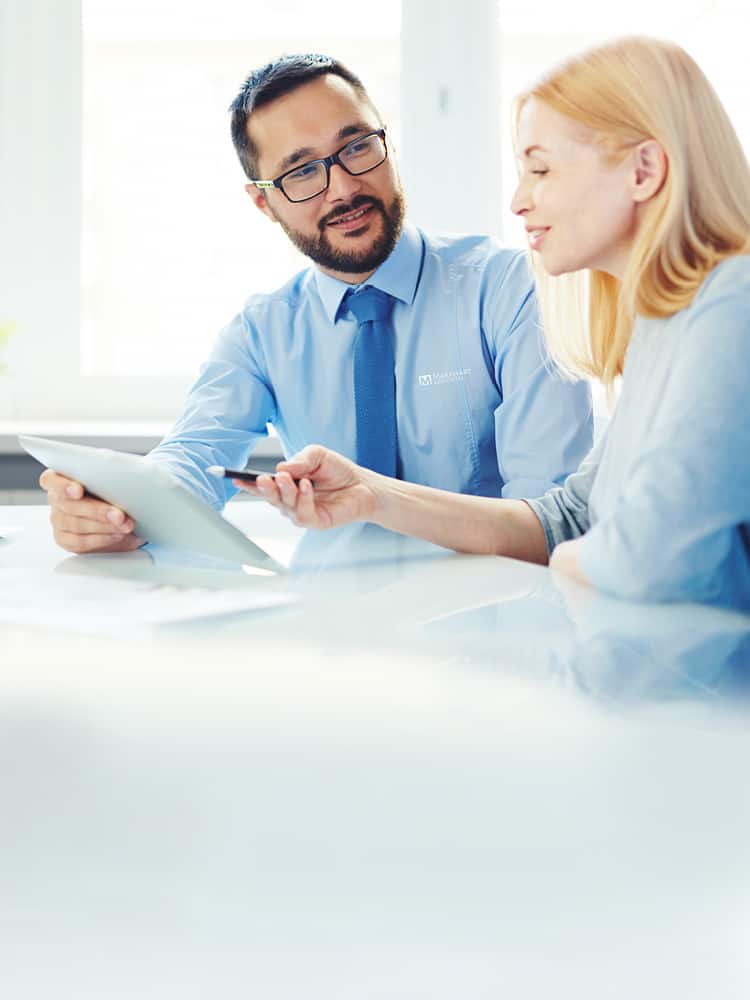 Custom work uniforms make a great impression
Cover Story
It's safe to say that more and more businesses are allowing their employees to dress casually for work.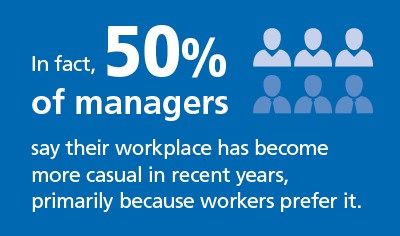 But, dressing business casual or casual doesn't have to mean casting aside a professional look. In fact, many businesses have found that custom work uniforms—from polos to button-downs and more—can unify a team and take the guesswork out of what to wear every day.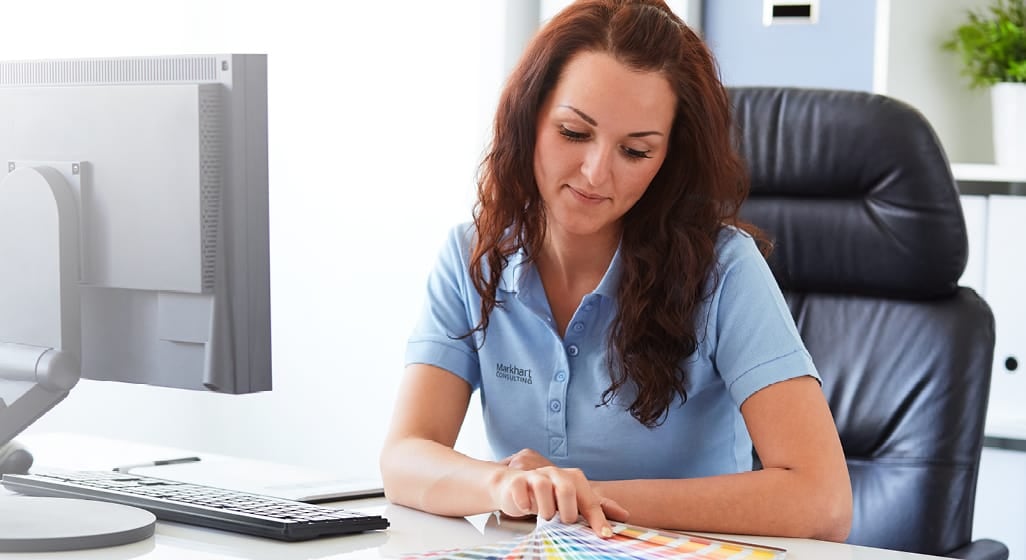 Benefits of custom workwear
Some organizations decide to outfit employees when implementing a dress code. Others provide uniforms for specific job functions, such as food service or the trades. In these cases and others, company shirts benefit both the organization and their employees. Here's how:
Easy identification
Custom apparel, such as uniform shirts, not only makes a great first impression with guests, it also allows employees to stand out—an important factor when they need to be seen. In fact, making staff easily identifiable improves customers' opinions of the company and increases loyalty.
The newly opened Menominee Nation Arena in Oshkosh, Wis., purchased six variations of workwear for different areas of the facility. In most cases, colors were specifically chosen to help staff stand out, said Kate Wyman, director of entertainment. For example, security personnel wear blue polos; maintenance staff wear collared Red Kap Technician Short-Sleeve Work Shirts; ticket takers wear purple polos; concessionaires are easily identified in their green polos; and ushers look sharp in their red Polyester Vests with black pants and shirts.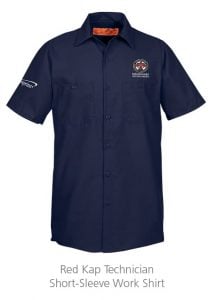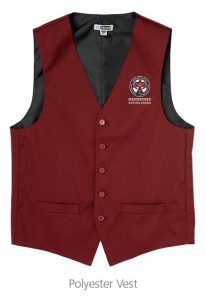 "We chose fun colors so guests feel they can easily approach staff, keeping smiles on faces," Wyman said.
She added that the colors help contribute to the light-hearted feeling guests have when attending a sports or entertainment event at the arena.
Likewise, Jeffrey Lemm, vice president of human resources at document management company STAT Informatic Solutions, chose the Side-Blocked Micropique Sport-Wick Polo. In his case, the colors help employees identify managers. The primarily black polo unifies the company, while side-block colors vary for managers (who wear red) and production staff (who wear blue). So, when one of 50 or more production employees needs to spot a manager, he or she can do so quickly, Lemm said.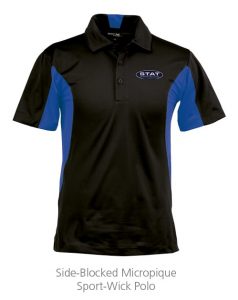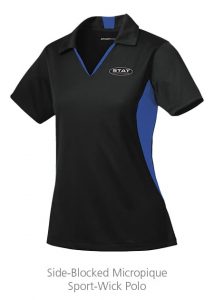 Make your logo pop with these custom side blocked polos!
Consistent, professional image
Company-issued workwear gives businesses an instant professional image. This was especially important to Lemm, whose staff work around the nation at client locations where dress codes vary. For example, staff who go to sites with stricter dress codes wear the  Wicked Woven Performance Shirt.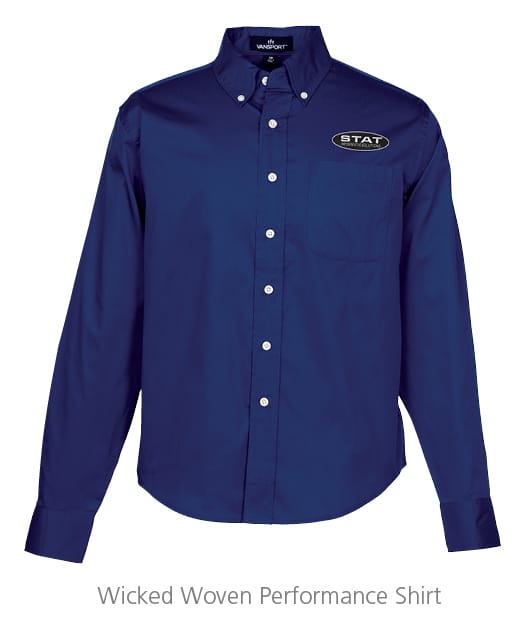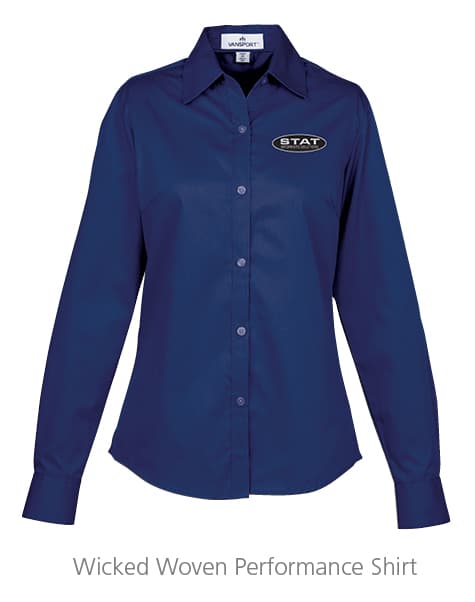 "The reason we went with a standard uniform shirt is we wanted everyone to dress appropriately (for the client), and we wanted to take the guesswork out for them," Lemm said.
Protect personal clothing
Sometimes stains are a part of the job. That's when employees really appreciate company workwear. That's certainly the case for Menominee Nation Arena concessions, cleaning and maintenance staff, who were given easy-to- clean uniform shirts. It's also why a black Van Heusen Silky Poplin Shirt was chosen for busy bartenders. Considerations like this help employees maintain a professional image, even when tackling stain-inducing jobs.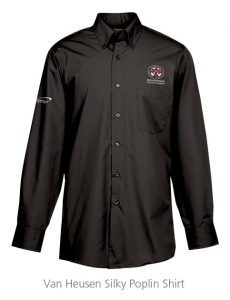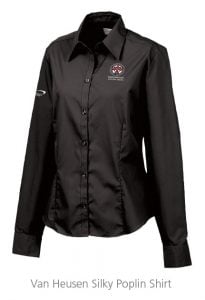 Make a silky smooth appearance at your next event with these custom work uniforms!

Tips for choosing custom company shirts
Choosing uniform shirts is no easy task, especially when they need to look good, fit well and be enjoyed by members of your team. Whether you are a seasoned pro or choosing shirts for the first time, here are a few tips to help find the right fit for your organization's needs:
Choose easy-care fabrics
Whether employees care for their own clothes or your company takes on the cleaning, business uniforms need to be wash and wear. Choose a wrinkle-free fabric that washes easily.
Select colors wisely
Just as the Menominee Nation Arena and STAT Informatic Solutions chose polos with distinct colors that stood out, you might choose colors for very specific reasons. Perhaps you need to match your brand. Or, you might consider dark colors for bartenders, servers and other food-service staff to hide stains. Most importantly, if you choose multiple colors for your staff, make sure those colors complement each other.
Opt for comfort
More than anything, employees want to feel comfortable in their daily workwear. Consider the work environment. Are team members active or more sedentary? Active team members will appreciate clothing that provides maximum range of motion. Do they work in a warmer climate? Consider breathable, moisture-wicking fabrics for them. For teams working outdoors, choose sturdy fabrics that will stand up to wear and tear.
Get samples for correct sizing
Once you've narrowed down your choices based on fabrics and colors, the most important tip is to request samples for staff to try on. Every company sizes apparel a bit differently, which can be challenging when placing an order for your team's uniform shirts.
Beverly Burke, assistant tax clerk for the City of Pikeville, Ky., received a handful of samples to try when her department began wearing uniform polo shirts. She ultimately settled on the Moisture Management Polo with Stain Release because it fit well and felt good in the warm climate.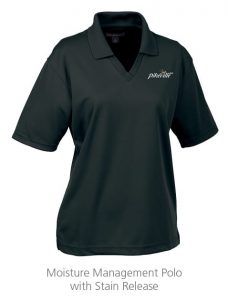 "It's not easy to get good apparel with plus sizes," she said. "I love them. They are great to work in. They wash and dry great. They don't wrinkle, and they didn't shrink."
Lemm ordered samples in a variety of sizes to send around his U.S. locations, asking teams to try them on for the right fit. The choice they made was successful for many reasons.
"It's been well-received by employees," he said. "They enjoy not having to wear their own clothes. Having everyone wear a uniform also levels the playing field, so to speak. They all feel part of the team."
Check out these custom workwear options!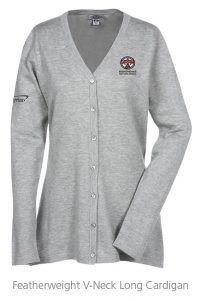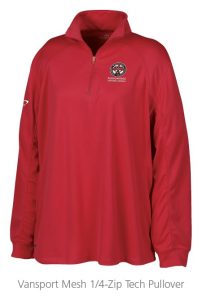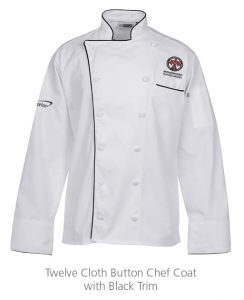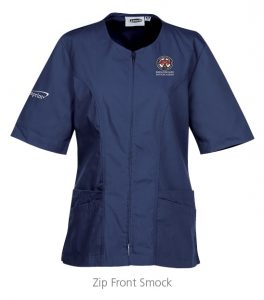 Create a professional image with branded uniforms.
Note: 4imprint, Inc. is a sponsor of Menominee Nation Arena.