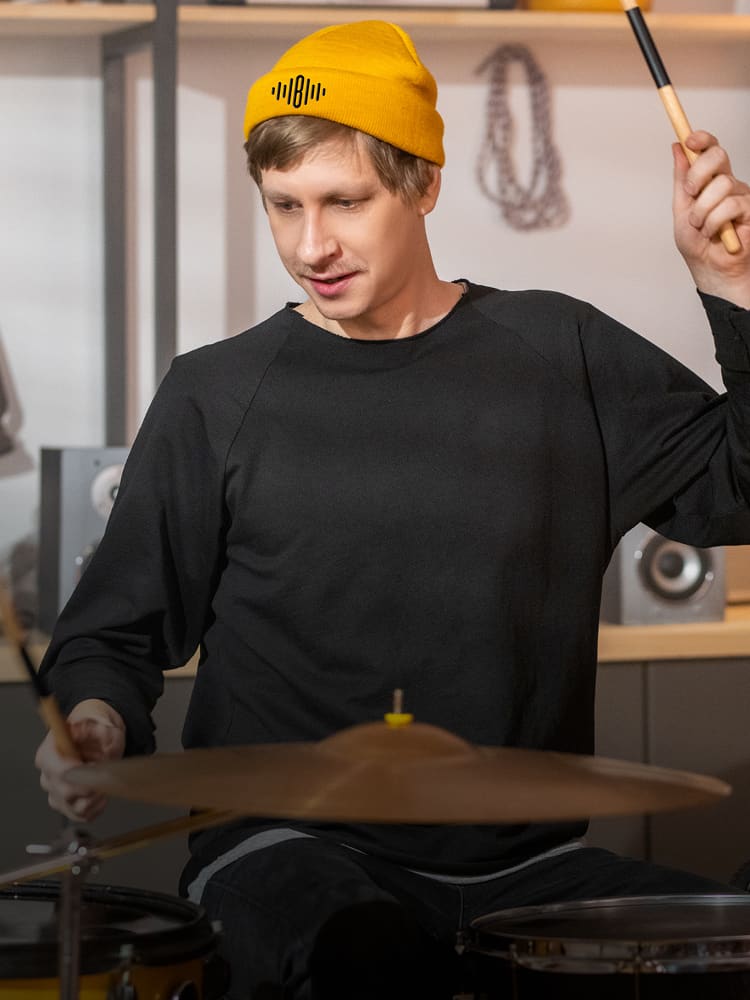 Selling branded merchandise
Trend
How to turn branded merchandise into a revenue stream:
Make sure your logo is merch-worthy
Choose items your customer will love
Purchase the right amount of merch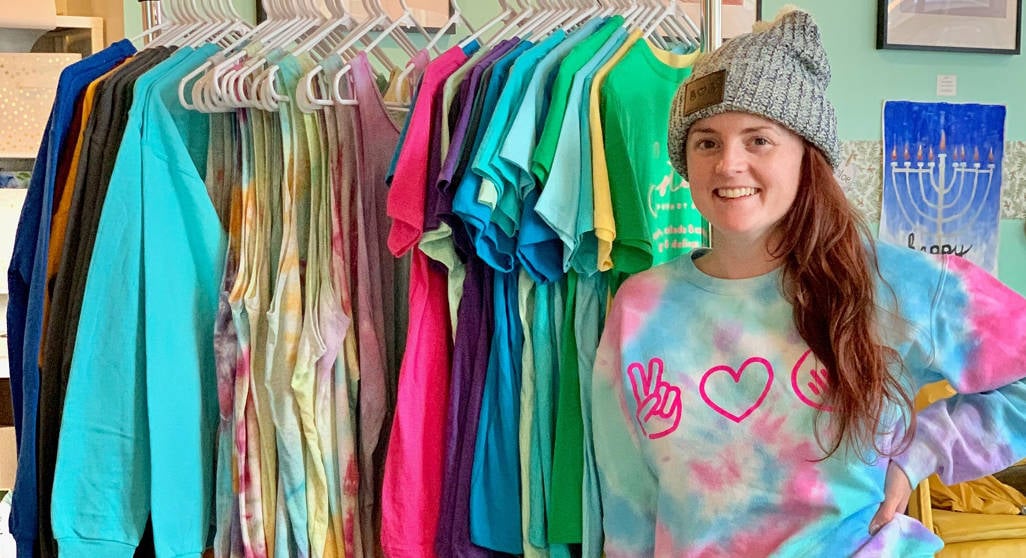 When Sisters Gourmet Deli in Portland, Oregon, began selling branded merchandise, Owner Michaela McVetty had no way of knowing that her swag would become almost as popular as her sandwiches. 
Her first offering, a branded T-shirt, quickly sold out, and season after season, McVetty has added new items to the product line. "There are people who have long-sleeve shirts, a short-sleeve shirt, a sweatshirt, two hats," McVetty said. "Others will say, 'I've got to get one for my sister or my mother or kid.' I love seeing how excited people are to rep my brand." 
With the COVID-19 pandemic leading to business restrictions ranging from curbside sales to limiting the number of customers allowed into a building, McVetty is just one of many businesses selling promotional merchandise—with wonderful, wearable results.
Stay warm and cozy with branded merchandise. 
Reasons to sell corporate merchandise
While restaurants and other businesses have recently started selling branded merchandise as an additional income stream, there are multiple reasons to put your brand on something people want to buy. 
It's cost-effective:
The cost per impression (CPI) of branded merchandise can be around 1/10 of a cent—and that's if you're giving it away. By selling merchandise, you promote and profit. 
It builds brand recognition:
The shirt, hat or tank top you sell or give away not only makes an impression on the wearer, it builds brand recognition with everyone they encounter. 
It helps you stand out:
Offering promotional merchandise differentiates you from organizations that aren't ready to invest in branded items.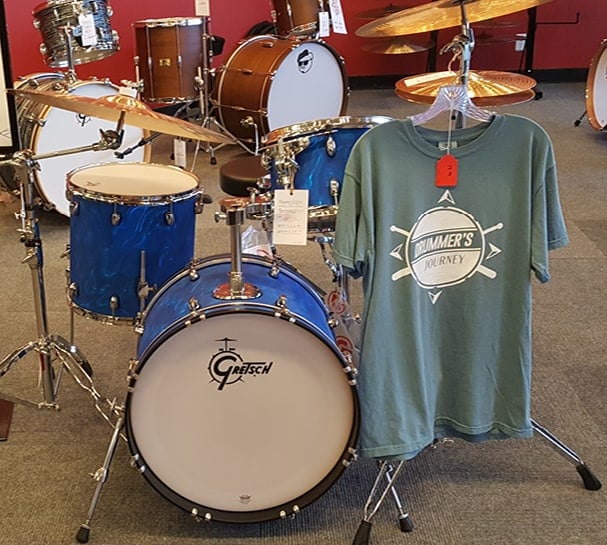 Drummer's Journey in Moorhead, Minnesota, offers shirts and hats that serve the business and the customers in a variety of ways. Having just opened the store in 2019, they soon found themselves facing the complications of 2020.
"We were just getting started when COVID-19 became a major concern," store owner Michael Carbone said. "We were hit with mandatory lockdown and had to go curbside. When we came back, we decided that branding was a big part of getting the brick-and-mortar business going again and we embraced that." 
The merchandise has become a revenue stream and an extra incentive for people making a purchase. "Sometimes we just have people who come in and buy a shirt," Carbone said. "We also include them with package deals when we sell drum kits. It's a nice incentive that allows us to provide a little extra value to the buyer."
How to choose the right promotional merchandise
Once you're ready to start your branded merch journey, it's time to find the right items. As you get ready to launch your own line, see below for helpful tips to keep in mind. 
Make sure your logo is merch-worthy
When it comes to merchandise, a great look can sell itself. 
"I had a friend who's a professional designer put together a perfect, simple logo for me, and it's so cute," McVetty said. "I've always ended all my blogs, videos, Snapchat®, Instagram® and now TikTok® videos with 'Peace, love and sandwiches!' and my logo shows that off." 
Carbone agrees, "It helps to have a good logo and a good name," he said. "Some people want to support us. Some people just like the way the shirt looks." 
To ensure your logo will look great on branded merchandise, make sure it: 
Has a complementary color scheme that looks good with your merchandise choices
Uses readable typography that looks good in any size
Contains memorable iconography that people will want to own
Choose items your customers will love
Much like your other products and services, the best branded merchandise gives customers what they want or need.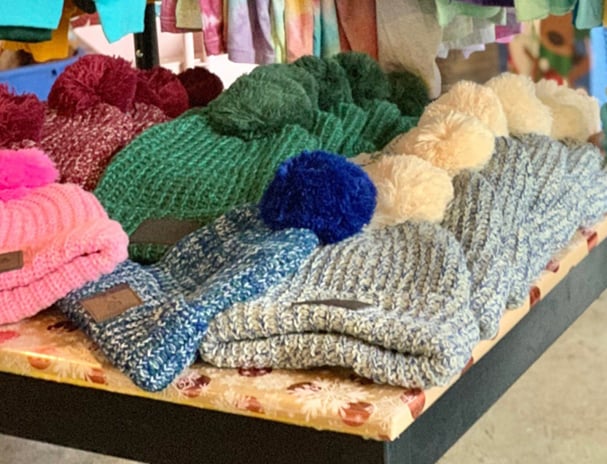 When Sisters Gourmet Deli sold out of T-shirts, McVetty gave some thought about what else customers could use. "I said, 'Wait, it's winter, let's put it on hats,'" she said. "We did a really small order, 36 or something, and they were gone." 
The expansion led to other fun ideas that sold out even faster. "I got shirts and tie-dyed them myself," McVetty said. "We did a live video where each shirt was numbered and by the time the event was over, I had sold them all." 
Purchase the right amount of merch
Knowing just how many of each item to order can be a challenge, as you'll have to store your swag until you sell or give them away. Luckily, there are some easy ways to estimate how many and which items you need:
Ask your audience: Ask what types of promotional merchandise people want on social media or through a simple in-store poll.

Limit your initial order: While there are cost savings that come with ordering more items, even a small multiple will frequently come at a lower price.

Try preorders: McVetty uses this method to keep extra items from piling up. "I post a picture of the item and preorders now, and when I have enough of them, I'll make an order," she said.
A big branding win
When selling branded merchandise, you might be surprised just how often your brand ends up center stage. "Repping the brand seems to come naturally to our customers. We've even had drummers who wear our shirt every time they're on stage," Carbone said.
And let's face it—fans sharing your brand will always be music to your ears. 
Looking for more information about this topic? Email 4ideas@4imprint.com with inquiries. 
More revenue-building merchandise ideas