Ever wondered how our promotional products get their names? It's a simple process, really. Something about the product inspires one of my teammates. And, another product name is born.
Take one look at this pen and you'll see why we named it the Midas.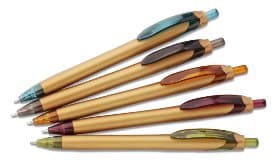 With a sleek gold barrel and muted sunset accent colors – olive, aubergine, charcoal and turquoise – on the clip and tip, the look is rich.
Looking for a promotional pen that's lively and fun? Once again, the name of the Miami Pen says it all.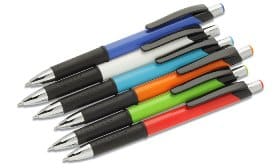 Bold, bright colors on the plastic barrel contrast against black rubber and chrome-colored accents make this pen hot.
Then, there is the Muse.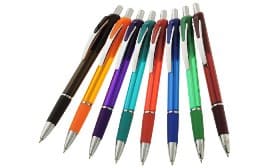 As its name suggests, this pen's translucent barrel and chrome-colored will inspire customers, volunteers, members or supporters to pick it up and take it along with them!
For a limited time, these promotional pens are available exclusively from 4imprint.
Have a favorite product name? I'd love to hear it.
-Suzanne
PS – Ever wondered how the Malmo Travel Mug got its name? Check out this post.