In 1946, two engineers, Frank Cotter and G. Howlett Davis, changed drinkware as we knew it. Together, they harnessed the insulating power of air to make the first permanently-sealed double-wall tumbler. From this, Tervis® drinkware was born. It was named after its founders who combined the last three letters of their last names. Their discovery has been keeping drinks hot or cold for more than half a century. That innovation forever altered the world of drinkware. And today, it can be associated with your brand. Co-branding with Tervis promotional products gets you a highly recognizable promotional tumbler employees and customers will thirst for.
Family-owned and 70 years strong
Tervis was purchased by a Florida family in the 1960s. Over time, the company continued to improve its product by offering distinctive patterns, themes and colors to create tumblers as unique as the people drinking from them.
And now, you can put your name on Tervis promotional products.
Classic tumbler giveaways
The Tervis Classic Tumbler comes in 16- and 24-ounce sizes.
This custom promotional tumbler is available with various colored lids, making it a suitable choice to complement almost any brand. The double-walled tumbler will be everyone's go-to for the daily commute. Give them to new employees and customers or hand them out at your next trade show.
Stainless steel promo tumblers
The Tervis Stainless Steel Tumbler combines the beloved Tervis brand with the hugely popular copper-lined stainless steel construction for increased temperature retention.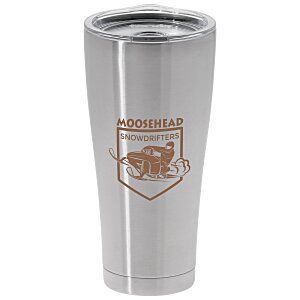 It's the perfect tumbler giveaway for a cup of coffee or tea—hot or iced. Hand these out to employees celebrating a milestone or fill them with hot cocoa to warm guests at a chilly community event.
Co-brand with Tervis tumbler promotional products
When you put your name on Tervis promotional products, you're co-branding with the real deal. Give them what they're thirsting for with these custom promotional tumblers. See how tumbler giveaways are used to help give back to valuable volunteers as well.