Knowing which custom double wall tumbler is most effective at insulating beverages can be tough. Every day new drinkware promising to maintain a liquid's temperature for hours enters the market. To assist you in finding cups that help keep drinks hot or cold, we'll show you how different types of insulated tumblers work and what to look for in custom drinkware.
Types of Insulation Available for Insulated Tumblers and Personalized Mugs
Insulation is one of the most important things to look for when selecting a cup to help keep liquid at its ideal temperature. Several types are available in custom drinkware, each with varying abilities to help keep liquids at temperature.
Air insulation: Good—helps keep drinks cool or hot for an extended period of time.
Vacuum insulation: Better—helps keep drinks cool or hot longer than air insulation.
Copper insulation: Best—helps keep drinks cool or hot for the longest time.
Help Keep Drinks Hot or Cold with Double-wall Tumblers
A personalized mug or custom tumbler with dual walls serves an important purpose: It uses air insulation to help keep the ambient air temperature away from your drink. This assists in keeping a drink hot on frigid days or cool during a scorcher.
Here's a winning option with proven performance: the Contigo® West Loop Travel Tumbler in black. Constructed with a double-wall system, this imprinted travel tumbler has a stylish tapered look for easy grabbing on the go. Auto-seal technology provides spill-proof, leak-proof drinking. Best of all, the matte-black finish complements any company logo color.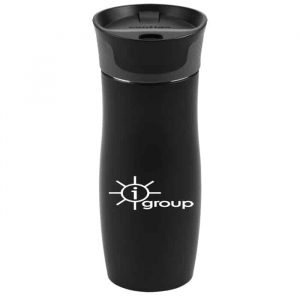 Want more color? Check out the Contigo West Loop Travel Tumbler in blue, gunmetal, stainless steel and red.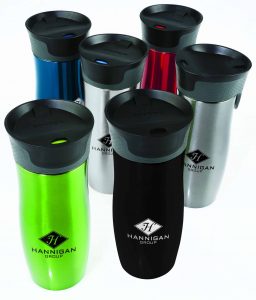 Vacuum-insulated Tumblers help Keep Drinks Hot or Cold Longer
This popular choice helps maintain a drink's temperature for impressive stretches of time.
The Americano Vacuum Travel Tumbler features dual walls with vacuum-insulated construction. Heat is trapped between the inside and outside 18/8 stainless steel walls. The screw-on lid's twistable opening helps prevent spills.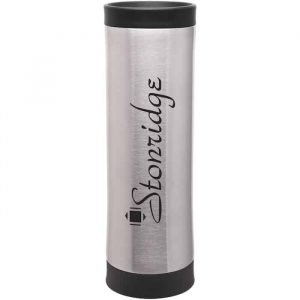 The Circles Stainless Vacuum Travel Tumbler is big enough to keep thirst at bay for much of the day. Your clients and employees can have confidence in this bottle's double-wall stainless steel construction.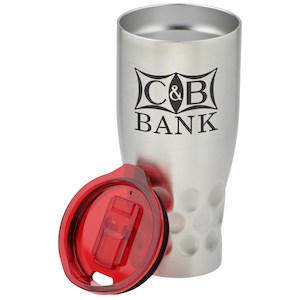 The Indent Stainless Vacuum Travel Tumbler's indented grooves offer a stylish look. Its push-on lid with rubber gasket and slide closure help prevent leaks. The dual-wall construction of this model is designed for lasting temperature retention of either a hot or cold drink.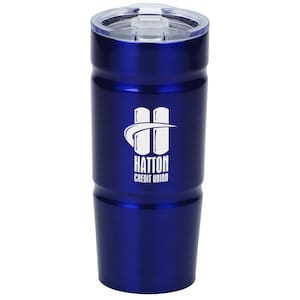 For Extreme Teams, Copper-lined Vacuum Drinkware Helps Keep Drinks Hot or Cold the Longest
If you're looking for an extra-special gift for teams that endure the elements, copper-lined vacuum drinkware is the way to go. Whether they are working in the relentless heat of summer or bracing themselves against winter's chill, copper-lined vacuum drinkware helps keep beverages at temperature while keeping workers hydrated.
With this type of drinkware, a copper coating has been applied to the outside of the vessel's inner wall—a powerful solution that helps prevent the transfer of heat. Your employees or clients will be amazed at the lasting insulating capability of these personalized mugs!
The inner wall of the Bellagio Vacuum Bottle provides maximum temperature control with ultimate conductivity.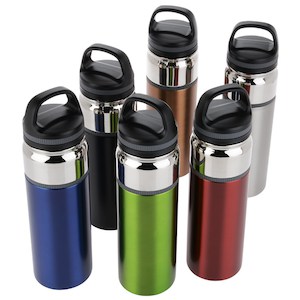 Choosing the Best Custom Double Wall Tumbler
An important part in choosing the best tumbler is knowing what setting it will be used in. Use those conditions to pick the insulation type that's best for your customers. Whether you want custom double wall tumblers or insulated travel mugs, you'll find promotional products with a wide variety of temperature-controlling features. One is sure to suit your brand! Want even more ideas on choosing the perfect mug or tumbler? Check out our premium custom drinkware blog post.
Now, go enjoy a hot (or cold) beverage!
—Suzanne