Square, canary-yellow sticky notes are an example of clever convenience that most office supplies just can't rival. That's what makes them such awesome promotional products! Nowadays you can get many more colors and fun shapes, too, from speech bubbles to dollar signs, cats to coffee mugs, even Swiss cheese! Shape up your next promo with clever shaped sticky notepads that fit any budget.
The sky's the limit for adhesive notepad shapes, but a Paris-based design company's Post-it® Notes creation takes the cake! PA Designs has come up with watch-shaped Post-it Notes you can actually wear!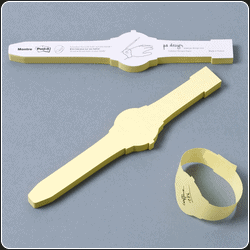 Jot your note on the "face," wrap the strap around your wrist and secure the sticky end to keep the note handy until you can complete your task. It's like the old trick of tying a string around your finger, with a modern, fun twist!
— Moriah