If people in your office have sticky notes all over their computer monitors or laptops, they'll love the Post-it® Notes 6 x 4 To Do list. This oversized sticky note keeps all of those to-do items in one place.  Your team can place them anywhere and move them repeatedly.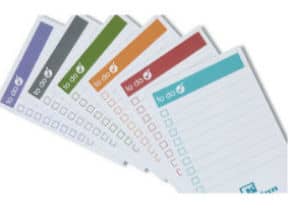 These list-making helpers would also make great giveaways at conferences and workshops, helping attendees keep track of their takeaways. The 4imprint exclusive 'To Do' list is just one style of 6 x 4 repositionable notes, which are also available in an Executive Style and Flowers.
These promotional products are available a variety of colors. If you're looking for something customers will appreciate, these updated Post-it Notes help add a little convenience to teams' busy worlds.
-Suzanne