Like to keep a pad of paper near your computer – so you can jot down a note or two?
You're not alone.
One of our top-selling products is a dual-purpose pad of paper that doubles as a mouse pad.  This has been a popular promotional product for years.  We've recently introduced some great new designs.
When it's time to take a mental break, this pad of paper is ready.  The Take a Break Notepad Mouse Pad left column is labeled 'WORK' and has space to make notes.  The right column is labeled 'TAKE A BREAK' and has six different brain teasers, including a maze and two tic-tac-toe boards.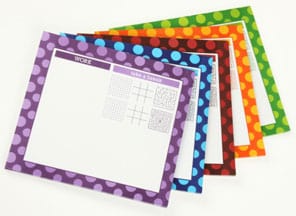 Prefer to get your customers dreaming about a city skyline?  The Cityscape Notepad Mouse Pad is the perfect desktop accessory to keep that dream top-of-mind.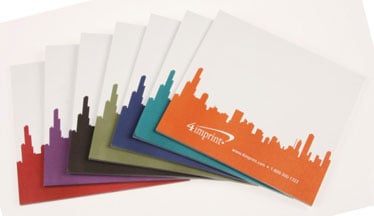 If your customers fall into the notes and doodles camp, they'll love this whimsical office theme of the Paper Clip Notepad Mouse Pad.  Each sheet looks like a three-ring notebook sheet. Paperclips imprinted on the top left corner add a fun touch.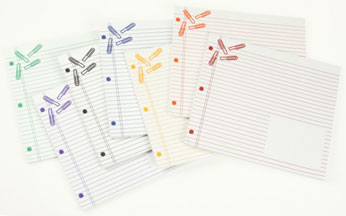 These designs are so fun your customers will likely be on the lookout for refills!
-Suzanne