You might be surprised to learn that people—especially millennials—often rate drinkware as their favorite promotional swag item. Branded tumblers have been a marketing staple for years, yet people are still excited to receive them, whether as an employee gift, convention giveaway or thank-you gift.
But that doesn't mean you have to keep offering the same old cup. We've taken the classic, bestselling double-wall tumbler—one that keeps a hot beverage steaming and a cold beverage chilled—and created Exclusive promotional tumblers that people will be excited to own.
Creative inspiration can come from anywhere, and in this case, it was a single word: Helix. First defined by the Greek, it meant "twisted." Today it means "a spiral." From this term, we created two unique promotional travel tumblers.
Introducing the Helix and Simplex tumblers: Beautiful, practical and unique
What makes these new Exclusives stand out is the textured twist design on the bottom half of each tumbler. Meant to draw eyes to your brand, the design also improves grip. That means there will be fewer dropped cups and big spills—something everyone can appreciate.
The Simplex Tumbler with Straw is made from acrylic and is perfect for holding hot or cold drinks.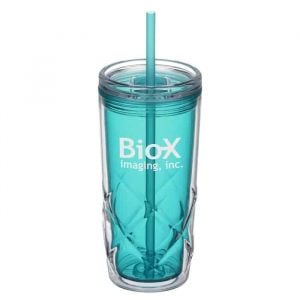 It comes with a plastic straw that matches the tumbler color and a clear screw-on lid that features a thumb-slide. Its classic dual-wall construction prevents condensation from forming on the outside of the tumbler.
The Helix Travel Mug has a stainless steel exterior with a glossy finish available in many fun colors.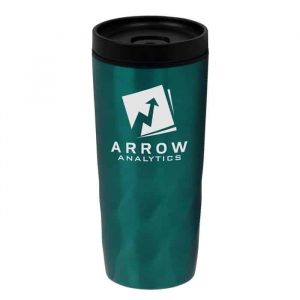 This promotional travel tumbler has a lid with a thumb-slide opening for easy sipping and an EVA-padded base to prevent slipping.
Choosing the best promotional tumbler for your brand
These exclusive promotional tumblers are sure to win rave reviews for your brand. Whether you're giving it as a new employee perk, a "thank you for your business" gift or as part of a convention swag bag, you can rest assured that your recipients will be hanging on to these cups for a long time to come.