Nothing shows appreciation for customers, employees or prospects like a unique, thoughtful gift. Custom stainless steel travel mugs imprinted with your brand are that and more. But the Accent Stainless Travel Tumbler is something special. It's a creative twist on a classic, and it's a 4imprint exclusive!
Meet the Accent Stainless Travel Tumbler – 16 oz.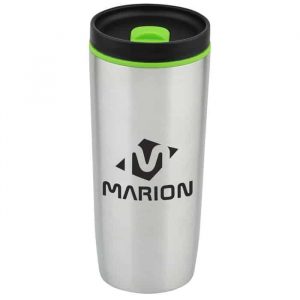 To understand what makes the Accent Stainless Travel Tumbler stand out, you have to know its story.
Creating custom stainless steel tumblers for a 4imprint exclusive
Tumblers like this are among our most popular items, so we set out to create one from start to finish. We want to help your brand stand out. When we create promotional products that are exclusive to 4imprint, we want them to be both attractive and affordable. The Accent Stainless Travel Tumbler – 16 oz. is no exception. This sleek, modern stainless steel tumbler features a pop of color on the lid.
This travel tumbler is bright and beautiful, but it's more than just another pretty base for your logo. Drinks stay at the right temperature longer, thanks to the double-walled construction. It has a stainless steel exterior and a polypropylene liner. In addition, the screw-on lid with a color slider and the non-skid bottom padding ensure your clients never have to say, "oops!" even when they hit a bump in the road.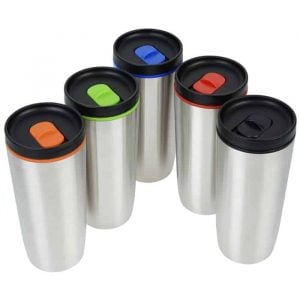 The Accent Stainless Travel Tumbler comes with a one-color imprint on the front, so you can showcase your brand in style, sip by delicious sip. This tumbler is available to ship within just three days. Need it faster? Check out the Accent Stainless Travel Tumbler – 16 oz. – 24 hr.
With expedited turnaround, you can place a last-minute order for a stainless steel tumbler, customized for your event, fundraiser or trade show.
Custom stainless steel tumblers personalized for your brand
Crafted of quality stainless steel, your clients will reach for this custom stainless steel tumbler when they want the perfect balance of style and substance on the go. Available in five exciting colors, the Accent Stainless Travel Tumbler is sure to fit your brand.
This hot new custom stainless steel travel mug will go miles for your brand. See for yourself! Check out the quality craftsmanship and unforgettable style of this gorgeous, quality, stainless steel tumbler personalized with your brand.