Canadians love their coffee and tea. In fact, two-thirds of Canadians drink coffee every day, drinking more per person—about 152 litres each year—than just about anyone else in the world. They even drink more coffee than water: three cups every day. It's not just coffee Canadians crave. They also enjoy more than 10 billion cups of tea each year, about 85 litres per person.
Maybe it's because the winters are long and cold (there's a correlation between cool weather and people wanting hot beverages). Or perhaps Canadians just like the taste and aroma of coffee, tea and other hot beverages. Regardless of the reason, your employees and customers may be taking their beverage to go, which means they need trustworthy drinkware to transport it. But with so many custom travel tumblers on the market, how do you decide which is the best promotional mug for your brand? Read this travel mug comparison for tips on materials, features and more to help you make the best choice for your audience.
Plastic, stainless or ceramic—a travel mug comparison
Travel mugs are available in many different materials. The two most common are plastic and stainless steel, though ceramic mugs are also available. While they all look fairly similar and are designed to reduce leaks and drips while drinking on the go, the material can affect all sorts of things, including beverage taste, carrying weight and how the mug can be cleaned.
Plastic promotional mugs
Most plastic travel mugs have two layers of hard plastic with air or foam insulation between the layers. They are usually the most affordable option, and tend to be more lightweight compared to other travel mugs. However, plastic is softer than stainless steel or ceramic and is more likely to retain beverage flavour.
When weight and price are important, plastic takes the prize for best promotional mug. The Brighton Beach Tumbler, with its double-wall design, is tapered at the bottom to easily fit into a vehicle's cup holder. Tops in the style category is the exclusive Malaga Acrylic Tumbler. It features a plastic liner and a distinctive textured design. Turn heads with the Colour Classic Coffee Cup. The diamond patterned grip gives it unmatched style.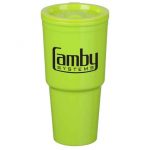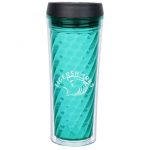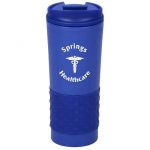 Stainless steel promotional mugs
If you look around, you'll likely see more people drinking out of stainless steel travel mugs than any other kind. They are the most durable and retain heat the longest (two key features to note in your travel mug comparison). Most stainless steel mugs are double-walled with an insulating vacuum layer in between. They also don't absorb flavours like plastic does, but some people find the metal may give their beverage a slightly "off" flavour.
When selecting stainless steel, consider the Extra Grip Stainless Tumbler. It has a push-button hinged lid to help prevent spills, and the sliding lock helps keep the lid securely closed. The stainless steel Slim Jim Vacuum Insulated Tumbler, with a sleek exterior, belies the stainless steel liner, and the tumbler is tapered to fit neatly into a vehicle's cup holder. Kick things up a notch with the Contigo® West Loop Travel Tumbler, which features Contigo's AUTOSEAL push button lid.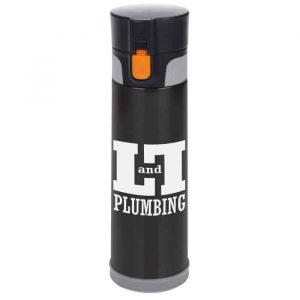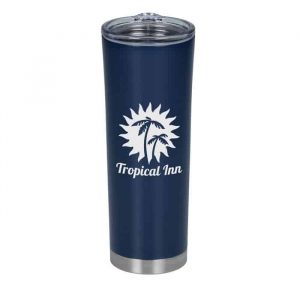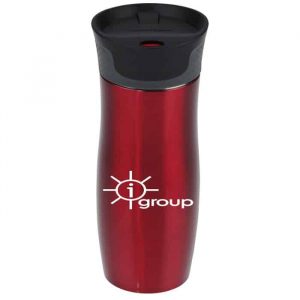 Ceramic promotional mugs
Ceramic is the best for letting a beverage's natural flavours come through. However, home or office use is recommended because ceramic is more fragile than plastic or stainless steel.
For coffee and tea drinkers who want to enjoy a variety of flavours, try the Diamond Grip Ceramic Travel Tumbler. It has a unique diamond design for easy, comfortable holding. For a modern look, sip from a Montreal Travel Tumbler. The stainless steel exterior stays cooler to the touch, while the ceramic liner brings out their drink's full flavour.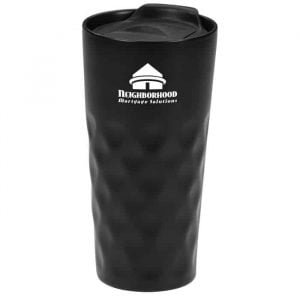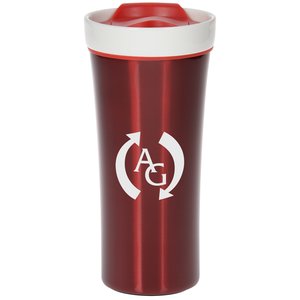 The best promotional mug delivers their ideal beverage—and your brand's message
Whether you choose plastic, stainless steel or ceramic, the best promotional mug is the mug that gets your logo seen by as many people as possible. Use this handy travel mug comparison guide to create the perfect promotion for your next event.
Now brew up a tasty beverage, pour and enjoy!