What makes the promotional travel mug an almost universally beloved gift? Simple: People love their coffee and tea.
How much do they love it? About two-thirds of people drink coffee every day. In fact, they drink more coffee than even water: over three cups every day. And more than 40% drink at least two cups of tea per day.
No matter which beverage they prefer, everyone can appreciate the option to take theirs to-go, which means they need trustworthy drinkware to transport it. But with so many custom travel tumblers on the market, how do you decide which is the best promotional mug for your brand?
One factor you might not have considered? Travel mugs are available in many different materials. The two most common are plastic and stainless steel, though ceramic mugs are also available. While some may look similar and all are designed to reduce leaks and drips while drinking on the go, the material can affect all sorts of things, including beverage taste, carrying weight and ease of cleaning.
Read this travel mug comparison for tips on materials, features and more to help you make the best choice for your audience.
Plastic promotional travel mugs
Most plastic travel mugs have two layers of hard plastic with air or foam insulation between the layers. They are usually the most affordable option and tend to be more lightweight compared to other travel mugs. However, plastic is softer than stainless steel or ceramic and is more likely to retain beverage flavour.
When weight and price are important, plastic takes the prize for the best promotional travel mug. Top in this style category is the Malaga Acrylic Tumbler. It features a plastic liner and a distinctive textured design. Turn heads with the Colour Classic Coffee Cup. The diamond-patterned grip gives it unmatched style.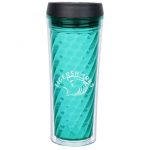 Malaga Acrylic Tumbler
Stainless steel promotional travel drinkware
If you look around, you'll likely see more people drinking out of stainless steel travel mugs than any other kind. They are the most durable and retain heat the longest (two key features to note in your travel mug comparison). Most stainless steel mugs are double-walled with an insulating vacuum layer in between. They also don't absorb flavours like plastic does, but some people find the metal may give their beverage a slightly "off" taste.
The stainless steel Slim Jim Vacuum Insulated Tumbler with its sleek exterior is tapered to fit neatly into a vehicle's cup holder. Kick things up a notch with the Contigo® West Loop Travel Tumbler, which features Contigo's AUTOSEAL push-button lid.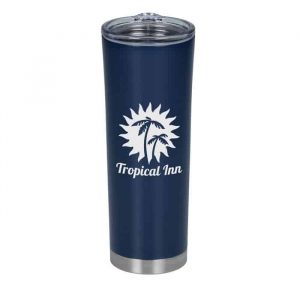 Slim Jim Vacuum Insulated Tumbler
Ceramic promotional mugs
Ceramic is the best for letting a beverage's natural flavours come through. However, home or office use is recommended because ceramic is more fragile than plastic or stainless steel.
For coffee and tea drinkers who want to enjoy a variety of flavours, try the Diamond Grip Ceramic Travel Tumbler. It has a unique diamond design for easy, comfortable holding. To get the best of both worlds, sip from the Rown Tumbler with Ceramic Inner. The stainless steel exterior stays cooler to the touch, while the ceramic liner brings out their drink's full flavour.
The best promotional travel mugs deliver their ideal beverage—and your brand's message
Whether you choose plastic, stainless steel or ceramic, the best promotional travel mug is the one that gets your logo seen by as many people as possible. Use this handy travel mug comparison guide to create the perfect promotion for your next event. Then brew up a tasty beverage, pour and enjoy!