There's nothing more frustrating than seeing that low-battery icon on your smartphone, tablet or e-reader. It can be especially annoying at inopportune times, like during the best part of a novel or while in the middle of an important phone call. The struggle is real, and nearly everyone can relate! That's what makes promotional charging cables the perfect giveaway product for so many organizations. They are an excellent trade show giveaway that helps potential customers keep their devices powered up during the show. Promotional USB charging cables make wonderful thank-you gifts for new customers or referrals. And they're perfect for your employees on the go.
With a wide variety of promotional charging cables to choose from, including bracelets and keychain cables, there's sure to be one that fits your budget and the needs of your recipients—and they'll be reminded of your brand every time they need it to charge up a device.
Handy portable chargers
The Charging Cable Keychain is the keychain cable that does it all.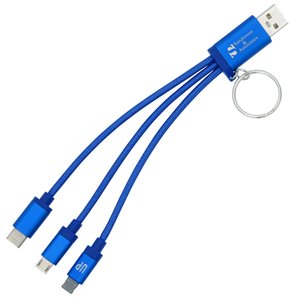 Its triple connector equips users with a micro-USB, USB-C and connector compatible with the iPhone®.
Long-reaching cables
The 3′ Metallic Charging Cable is longer than most, making it easy to stay connected without sacrificing maneuverability.
This 3-in-1 custom charging cable comes in six colors and includes a micro-USB, USB Type-C and an iPhone-compatible connector to accommodate a variety of devices.
Versatile promotional charging cables
With four connectors, these Charging Cables are the ideal choice to reach a wide variety of tech users.
This handy accessory features two micro-USB connectors, one mini-USB connector and an iPhone-compatible connector, providing a charging solution for virtually everyone.
Trendy promo chargers
For the user who loves 'old-school' tools as much as 'new-school' technology, this 2-in-1 Charging Pen is an excellent promotional product.
This twist pen comes in seven colors and has two charging connectors—a micro USB and an iPhone-compatible connector.
Neat and tidy cables
This handy 2-in-1 Charging Cable in Case features a 7-1/2″ cord wrapped around the included plastic case with a fitted slot for the USB ends.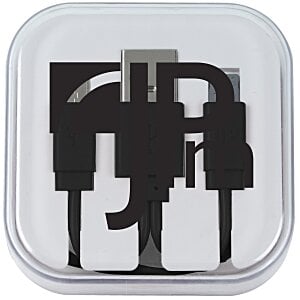 When users are finished powering up their devices, they can neatly put their cables away to keep them from getting tangled up.
Promotional charging cables boost your brand
Promotional charging cables will always be a welcome gift, whether you're handing them out at a trade show, offering them to customers as a token of gratitude, or giving them to your employees to help them work while on the go. Your recipients will think of you every time they use their promotional USB charging cables to keep that low-battery light at bay. Power up your promotions with even more charging cable ideas.