How quickly people adopt new technology depends on the individual. For example, some people get the newest phone on the day of release. And others wait until their current device absolutely has to be replaced. This can create a challenge when you want to offer tech giveaways, like branded wireless chargers, to potential customers.
Although there are more items on the market that use wireless charging every day—a half billion of them shipped in 2017—there are always going to be customers you'll want to connect with who don't yet have a use for this type of tech.
But those customers can still use a notebook, a speaker or a clock.
If you're looking for a giveaway that offers the latest tech built into items just about anyone can use, these promotional products let your brand charge up tech-thirsty customers today, while still offering value to those who won't need new tech for some time to come.
The sounds of wireless
Bluetooth® speakers offer tremendous freedom. Users can listen to their favorite music, podcast or audiobook while the speaker sits on a desk, a shelf or maybe even in a different room. There's no need to physically connect it to an MP3 player, phone or computer.
The Boost Wireless Charger Speaker provides additional freedom. Recipients can charge a device and enjoy their favorite media at the same time. This branded tech giveaway makes an excellent anniversary gift for telecommuting employees who love to pump up the volume but still keep their phone ready for a call.
Paper and power
Even as the world is getting more tech-focused, the sale of notebooks is on the rise—and the Walton Wireless Charging Notebook brings together the digital and analog worlds. With paper to take notes and a charging pad in the cover to juice up their device, this wireless charger can be handed out at a day-long training or to encourage customers to attend an informational seminar at a trade show.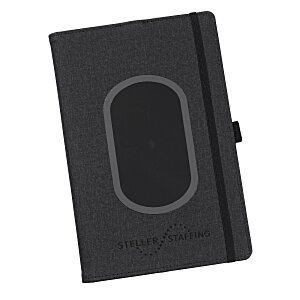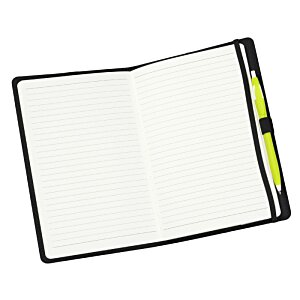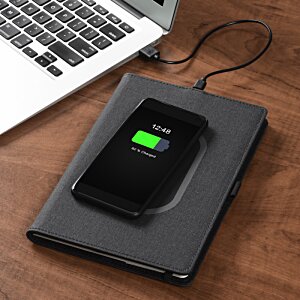 Wired or wireless
People rely on their smartphone to maintain their calendar, check social media feeds, and video chat business meetings. Simply put, pretty much everyone could use a few more hours of battery life. That's what makes the Blend Wireless Power Bank a trade show giveaway customers love. Because this product can recharge a phone wirelessly or with a charging cable, it offers universal appeal.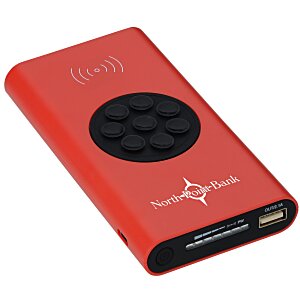 Time to charge up
For tech enthusiasts, a phone is the most convenient way to check the time, weather and more. Another way to accomplish those tasks is with the Keen Wireless Charging Desk Clock. They can check the time and temperature, set an alarm and charge their phone. With its sensible, useful design and sleek modern appearance, this alarm clock is an ideal holiday gift for clients.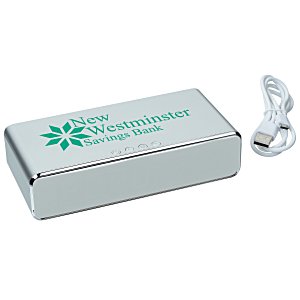 A branded tech giveaway for everyone
People love tech giveaways, but they aren't always able to use them. These practical promotional items, combined with branded wireless chargers, ensure yours is a gift they'll be able to use whether they own the latest tech or no tech at all.