one by one®: Woolwich Counselling Centre
Woolwich Counselling Centre recently held its second annual Mental Health Move-A-Thon to raise awareness and funds for mental health in Woolwich and Wellesley Townships in Ontario, Canada. The nonprofit rewarded participants with stainless steel water bottles.
Awareness and Engagement Coordinator Shweta Satyan views the increased need for services as a positive result of efforts to reduce the stigma around mental health and the organization's mission to help people of all ages navigate life's challenges. Social isolation during the pandemic also contributed to a need for more services, which prompted organizers to think creatively when developing this new fundraiser.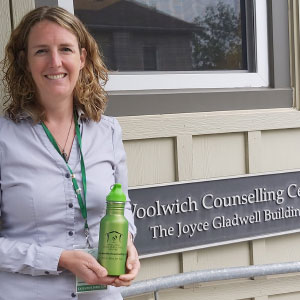 "We didn't want to require people to gather in large groups, like for a walk-a-thon or a race," Satyan said. "We also wanted people to share the story of Woolwich Counselling Centre with their family, friends and neighbours, and tell them that caring for their mental health is as important as their physical health. So, we created an event that highlights the importance of both."
Promotional stainless steel water bottles are ideal rewards for Move-A-Thon
Participants, called "movers" in the Mental Health Move-A-Thon, shared the mission of Woolwich Counselling Centre and asked their supporters to make a donation for every 1 kilometer of activity. The activities included walking, running and biking—anything that got their bodies moving—during Mental Health Week, which was May 1-7, 2023, according to the Canadian Mental Health Association.
"The movers really appreciated receiving the water bottles as a thank-you for their efforts," Satyan said. "They were a perfect tie-in with the event, since we were asking them to do physical activity while raising awareness and donations for mental health."
Charitable organization created by community continues to serve the people
The money raised from the Mental Health Move-A-Thon will allow Woolwich Counselling Centre to continue to offer individual therapy sessions on a sliding scale based on a family's income, subsidized small group therapy sessions and no-cost workshops. Founded 45 years ago, the organization serves a mostly rural area based in Woolwich and Wellesley Townships in Ontario and continues to grow.
A note from Cheryl
4imprint is glad to hear that our donation of promotional stainless steel water bottles showed people that caring for their mental health is as important as their physical health. To learn more about a one by one grant, visit onebyone.4imprint.ca.