one by one®: Carlington Community Health Centre
In every community, individuals are challenged with making smart, personal health decisions. A person may not be aware of the impacts of certain choices, may not have access to adequate resources or may struggle with motivation.
The Carlington Community Health Centre wants to help change that for people living in the diverse Carlington community of Ottawa, Ontario. The Health Promotion Team at the Centre strives to provide physical health resources as well as opportunities for residents to feel more connected, which can be beneficial for mental health and overall well-being.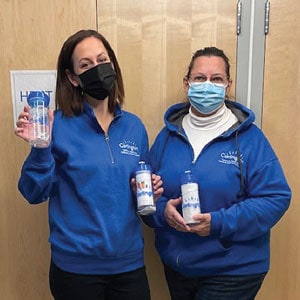 With that goal in mind, the Centre offers a variety of activities, workshops, training sessions and other opportunities to help people with family and parenting support, mental health and addiction services, primary health care, and enrichment and exercise activities.
"We are currently offering a chair exercise program for seniors and yoga sessions," said Hilary Rose, a member of the Health Promotion Team. "We are also running a women's group, Women in the Wild, which is focused on women exploring the outdoors through things like hiking and kayaking."
How water bottle giveaways help promote healthy choices
To help get the word out about the Centre's offerings, the Health Promotion Team gives practical and useful promotional products to their patients and clients. The Centre also uses promo items to spread the word about events they organize and host throughout the year, including an annual outdoor movie night, winter carnival and community garden.
"We hope that in accessing useful items in their day-to-day lives, like tote bags with our logo on them, people will remember to reach out to us and become involved in their communities," Rose said.
The Centre also uses promotional products to help encourage healthy behaviors. One example is by handing out water bottle giveaways to health program participants.
"We will include a handout in each water bottle about the importance and health benefits of drinking water as people's primary beverage of choice. We will also include tips on adding tasty fruit flavoring to water," Rose said.
The Centre's goal is for residents to continue focusing on their physical and mental well-being, even as life gets busy, or challenges pop up.
"We serve a diverse population," said Rose. "There is a higher-than-average number of people who are immigrants and living on low income."
With community resources, an engaged citizenry and eager volunteers, the Centre hopes to continue to bring groups together to enjoy healthy activities and strengthen the community.
A note from Cheryl
It is so exciting to see Carlington Community Health Centre providing resources for their community to help promote healthier choices. 4imprint is pleased to be a small part of Carlington Community Health Centre's mission by providing water bottle giveaways. To learn more about a 4imprint one by one ® grant, visit onebyone.4imprint.ca.