one by one® story: Langley Animal Protection Society
In January 2020, an English Mastiff, Baloo, came into the care of the Langley Animal Protection Society (LAPS) after being abandoned for over three weeks in the freezing cold. Thanks to some concerned neighbours, LAPS was notified and their Animal Control Team was able to save him from the unforgiving conditions. It took four people to lift Baloo into the truck and bring him to the shelter where a vet was waiting. Regardless of all the suffering this poor guy had endured, he never stopped wagging his tail. After just a few short days of being in the shelter, LAPS' staff was thrilled to discover Baloo was on the road to a full recovery! In the meantime, LAPS staff and volunteers were sure to shower him with love and affection. Because of all the critical care volunteers provide for shelter animals like Baloo, LAPS was thrilled to be able to give volunteers branded thank-you gifts to show their appreciation.
Today, Baloo is living his best life with his "fur-ever" family. He enjoys frequent walks around the neighbourhood and local farms while wearing his chic mini-horse blanket for warmth. He gets stronger every day, thanks to laser therapy and chiropractor appointments. Although volunteers at LAPS miss Baloo every day, they're thrilled to know Baloo is home with the best family he ever could have hoped for.
Providing compassion and care to local animals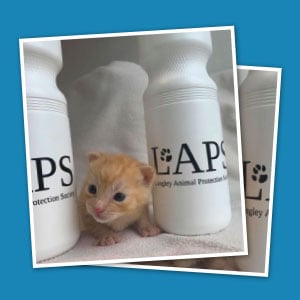 Fielding calls about everything from stray dogs to loose cattle, LAPS' animal control officers are available seven days a week, meeting each challenge with public safety and animal welfare in mind. As LAPS' mission states, "The Langley Animal Protection Society's mandate is to promote the physical, emotional and psychological well-being of companion animals in Langley. They carry out their mandate through the use of professional and humane animal control methods and innovative animal welfare programs."
LAPS' careful adoption procedures ensure rescued dogs and cats find their perfect fur-ever homes. LAPS also cares for free-living cats in the community with a trap, neuter and release program designed to humanely halve the number of community cats over the next ten years. LAPS also has a pet food bank, which provides pet food for lower-income families.
As animals wait for their fur-ever families to adopt them, LAPS' staff and volunteers keep the animals healthy and happy through unparalleled enrichment programs and low-stress housing.
Honouring indispensable volunteers
From doing laundry to fostering animals to walking the dogs, volunteers are the heartbeat of LAPS. To award participants in LAPS' annual virtual race fundraiser, as well as recognize volunteers, LAPS wanted a tangible branded thank-you gift. Thanks to 4imprint's one by one grant, LAPS received branded water bottles.
"Without our volunteers, LAPS wouldn't be able to provide the life-saving support we do to the 1,400 animals who walk through our doors each year. Because of these water bottles, we are able to provide a big thank-you gift to volunteers who deserve our utmost recognition," Communications and Fund Development Coordinator Danya Wheeler said.
A note from Cheryl
4imprint is honoured to provide tangible branded thank-you gifts that recognize LAPS' volunteers for the important work they do. To learn more about 4imprint's one by one grant program, visit onebyone.4imprint.ca.