one by one® story: Heart of Appalachia Talent Search Program
Often family members who have not gone to college—or even finished high school—find it difficult to support children who may have potential for higher education. That's when The Heart of Appalachia Talent Search Program (HATS) steps in to help. A Federal TRIO program, HATS assists middle and high school students with the extra academic support they need to get them on the college-bound path. By investing one-on-one time and preparing older students with college-bound gifts, like a branded blanket, HATS helps students reach their fullest potential—in school and in life.
From making C's to excelling after college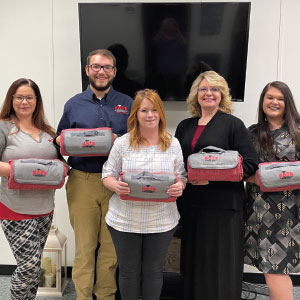 Two-thirds of HATS students are low-income, first-generation college students. Many HATS' staff members are former students who used the program themselves. As adults, they're extremely committed to helping students, like one middle-schooler who was an average student, getting Cs and Bs in class. His mom was a single parent raising him and his sister in a rural West Virginia community.
Once he started getting one-on-one help from the HATS staff, his natural talent began to shine. He stayed in the HATS program through high school. Unsure of what he wanted to do after graduation, HATS brought him to a local campus to help him decide on a major. He settled on sports marketing—and his career has since skyrocketed. He was able to work with major football teams around the country throughout college. And when he graduated, he signed on with the Philadelphia Eagles®.
Today, he's happily married with a young son of his own, working as the assistant equipment manager for the University of Central Florida. He loves his job and has gained respect from the players and other managers.
HATS staff can tell many heart-warming stories about students who achieve that kind of success after joining the program.
A little something extra for graduates
After working hard on their education, HATS students feel excited to see what their future holds. However, many of them don't have basic supplies to pack for their dorm room.
HATS wanted to put together a college going-away kit, complete with a branded blanket, and that's where the 4imprint one by one grant helped. HATS was thrilled when they received the grant that would let them do a little something special for their students.
"Our students work very hard academically. With the 4imprint one by one grant, we were able to purchase gifts for them as a reward for all their hard work. We chose to give them an embroidered travel blanket they can take with them as they start on their new adventures," said Director Angela Holley.
A note from Cheryl
The branded blanket students receive as they head off to college will remind them of the HATS program. We are glad to have helped The Heart of Appalachia Talent Search Program give their students a little extra boost as they go off to college. If you're interested in applying for a one by one grant, visit onebyone.4imprint.com.
Philadelphia Eagles is a registered trademark of Philadelphia Eagles LLC LIMITED LIABILITY COMPANY PENNSYLVANIA NovaCare Complex One NovaCare Way PHILADELPHIA PENNSYLVANIA 19145