Whether virtual or in-person, trade shows provide a wealth of opportunity when it comes to cost-effective sales and lead generation. To make the most of those opportunities, your organization needs to stand out in the crowd. If your team members find themselves racking their brains to come up with fresh ideas for your next event, we offer suggestions for how to think creatively.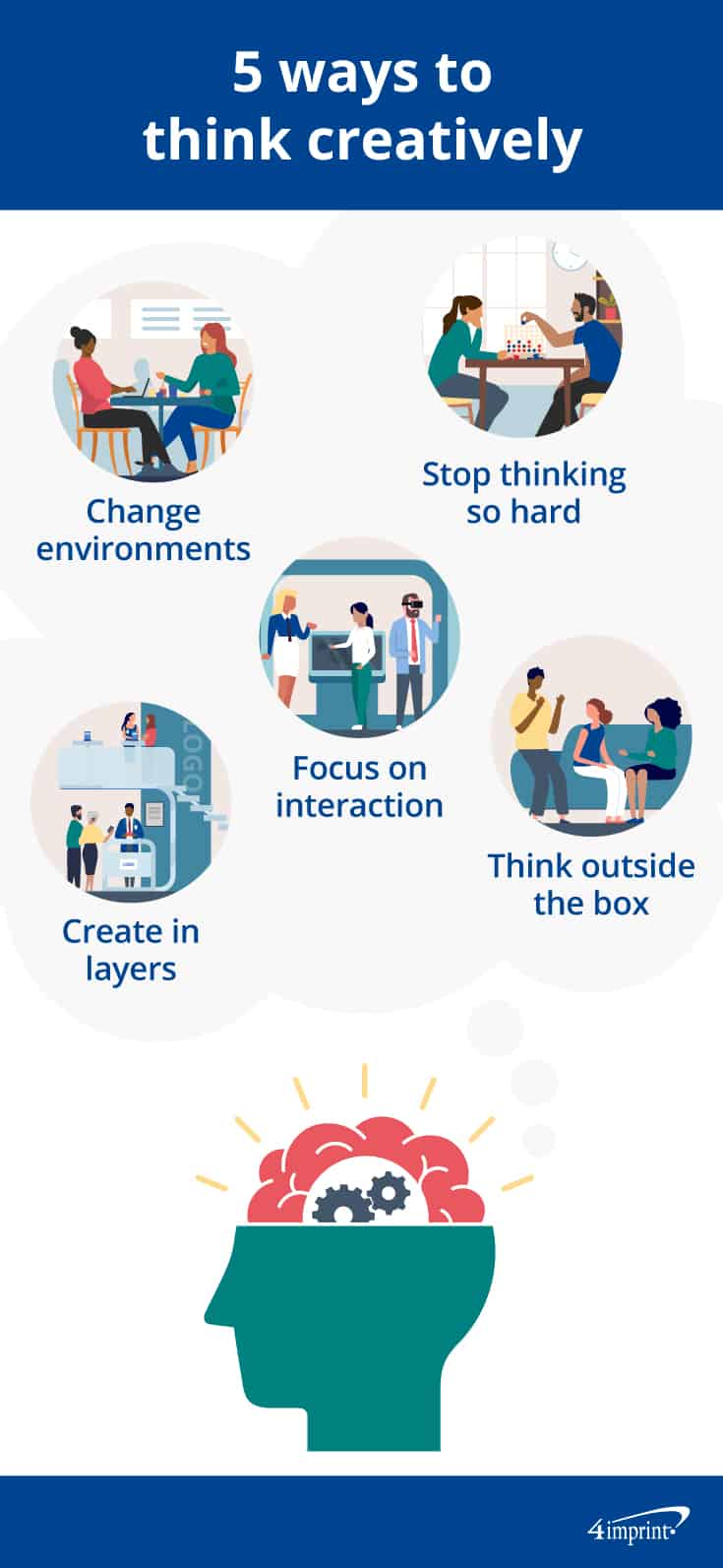 1. Change environments
Switch up the scenery. Encourage your team to go work at the library or local coffee shop, visit a museum or go for a long walk. A new environment provides a degree of novelty and unpredictability, which helps with concentration and the ability to see things from a fresh perspective.
You can also switch up your "internal environment," meaning it doesn't have to be your physical surroundings that change to boost the team's creativity. For example, read a book, play a strategy game or discuss a topic you're passionate about. To help team members in their new environment, provide employee giveaways, like a Mini Memory Game, Light-Up Yo-Yo or an Adult Colouring Book To-Go Set.
2. Stop thinking about it
"Analysis paralysis" is a real thing. It's when you spend so much time thinking about a problem and learning more about it that you lose the ability to act. Encourage your team to stop thinking about how they're going to creatively exhibit at the next trade show. Instead, ask everyone to consciously steer their thoughts in a different direction every time the problem comes to mind.
It may sound contradictory but giving your brain a break from rehashing the same problem allows the creative juices to start flowing. Your team just might have a few "Eureka!" moments when they least expect it. As a reminder to redirect their thinking, give your team a toss-it wooden block game or a 4-in-a-row game.
3. Focus on interaction
Put yourself in your audience's shoes. Rather than thinking, "How can I create an exhibit that's different from past exhibits," ask yourself, "How can I interact with my audience more than I've ever done? How can the exhibit itself be engaging?"
Create an attention-grabbing show with lights and sounds that play every hour. Or try interactive flooring or walls. You could also set up a touc-hscreen wall or flooring that "moves" as people walk across it. For a full-immersion experience, consider incorporating virtual reality (VR).
4. Think in layers
Break free from the same old, same old. Ask your team to think about how they can create layers of experiences.
Over 90% of attendees are looking for new, better products.
How can you provide multiple layers that show people what your products can do for them?
For example, your display could be segmented into different "rooms," with each space being dedicated to a different aspect of your product or service lines. One space could be designated as a meeting space, where interested buyers can meet one-on-one with staff in a quiet area to ask questions. Another way to "layer" your display could be with multiple levels. Can you use portable ramps or stairs to create an upstairs?
5. Think outside the box
Creativity is unlimited, and an exhibit can be creative in ways that aren't directly related to your brand or products. For example, create "downtime space" for attendees to relax at your booth. Comfortable chairs, phone charging stations and free snacks are an easy way to creatively stand out from other booths.
Help your staff think creatively by asking them to write down every idea that has little to do with actually exhibiting your products. Provide employee giveaways, such as a journal and a soft-touch metal pen, to help staff quickly capture ideas as they come.
Make creative thinking easy
A creative exhibit is an exhibit that stands out—and that can help generate more leads and sales for your business. When your team feels like they've run out of exhibit ideas and aren't sure how to think creatively, use these ideas to get their creative juices flowing. Good luck!
Key Takeaways:
Switch up the scenery
Don't think too much
Focus on interaction
Think outside the box