From our parents cheering our first steps to the gold stars on elementary-school spelling tests, that amazing feeling we get when people take the time to recognize our achievement starts early.
And multiple studies have shown the need to be recognized is just as important at work as it was when we were learning about reading, writing and arithmetic. In fact, the number one reason Americans quit their job is because they aren't feeling appreciated.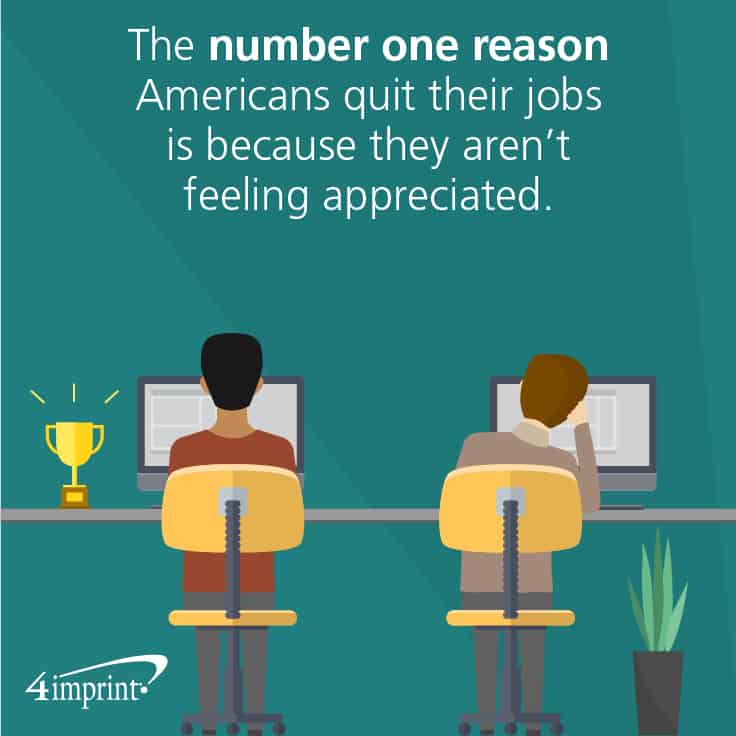 This Blue Paper offersstatistics on the importance of awards and recognition for employees in the workplace—along with tips on when, how and why to recognize your best and brightest. We'll also share some stories about how and why our customers recognize their employees.
Why recognizing employees is so important
According to Dr. David Ballard, assistant executive director for organizational excellence at the Washington, D.C.-based American Psychological Association (APA), "…the principles of recognition, rewards and reinforcement are linked to higher levels of motivation, engagement and productivity, lower turnover and the ability to attract and retain top talent."
In more simple terms, recognizing your employees encourages them to be better employees. In fact, one study showed that "79 percent of employees say recognition makes them work harder, and 78 percent say recognition makes them more productive."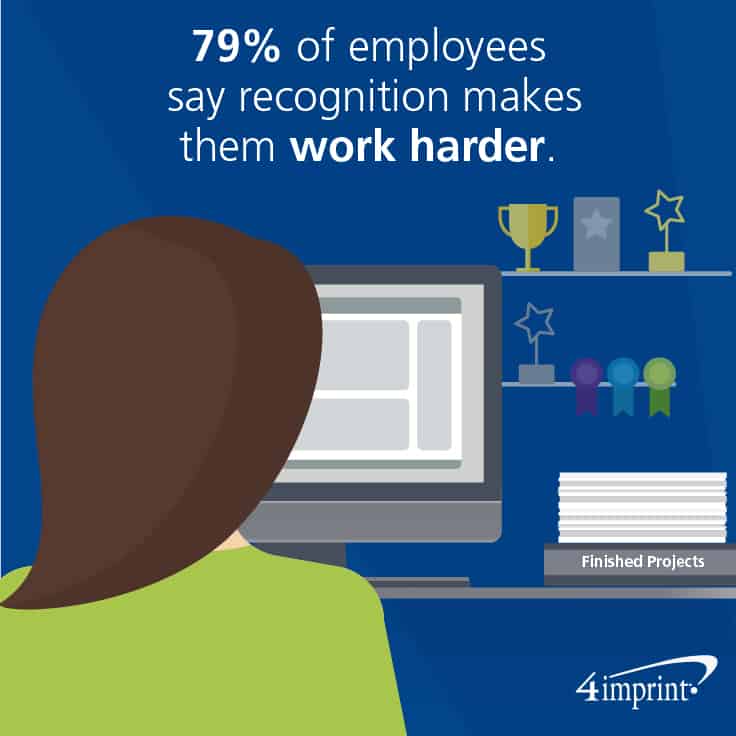 What's more, companies with an employee recognition program have a 71 percent higher engagement level than companies who lack a program. And that's great for your bottom line because companies with engaged employees outperform those who don't by 202 percent!
And those aren't the only benefits. Studies indicate that 90 percent of employees who received recognition from their boss in the last month have greater trust in that supervisor. Among the employees who received no recognition, only 48 percent said they trusted their boss.
When to recognize your employees
So, how often should you provide awards and recognition for employees? Studies indicate employees should be praised at least once a week. Employees who receive recognition on a regular basis "…increase their individual productivity, receive higher loyalty and satisfaction scores from customers, and are more likely to stay with their organization."
Praising your employees once per week makes a lot of sense when you consider the fact that millennials currently make up 35 percent of the workforce. They outnumber both baby boomers and Generation Xers. And 80 percent of millennials prefer on-the-spot recognition over formal reviews.
As it happens, immediate feedback has a lot of benefits. Wait a week to give recognition, and your employee might have already forgotten what they did to earn praise. As a bonus, offering feedback in conversation, via email or a handwritten Thank you Note Card costs next to nothing, and as we've already seen, has excellent benefits for your bottom line.
If you want to go a step further and offer employee recognition giftsfor a job well done, consider a Crossland® Fleece Jacket for men or women to remind them how "warmly" the company feels about their hard work. Or hand out a Poker Chip as a "token" of the company's appreciation. Let employees trade poker chips for the swag of their choice.
Recognize employees at every opportunity—and let them choose their reward!
At Packaging Corporation of America, a wooden nickel and a special "treasure box" are used to award and recognize employees.
"We use a wooden nickel because we wanted to offer a type of 'currency' so it would be easier to keep track of who had earned rewards," said Quality Manager Crystal Moore said.
Nickels are handed out for a multitude of reasons, from getting through a week with no quality returns to a manager noticing that one employee has been helping another employee out.
"Any time they see someone doing something exceptional, that person gets a coin," Moore said.
Coins are then exchanged for rewards in from the "treasure box," with the cost of the items varying from one to five coins.
Prizes include a Zip-up Bottle KOOZIE® Kooler with Opener and a Crossland® Vacuum Mug, along with other items.
"This system really works great for everyone," Moore said. "We consider these rewards to be an investment in our employees, and by allowing them to choose their gifts, they are not stuck with items that they don't use."
How to recognize an employee
The manner in which you recognize an employee is both simple and complex. It's best to make every attempt to recognize employees in a way that makes them feel comfortable. While some people enjoy having their accomplishments announced on social media, others would prefer a private email.
But if the employee in question is comfortable with public recognition, doing so is always to your benefit. Posting about your employees on social media and tagging them in the process will lead to more engagement on your social media pages, which will help you grow your social media audience over time—and maybe even help you find more exceptional staff members.
Bang a gong for great employees
Billtrust in Lawrenceville, N. J., created a unique way to recognize employees by pairing internal "money," an online store, and a gong to let employees know just how much they're appreciated.
"We have Billtrust dollars, which we call 'BT Bucks'," said Administrative Assistant Tiffany Modeste. "They're given to employees, and the employees can use them to buy Billtrust-branded swag in our online store." Swag options include a Jerzees® NuBlend Hooded Sweatshirt.
BT bucks are given out for many reasons—everyone receives them on work anniversaries and birthdays, for example—but they've also found a lot of other habits they want to encourage.
"During Breast Cancer Awareness month, we print pink versions of our BT Bucks and hand them out to anyone who wears pink," Modeste said.
Managers and supervisors are provided with BT Bucks that they can hand out to their teams in recognition of exceptional performance—whether it's for a specific project, helping their coworker(s), or going above and beyond.
Employees recognized for doing something truly extraordinary not only receive BT Bucks, but they also get recognized by the CEO and are given an opportunity to bang the in-office gong.
"At Billtrust, it's all about our people!" Modeste said.
Who should offer recognition
One of the great things about employee recognition is that it boosts employee morale—whether that recognition comes from a peer, a boss or the company CEO. However, it's worth noting that, according to Gallup®, 28 percent of employees said their most meaningful and memorable recognition came from their manager, while 24 percent stated that it came from a high-level leader or CEO.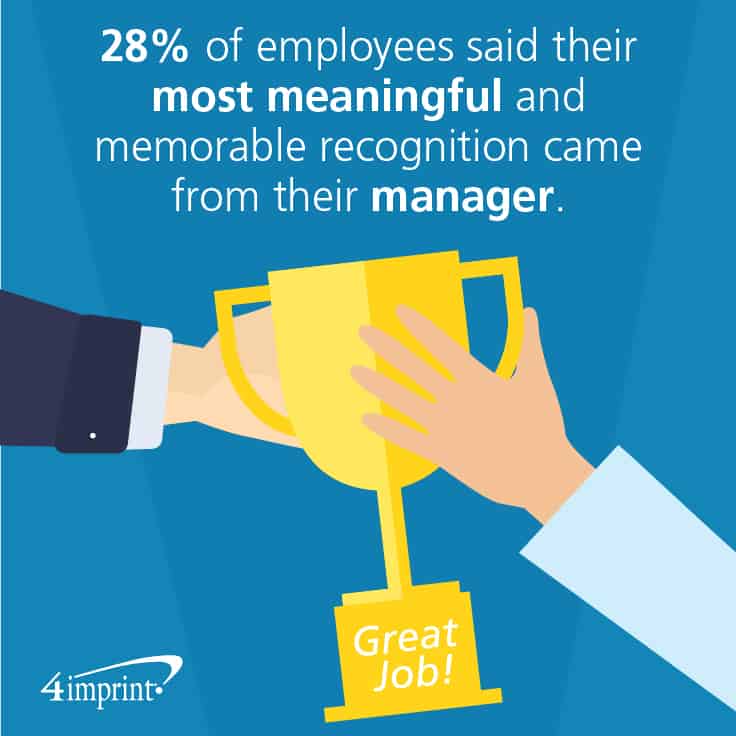 While manager and CEO acknowledgment may be the most memorable, peer-to-peer recognition is incredibly valuable as well, with statistics showing that "Peer to peer recognition is 35% more likely to have a positive financial impact than manager only."
How to set up your employee recognition program
And now that you know why you should have a program, it's time to start thinking about what your recognition program might look like. While many companies believe an employee recognition program is valuable, very few of them have a formalized program. What's more, only 14 percent of organizations give managers the necessary tools to offer awards and recognition to employees.
A simple outline for an employee recognition program
The Balance Careers offers some basic suggestions for setting up your employee recognition program:
Decide what you want to achieve through your employee recognition efforts
Is your company trying to improve its safety record? Do you want to acknowledge people who work extra hours?
By knowing precisely what the company as a whole wants to encourage, you can determine what to reinforce—and reward!
Set guidelines so leaders acknowledge equivalent and similar contributions
Guidelines will help employees know what they can be rewarded for, which will encourage them to achieve what the company wants. Guidelines also will help them nominate coworkers when they see them going above and beyond. Finally, having guidelines keeps rewards fair and equitable, preventing managers from appearing to play favorites.
Be specific about why the individual is receiving the recognition
Whether you offer trophies, gift cards or thank-you notes, the most critical part of the acknowledgment is noting exactly why an employee is receiving recognition. Being specific in your praise prevents recognition awards from becoming generic, perfunctory or appearing to be a form of favoritism.
What to reward
It's easy to reward people who make the most sales or work the longest hours. But if employee recognition only recognizes the "winners," the people who are doing their best to improve may never get a chance to shine.
Values-based recognition
Studies have shown that 88 percent of employees working at companies with a values-based recognition program think their overall experience at work is positive. So remember to reward the staffer who lives your company's values, whether it's by giving exceptional customer service or taking good care of the environment.
Hard work vs. intelligence
There's value in digging deep to offer awards and recognition for employees who are working hard to improve, whether it's making a lot of sales calls (and taking a lot of rejection) or spending extra time focusing on a process they're having trouble learning. In fact, 32 percent of employees agree that understanding their progress toward set goals makes achieving those goals easier.
By rewarding employees for putting in extra effort, they will be encouraged to keep going rather than becoming discouraged and giving up.
Other reasons to give awards
Ultimately, there are a lot of ways employees go above and beyond, but they don't always get recognized for it. Consider rewarding the person who covers someone's workload during a vacation or family leave. Thank the person who took on a leadership role when no one else thought to step up. Or acknowledge the associate who assisted someone with a major project without being asked.
Recognizing those who go above and beyond will bring them a lot of happiness. Amp up your appreciation with employee recognition gifts that are fun or useful, like a Nostalgic Candy Mix – 90's or  Roadie Bluetooth® Ear Buds.
Great awards make for great staff
Offering awards and recognition for employees isn't just good for your team—it's also great for your bottom line. So be sure to take the time to point out all the great things your employees are doing. And reward them accordingly.