Organizations have much to celebrate: employee milestones, promotions, industry awards, individual accomplishments and team achievements. If you are planning an awards ceremony, you can choose from a variety of imprinted items to honor achievements, include acrylic, glass or crystal awards.
Acrylic awards, like the Star Acrylic Award, are made from a resin that reflects light and can be imprinted or etched with an organization's logo, the recipient's name and the date of the award.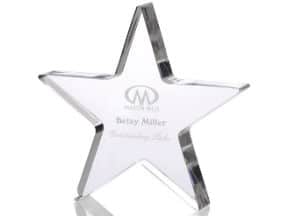 Acrylic awards represent a budget-friendly way to honor multiple recipients of the same award. For example, acrylic awards are an ideal way to honor everyone on a winning team, a sales group that meets its goals or a department that goes above and beyond to make something happen.
Like acrylic, glass awards can also be imprinted or etched with an organization's logo, the award recipient's name and the date of the honor. Glass awards, like the Captivate Starfire Glass Award, are weightier and reflect light more brilliantly than an acrylic award.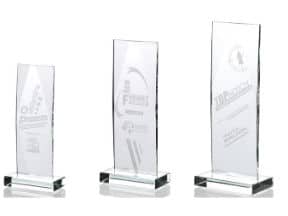 Glass awards serve as the perfect reminder of significant annual achievements. For example, an organization might present a glass award to honor an employee of the year or those employees who have reached certain milestones within the organization.
Known for its clarity and beauty, crystal is one of the most popular materials for awards. Crystal awards are often used to celebrate significant achievements or contributions by employees, volunteers, donors or other organizational leaders. Crystal awards can be engraved with the organization's logo, recipient's name and date of the honor.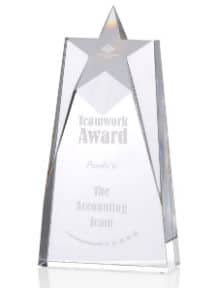 For example, the Soaring Star Crystal Tower Award (available in sizes from 8" to 14") is the perfect way to honor silver, gold- and platinum-level performers. Consider an engraved crystal award as a way to honor significant contributions, outstanding employee performance or lifetime achievement awards.
Whether your organization's awards ceremony is a red-carpet style event, an awards banquet or a fun-filled office pizza party, the key to making awards ceremonies memorable is showing genuine appreciation for the efforts of those being honored.  While awards can provide a tangible reminder of the honor, applause, a special event and front-and-center recognition are the real keys to making an awards ceremony successful.
-Suzanne
PS – Using the same style award from month to month, quarter to quarter or year to year can create a sense of camaraderie or connection among recipients who've won the awards each year and demonstrate the consistent performance associated with the achievement.