Editor's Note: This blog post was originally published in December 2017 and has since been modified to include updated research and new employee recognition gift ideas.
Employee recognition is a vital component of an enjoyable workplace. And employee recognition gifts are a great way to show employees you see their accomplishments.
A little over half of employees (53%) say their company is somewhat effective at employee recognition, while 27% say their company is very effective. However, only one in five Canadian employees feels engaged at work. Recognizing employees can not only improve engagement but can also encourage collaboration and aid in employee retention.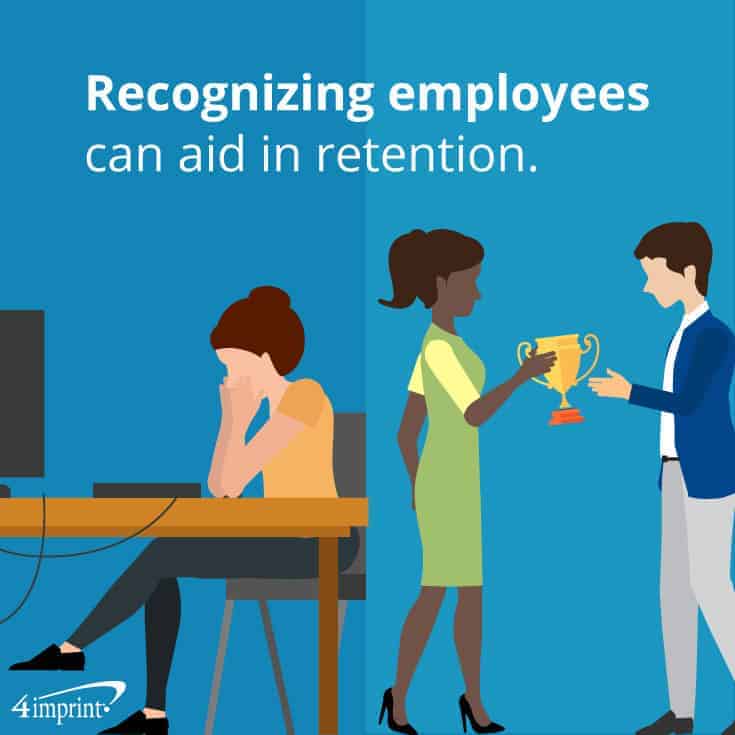 In addition to making employees happier, acknowledging employees with an award or one of the following employee appreciation gift ideas has a lasting effect. Recognition awards motivate employees to continue doing well and make them feel accomplished and valued. Plus, seeing team members receive recognition motivates other employees to work harder. In a nutshell, award programs influence the entire workplace.
Wondering when to award employees? We suggest going beyond the anniversary award. Although important to note, service recognition should be one part of an awards program. Awards that mark accomplishments or high achievements do a better job of engaging and motivating employees. In addition, achievement awards can be given throughout the year—instead of just on an anniversary. Here are a few unforgettable employee recognition ideas:
Employee recognition gifts for exemplifying company values
Public employee recognition awards
Personal employee recognition gifts
1. Employee recognition gifts for exemplifying company values
On a weekly, monthly or quarterly basis, choose employees who consistently work with these values in mind.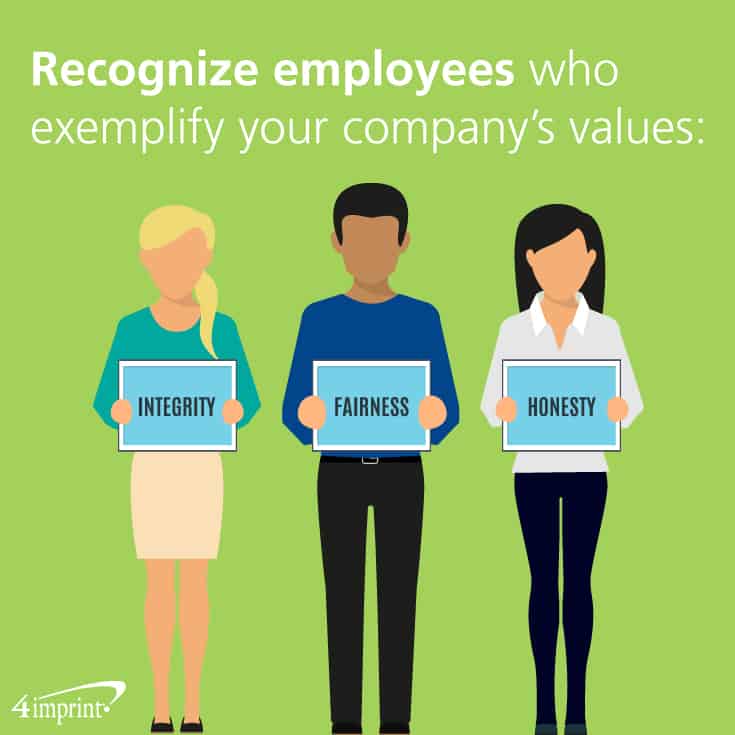 Choose a unique employee recognition gift that also represents company beliefs. For example, if one of your organization's values is innovation, a modern gift like the Addi Wireless Speaker is a suitable choice. With a microphone for answering calls, this recognition award idea makes an excellent tool for the home or office. If your company values extraordinary customer service, a communication-themed gift makes an appropriate employee recognition award. The Office Buddy Cube with Ear Buds comes with a phone stand, ear buds and screen cleaning cloth. Also, the stand easily folds into a cube, making it easy to toss into a purse or briefcase for on-the-go use.
It is equally important to recognize associates who accomplish their individual goals. These personalized achievements can be set annually during an employee's review or more frequently during touch-base meetings. When a goal is met, be sure to take the time to recognize it. Mark successes with a high-quality employee recognition gift. Employees can proudly display the Jade Glass Plaque on their shelves or desk. This chic plaque also comes with a nail hanger so it can be readily displayed on an office wall. The Plato Glass Paperweight is another award option with a unique design. The award doubles as a bowl for small items, such as paper clips or candies.
2. Public employee recognition awards
To make employees feel special, tell the whole team. No matter how large or small your organization, have the CEO personally hand employee recognition awards out to recipients. Employees will genuinely feel honoured when the head of an organization takes the time to congratulate them on an achievement. Then, be sure to communicate the honour company-wide. One great way to do this is to have a wheel of awards. When a team member is recognized for something, they spin the wheel to see which award they'll receive. You can also honour employees by pinning their recognitions on a bulletin board for the whole team to see and celebrate.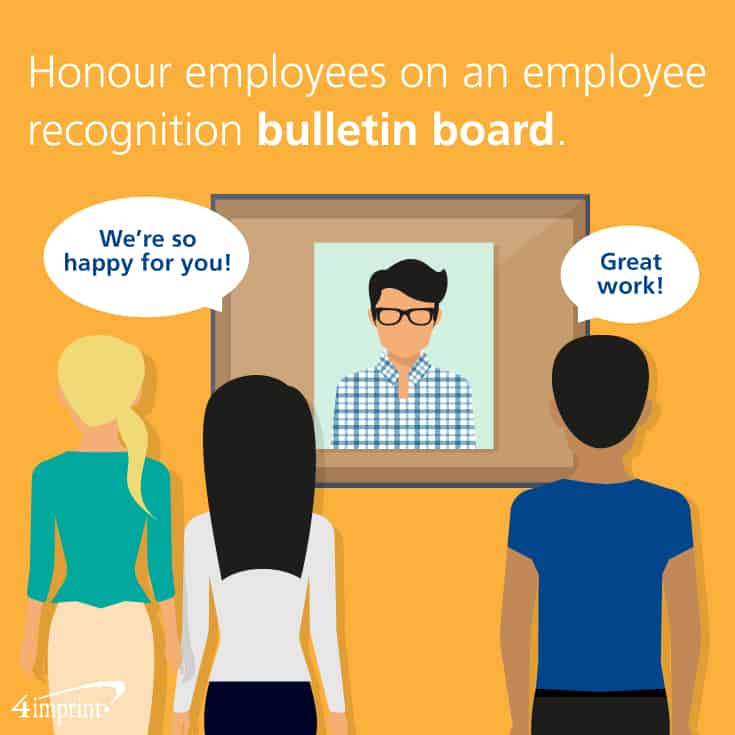 Not only does this publicly celebrate the employee, but it also motivates others to reach the same achievement.
Involving the whole team is a great way to spread the word about an honourable achievement. Have colleagues personally sign a congratulations card, then pair it with a thoughtful gift basket. Not only are the options endless, but a gift basket is both thoughtful and personal. Package smaller items inside a reusable tote bag, such as the Therm-O-Tote Insulated Grocery Bag. This practical gift item can be used to carry frozen items home from the grocery store or help keep a dish hot on the way to the next potluck. Plus, it makes a lasting brand impression everywhere it's seen. The Picnic Basket Cooler also makes a great gift basket. Package locally made foods inside this durable basket for a crowd-pleasing recognition award.
3. Personal employee recognition gifts
Whatever the gift is for, the best gifts are personalized. Personalized gifts help nurture the employee relationship by showing how much thought was put into choosing the perfect recognition gift. Selecting a personalized gift also encourages you to spend time with employees, learning more about their hobbies, interests and personal lives.
Once you know what type of gift an employee would love, consider one of these personalized ideas. For the foodie, the Normandy Swivel Base Cheese and Wine Set makes a thoughtful recognition gift. This acacia wood tray has a slate top that can be removed to reveal cheese serving tools and a wine opener. The Colourful Metal Bird Feeder is the perfect recognition gift for the team member who loves nature. They can hand this lightweight feeder from a tree branch or post and watch the world come to them. If an employee regularly spends time in the great outdoors, they are sure to appreciate a useful camping gift, such as a Rope Accent Lantern Flashlight. They can light their way out in the middle of nowhere.
Implement memorable employee recognition ideas
By honouring extraordinary work, telling the whole company and personalizing employee recognition gifts, you can build a recognition program that will have everyone talking while also motivating them to reach their goals. Remember these tips and employee recognition ideas when planning your next awards celebration. Check out even more great ideas to improve employee engagement.