When we say a person is "a soft touch," it means that the individual is easily persuaded. But when we say the same about a giveaway, it means you'll easily be able to convince customers and employees to take and hold on to one of the most comfortable and unique promotional products available.
With their soft—almost rubbery, bouncy—finish, soft-touch promotional pens, notebooks and drinkware have a tactile, 'never-want-to-let-go' appeal, which is perfect for keeping your brand or message out in front.
If you want to give customers a classic promo item that feels as good as it looks, these soft-touch items will have them reaching for your brand.
Soft-touch pens with company logo
The laser-engraved or screen-printed Incline Stylus Metal Soft Touch Pen with your company logo is a top seller. In addition to its velvety soft texture, the pen has a chrome clip, tip and accent ring that gives it style.
If you're seeking an even more distinct look, the Incline Stylus Metal Custom Soft Touch  Pen – White adds a pop of color to the pen's stylus.
These unique promotional products will stand out at a trade show table or help new employees take notes as they learn their job duties. If you're looking for more quality pens with a unique look and feel, read "Top trends to help you choose the best promotional pens."
Soft-touch notebooks
The Chameleon Color Shift Notebook pairs perfectly with a soft-touch pen.
This soft-touch notebook features an iridescent sheen, making it an eye-catching giveaway. Hand notebooks out during training events, seminars and other presentations to make notetaking a little more fun.
Soft-touch tumblers
The Soft-touch Vacuum Travel Tumbler combines a unique velvet-touch exterior with a versatile interior and top-quality insulation.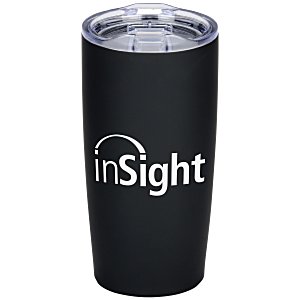 Copper-insulated drinkware is suitable for a hot or cold drink, making it an ideal first-day gift for salespeople. Fill the tumbler with a coffee to go (hot or iced) to make a lasting impression.
Soft-touch bottles
With a flip-top spout, straw and an easy-carry handle, the Hampton Soft Touch Bottle is designed to carry a cold beverage anywhere.
This attractive promotional gift pairs well with outdoor events and makes for a memorable prize at a trade show.
A unique promo product creates a memorable impression
With their standout appearance and pleasant, comfortable feel, soft-touch pens, notebooks and drinkware will excite people to get in touch with your brand.