Do you have dreams of seeing your organization's name in lights? Those dreams can easily become reality when you put your branding on a light-up logo pen. Add in some extra features, and you have a promo that really makes an impact. Plus, people keep promotional pens for an average of nine months (PDF) which means your next giveaway will stand the test time.
Light-up promotional pens are often constructed with a translucent barrel that's been double-sprayed. The light inside the barrel shines through your laser-engraved imprint. Activating the light depends on the pen's design. Most require the user to press down on the stylus; others have more unique options.
Unlike a flashlight, these promotional pens with light and stylus are meant to show off your brand, not light up a room. This technology is a cool way to highlight your logo, whether you're passing them out as a trade show giveaway or gifting them to employees as a reminder that their contributions brighten your organization.
Your name in light-up logo pens—and bold colors
The Javelin Logo Light-up Pen has an aluminum barrel and is available in a variety of bold colors.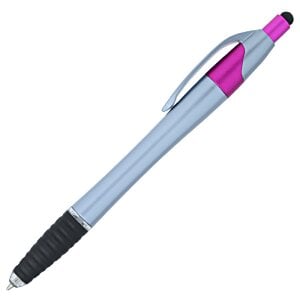 The accents highlight the barrel and your light-up logo—just press the plunger twice to activate.
Sleek comfort offsets your logo
The Kona Light-Up Logo Stylus Twist Pen features a colored barrel with black accents for a sleek, professional look.
Its black, textured grip makes for slip-free, comfortable writing while the stylus allows them to seamlessly go from paper to screen (it activates your light-up logo, too).
The Metallic Evantide Light-Up Logo Stylus Twist Pen's large rubber grip will make recipients want to hold on to your name.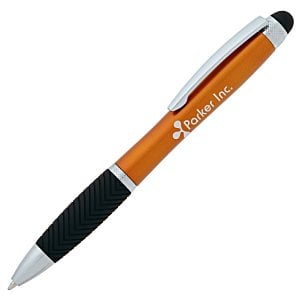 The internal light runs on one small lithium-ion battery. Users turn it on with a simple push of the stylus.
Switch on the charm with promotional light-up pens
The Ophelia Light-Up Logo Stylus Pen comes with a frosted cover designed to protect the stylus when not in use.
To light up your logo, users simply have to use the switch on the pen's grip.
Complement your logo with light-up pens
The Sanibel Light-Up Logo Stylus Twist Pen includes a laser engraved imprint on the barrel, beside the clip.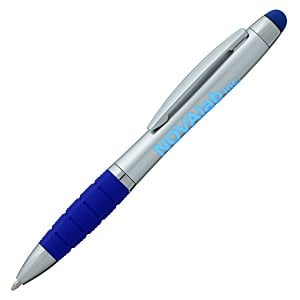 The colorized rubber accent on these promotional pens with light and stylus nicely complement your logo. To activate the light, users just push the stylus.
Light-up promotional pens illuminate your brand
Pens have long been one of the most popular (and useful) promotional products. Try these light-up logo pens for to add a little added flash to your next promotion. Get more ideas on how to make your brand shine with other light-up promotional products.