From budget to delivery and everything in between, there's a lot to consider when choosing the perfect business gift. But above all else, personalization is key. To give a gift that will make customers remember you fondly, grow the business relationship and show appreciation, make it personal.
Personalized gifts contain items recipients would enjoy based on their likes and hobbies. Think back to interactions you've had with clients. How do they spend their free time? What topics, outside of work, do they enjoy talking about? What do they have in their office that would indicate a passion?
Answers to these questions could spark the next great idea for a personalized and unique corporate gift basket.
What to consider when building a promotional gift basket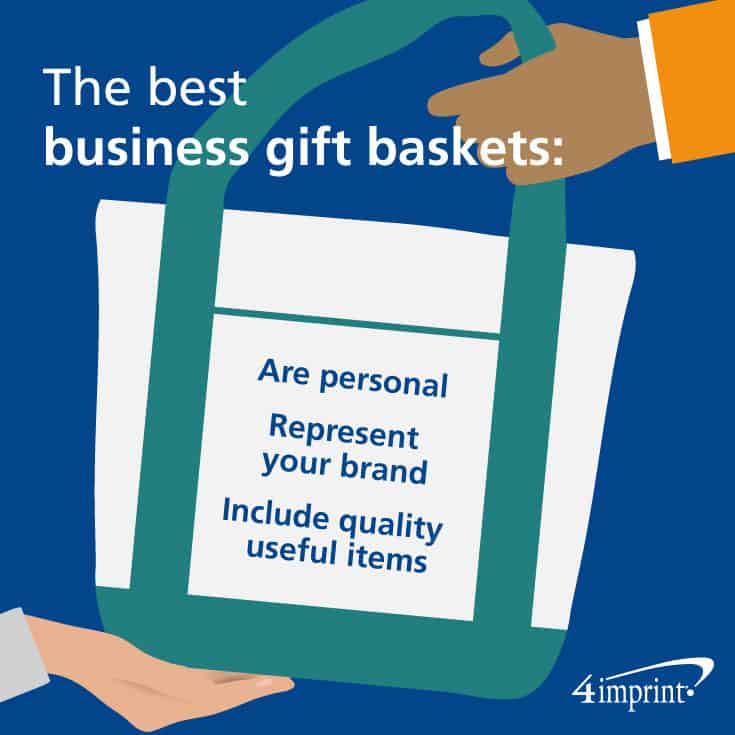 First, it should represent your brand. To make that happen, use a promotional tote bag imprinted with your company logo as the gift basket. Of all promotional items, tote bags make the most impressions, averaging 4,724 for each bag (PDF). The high number of impressions and usefulness of tote bags make them a great option for branding a business gift basket.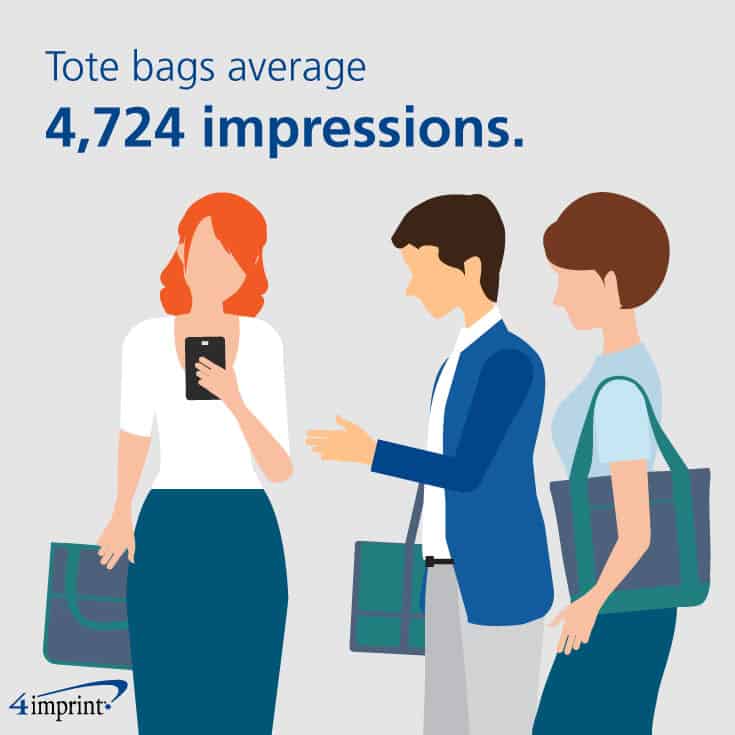 When you need storage space, the Boatyard Tote is a smart choice. This bag has one mesh pocket and two slip pockets for water bottles, keys and a phone. Package a thoughtful gift inside the Saratoga Canvas Tote. This promotional bag is perfect for weekend getaways or gym clothes.  For a bag that will be there on any daily errands, the Go Time Folding Non-Woven Tote easily folds up for convenient storage.
It's also important to include quality items that are useful in your gift basket. The more practical an item, the more likely it is to be used. And the more an item is used, the more it will remind them of your business. Also, a quality item has a much longer shelf life.
Here are a few ideas for assembling personalized business gift baskets using promotional tote bags.
Business gift baskets for the sports fan
For your client who never misses the big game, consider a sports-themed gift basket that is sure to wow them. Start with the Waterproof Seat Cushion. This sporty gift will make watching any outdoor sporting event more comfortable. Next, add a Diversity Can Insulator and their favourite beverage. With almost 100 colours to choose from, it's easy to find one to match any sports team. For an extra special touch, include a couple of tickets to an upcoming game. Complete the personalized sports basket by putting everything inside a cooler. The Convertible Cooler Tote is perfect for the next tailgate.
Promotional gift baskets for the party planner
Do you have a customer who loves throwing get-togethers for their friends, family or colleagues? Try these fun business gift basket ideas for the host or hostess with the mostest. This trendy Stemless Red Wine Glass Set will attend every party. Their unique design makes these glasses an instant favourite. For the barbeque enthusiast, the Grill Master BBQ Apron is a perfect accessory. Great for parties, but still useful for everyday cooking, this top-notch apron includes pockets, a bottle opener, an oven mitt and even an insulated drink pocket. For the foodie, package the Slate Cheese Board with an assortment of local cheeses and fruit spreads. Simply label each variety of cheese by writing its name in chalk. Package this festive basket inside a classy tote, such as the Tri-Colour Cotton Tote.
Seasonal business gift basket ideas
Seasonally appropriate gifts appeal to a wide audience. Warm up customers with this Campfire Ceramic Mug and Hot Chocolate Pouch. If they enjoy curling up with a good book, throw in a popular best seller. The Sherpa Lined Rustic Ranch Throw Blanket is another great gift item for your cold-weather basket. This super snuggly blanket is perfect for chilly nights. Want to give these cozy goodies a holiday theme? Pack them in the Stocking Folding Tote. This festive bag with holiday print fits neatly inside a stocking-shaped pouch.
Give thanks with a memorable promotional gift basket
With these tips and ideas, you're now ready to put together unique corporate gift baskets for any of your contacts. With the right promotional tote bag and a personalized touch, your organization is sure to leave a lasting impression.