T-shirt giveaways have long been one of the most popular promotional items—and with good reason. They create a win for everyone. Recipients get a comfortable, practical shirt that lets them wear a brand they love, while organizations get an average of 3,400 impressions per shirt (PDF).
T-shirts provide wins in other ways too. With a variety of price points and styles to choose from, you can select a T-shirt that reflects your brand, makes your logo pop and fits your marketing budget with just a few clicks.
We have several filters on our T-shirt page to help you narrow down your selection. Sort by fit, fabric and/or style to find the perfect match for your promotion. For popular classic tees, filter by Basic T-Shirts under the Style menu. For a performance shirt, choose Moisture Wicking under Fabric or Athletic under Style. And to save yourself time when hunting for shirts in the size you want, select from Men's, Women's or Youth from the Fit menu.
For more tips to help you choose the best shirt to reflect your brand, keep reading.
The traditional cotton T-shirt
With its comfortable construction and unisex design, the classic Cotton T-shirt is an apparel giveaway that almost everyone can appreciate. Keep a variety of sizes on hand and you'll be ready to share your brand at any event or trade show, whether the audience consists of youth or adults, men or women.
The Gildan® Heavy Cotton T-Shirt for adults or children is available in a variety of colours and sizes. It has a comfy, breathable cotton feel that people love.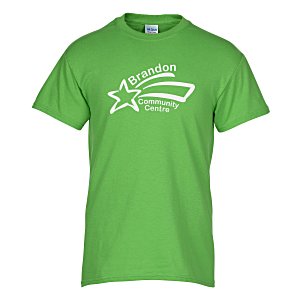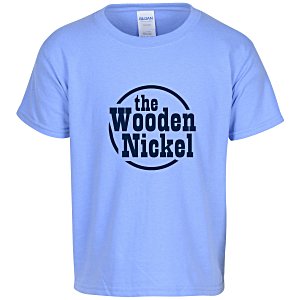 The classic athletic T-shirt
Athletic T-shirts like the Pro Team Moisture Wicking Tee are available in women, men and youth sizes. It features performance-driven fabrication and moisture-wicking technology to help keep wearers cool and comfortable while on the move.
Athletic T-shirt giveaways are ideal for youth league and office sports team sponsorships—or to keep employees who work outdoors cool and comfortable on the job.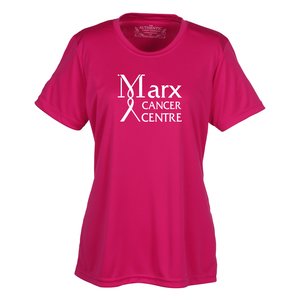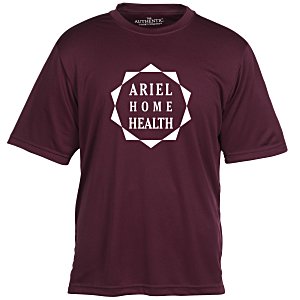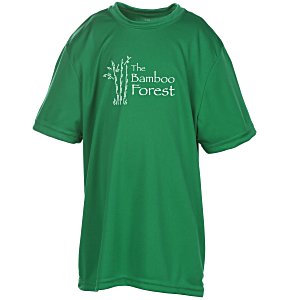 Trendy fashion T-shirts
If you're looking for a stylish T-shirt giveaway idea, the Fashion T-shirt line will have everyone clamoring for your brand. The Threadfast Ultimate Blend T-Shirt for men and women features a comfortable fabric with an incredibly soft feel.
These apparel giveaways will help your employees look great. Use them as a uniform or share them as a thank-you gift for your customers.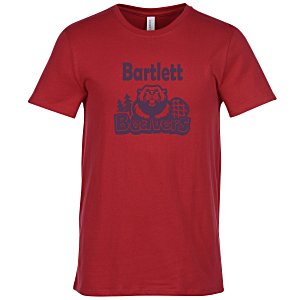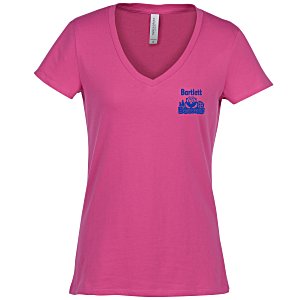 T-shirts for everyone
Much like your customers and employees, T-shirts come in all shapes, sizes and styles. And whether you offer a look that's fashionable, athletic or classic, these t-shirt giveaway ideas make your brand—and your customers—look good.