A great promotional product should make your brand shine. And these promotional drawstring bag giveaways don't disappoint.
These bags use reflective ink to make the bags—and your brand—stand out. Commonly used on clothing designed for safety, this special ink now finds itself on all kinds of clothing, bags and other items for one obvious reason: It looks cool!
The ink shines due to tiny reflective glass beads that catch and reflect any light that hits them. And on these bags, this super-cool ink will make onlookers pause and reflect on your brand.
Reflective Stripe Sportpack
The Reflective Stripe Sportpack will turn heads for its bold look, plus people are sure to love the convenient carry method.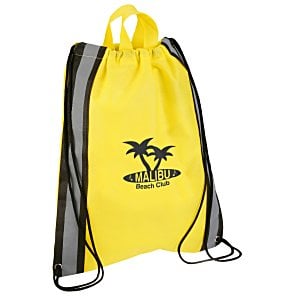 Tear- and water-resistant, recipients can wear this as a traditional backpack or grab and go with the convenient carrying handles.
Geometric Reflective Print Sportpack
The Geometric Reflective Print Sportpack has the same great storage capacity but changes up its reflective ink pattern, placing it on the bottom portion of this promotional drawstring bag giveaway. Both practical and flashy, it's certain to help you catch attention and get visitors talking at a trade show or community event.
Flashy promotional drawstring bags catch attention
Looking for a bag giveaway that will brighten your recipients' day? These promotional drawstring bags are the perfect item to help your brand shine. See how another organization uses bag giveaways for easy branding.