If you are looking to get the most bang for your promotional buck, put bags and totes at the top of your list. Thanks to their functionality and broad appeal, the latest Advertising Specialty Institute study found that 50 percent of U.S. consumers own custom promotional bags. That same study also says you'll get more impressions from bags than any other promotional item.
Bags come in all shapes and sizes, including custom drawstring sportpacks and promotional tote bags. We have innovative options that cost less than similar products but don't skimp on style.
Custom promotional bags printed with style
Our Exclusive Etched Pocket Drawstring Sportpack and our Etched Pocket Tote are designed and created with a new technique that offers a high-end look at a lower cost. Let's have a closer look.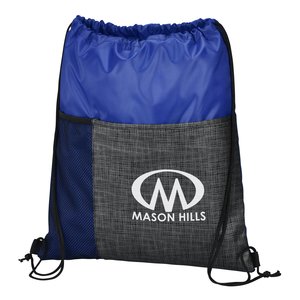 On the sportpack shown above, the stylish front pocket is printed to look like cloth. This way you get a sportpack with a high-end look without the high-end price.
Sportpacks are perfect for stowing a wide variety of items and many include a front pocket for carrying a water bottle.
Our Exclusive Etched Pocket Tote is another custom bag that features this two-tone cloth accent.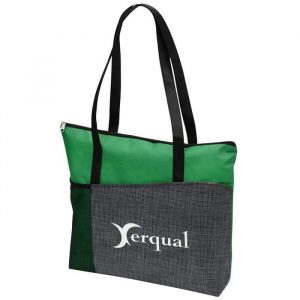 Promotional tote bags that feature a large front pocket and zippered main compartment offer functionality and security. This tote also includes a mesh water bottle pocket for convenience.
Purchasing custom promotional tote bags and sportpacks is a win-win—you save money and your recipients get a functional bag they will be proud to carry. Plus, if you need these bags fast, we offer a special 24-hour production turnaround and quick shipping.
Benefits of custom promotional bags
If this is the first time you've considered a drawstring sportpack or promotional tote bag, it's a choice your recipients are sure to love. Why? Sportpacks and totes are:
Easy to use—just cinch (or zip) and go
Spacious, with a large amount of storage in the main pocket
Convenient to store—they fold flat when not in use
Popular with all ages and genders
These custom promotional bags are perfect for fitness clubs, indoor or outdoor sporting events, company outings, trade shows and any time someone needs to pack a day's essentials. So, the next time you're looking to boost brand awareness with a practical, stylish gift, give these exclusive sportpacks or totes a try.