Business gift-giving season is right around the corner. Start planning now so there will be less stress during the busy holiday season. Thule is a great place to start when considering ideas for corporate clients, team members and more.
From auto accessories to custom athletic bags and more
A trusted brand in outdoor gear and sports bags, Thule sells its quality goods in 136 counties. It rallies under the slogan, "Bring your life." It's fitting, considering the gear allows people to transport sporting equipment, laptops, cell phones and more, safely and in outdoorsy style.
As a company, Thule Group was founded in 1942 in Sweden, by the Thulin family. Today, the company has more than 2,000 employees at more than 50 locations around the world. In the beginning, they gained a following for their auto accessories, including headlamp protectors, ski racks and roof racks for luggage. In the 1970s, they branched out into roof boxes. And the 1980s and 1990s ushered in a focus on transporting sporting equipment, such as surfboard and bicycle carriers for automobiles. More recently, Thule launched luggage, backpacks, duffels, laptop bags and camera bags, as well as protective iPhone® cases. These custom promotional products are highly sought after, and they deliver real impact to your clients and employees.
Personalized Thule backpacks, laptop cases and phone cases provide both functionality and style. What client wouldn't value a promotional product that does all that?
Thule promotional products pair brand recognition with quality craftsmanship
Thule brings big-name recognition, quality craftsmanship and an esteemed history of trusted product manufacturing to its promotional products. Here are just a few items featured in our online Thule store.
Thule EnRoute Escort 2 Laptop Backpack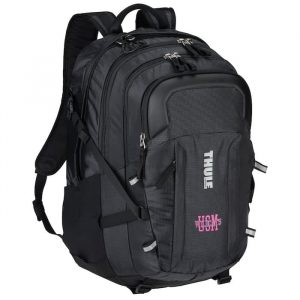 Imagine the impact you'll have when a team member or client shows off their custom Thule EnRoute Escort 2 Laptop Backpack with your company brand on it. This daypack includes a spacious rear compartment with room for a 15.6" laptop and a tablet pocket. Additional zippered pockets provide the perfect spots for sunglasses, phones and keys.
Thule Atmos X3 iPhone Case-7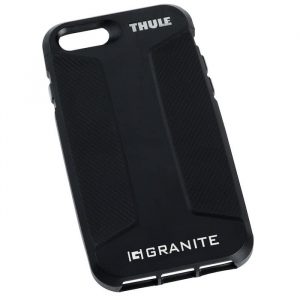 Smartphones are everywhere and now your logo can be, too! Clients or team members will show off your brand each time they take a call on their custom Thule Atmos X3 iPhone Case-7. This case of ABS plastic and rubber fits an iPhone 7. Its slim design features bi-component armor and Shock-Stop corners that help protect their phone against impact.
Thule Subterra Computer Brief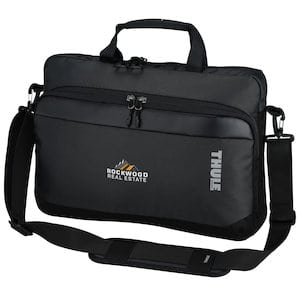 The Thule Subterra 15" Computer Brief makes a stylish gift for corporate clients and team members. With space for a 15.6" laptop and a tablet, this slim briefcase still has plenty of storage space for documents, pens and laptop accessories.
Thule 32L Crossover Laptop Backpack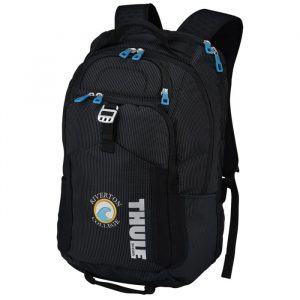 Honor a client's active lifestyle while also enabling them to work on the go with the Thule 32L Crossover Laptop Backpack. This practical, sporty pack transitions easily from work to weekends, all while protecting their gear. A zippered back compartment holds a 17" laptop and a tablet while the middle zippered compartment offers enough space for work documents or a change of clothing. Exterior pockets can hold other accessories or weekend gear. This bag even works during a hike—its two mesh pockets are perfect for water bottles.
Thule Crossover Laptop Messenger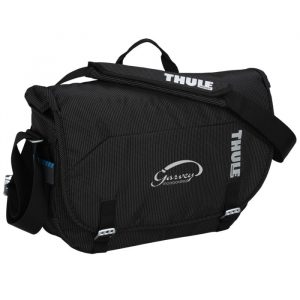 For something a little more business chic, try the Thule Crossover Laptop Messenger. This personalized nylon messenger bag will be popular with clients and team members who need a travel-ready, day-to-day bag that's durable, easy to organize and security-friendly. This bag holds a 15.6" laptop and is TSA compliant. Best of all, a pass-through luggage sleeve allows them to attach the bag to their luggage when on the go. This convenient bag also protects their smartphone, thanks to a heat-molded, crush-proof compartment.
Your secret weapon: You know where to buy Thule promotional products
Capitalizing on the brand awareness of a company like Thule can really drive home your message. Knowing where to buy Thule items puts you a step ahead of the competition. In our Thule store, you'll find backpacks, laptop cases and more. These make perfect gifts for corporate clients and premium promotional products for employees. Best of all, these high-quality giveaways are just waiting to help showcase your brand.
–Suzanne
PS – Are you a fan of Thule backpacks, laptop cases or messenger bags? Tell us about it in the comments below.