Perhaps you've noticed it in retail, on the sidewalks, during your commute or even at the office: Backpack styles, including custom laptop backpacks, are evolving. A few years ago, children's backpacks started displaying more originality. They became whimsical and more innovative in structure and shape. These days, adults are getting in on the action, but their preferred style is going in an entirely different direction: less structure, with a softer, more relaxed look. Fabric makers are taking their cue from this as well. Fading into the background are the classic canvas bags. In their place, you'll see relaxed heathers that give off a decidedly dressed-down vibe while maintaining their business-as-usual functionality.
Introducing new fabulous, functional, exclusive laptop backpacks
At 4imprint®, we've been watching the evolution of the backpack with interest. Specifically, we want to offer cutting-edge branded laptop backpacks you'll be proud to give your clients, donors and employees. The first step was to design a custom laptop backpack to lead this style evolution, while adding useful features that would make this bag one of a kind—truly a 4imprint Exclusive. We know there is demand for branded laptop backpacks that are fashionable and highly functional. We also know when your customers have so much resting on their shoulders, the last thing they need is a heavier load, so we've chosen lightweight fabrics that are strong enough to carry a laptop, lunch on the go, a book or two, and more. The result: a modern-day, go-everywhere, do-everything backpack with relaxed appeal that your recipients are sure to appreciate.
Eye-popping features reflect your brand
These new bags are made of a two-tone heathered fabric, adorned with sturdy black trim, and accented with a pop of color at the straps to complement your logo: Choose red, green, royal blue or charcoal. This 4imprint Exclusive custom laptop backpack has a padded interior sleeve to help protect a laptop, and padded backpack straps boost its comfort factor. The main compartment features drawstring closure with snap buckles to help protect the contents inside, while the zippered front pocket displays your logo. Choose a one-color imprint on the Portland Laptop Backpack.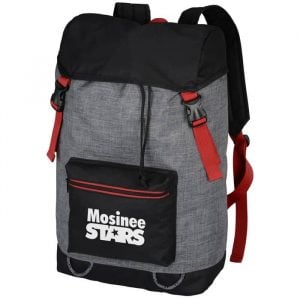 Or elevate your style with custom embroidery on the Portland Laptop Backpack – Embroidered.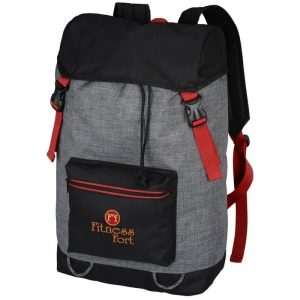 Growing demand—and a growing backpack line to match
Just launched, the Berkeley Laptop Backpack is already turning heads. This smart-looking backpack features subtle hues and a secure design to help protect up to a 15″ laptop.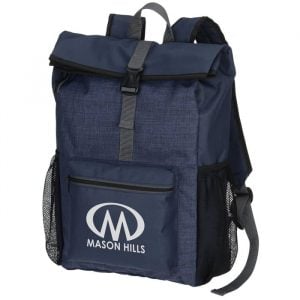 The Berkeley Laptop Messenger is ideal for those who prefer to sling the bag over their shoulder.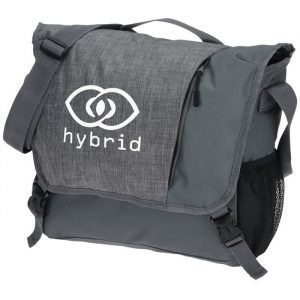 Both of these exclusive bags are available with your one-color imprint or custom embroidery.
Versatile bags for back to school, back on the road or back to the office
Branded laptop backpacks are always a great back-to-school accessory, but when it comes to these new styles, you're not held to a single season. Recipients will love using the versatile, modern bags for their everyday business needs. Choose them as event giveaways, stuffed with promotional products for silent auctions. Or use them as employee appreciation gifts. Imagine your team members showing off your brand while heading to their next off-site meeting or gathering.
Let custom logo bags do the heavy lifting
With 4imprint Exclusive custom laptop backpacks, your customers, donors and employees will be able to carry whatever they need to tackle their next task. Help them stay organized at work, at home or on the go. Your brand exposure will soar as these bags make their way around town—and beyond.