As animal prints make their way from fall runways to fall closets, the Paws and Claws line is doing much the same in the promotional products world, albeit with a slightly different crowd.
These adorable little creatures are such hit promotional products that the Paws and Claws line has expanded from sportpacks to include promotional notebooks, imprinted smartphone wallets and more.
Recipients of these adorable items can't get enough of the charming design and detail of the animals. That makes these logo'd giveaways a great addition for gift shops at museum, amusement parks, zoos, college campuses and more.
Best Gifts for Animal Lovers: Paws and Claws Sportpacks
The Paws and Claws Sportpacks are certainly a conversation starter. There are dozens of designs in all, including the 4imprint exclusive great horned owl, wolf, hedgehog, lake fish and clown fish.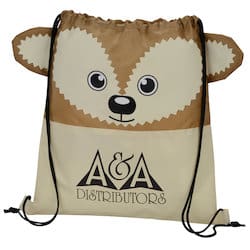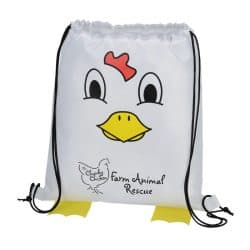 Each sportpack has three-dimensional features—like this hedgehog's ears—and can be closed with a quick pull of its drawstrings.
Standout Promotional Products: Paws and Claws Notebooks
If you love these cute animal faces, and want promotional products to hand out at meetings or events, check out these adorable Paws and Claws Notebooks.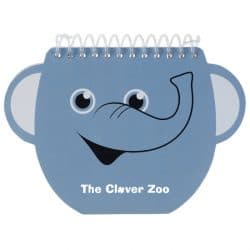 The notebooks come in five 3D designs—duck, monkey, elephant, puppy and kitten. The facial design carries through inside as a watermark of the lined paper. Because this notebook is great for taking notes, sketching and doodling, this is a giveaway your customers won't be able to get keep their hands off. They make great giveaways for fun team-building events, veterinary offices, animal shelters and more.
Animal Lovers Giveaways: Paws and Claws Smartphone Wallets
Need a giveaway that appeals to tech users, but stands out from the standard tech giveaways? The Paws and Claws Smartphone Wallets do just that, allowing recipients to show their support for the animal kingdom while keeping credit cards and IDs tucked away their smartphones.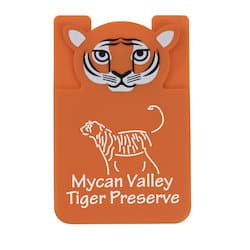 The Paws and Claws Smartphone Wallets come with an adhesive back that sticks to smartphones. Slide your cards behind the animal's head and be on your way! These wallets come in 11 designs, including exotic and farm animals, as well as a variety of birds. These helpful little promotional products make great giveaways at community events, food festivals, employee picnics and more.
Animals All Around
The Paws and Claws promotional products line doesn't stop there. Other Paws and Claws logo-ready items include lunch bags, foldable bottles, zippered pouches, covered storage cubes, tablet cases, duffle bags, bookmarks and calendars.
If you are looking for hit promotional products that stand out in a crowd, consider our Paws and Claws products. They make great gifts for animal lovers. You'll love the designs, selection and how often your logo gets noticed!
–Suzanne