Attend any trade shows, meetings or events and you're sure to find promotional pens within reach.
How can you make your pen one customers reach for first? Choose a pen in a body style and color that will stand out.
Our exclusive Gala Pen – Translucent is a good example. The translucent center contrasts against the solid ends. Bright colors ensure the pen will stand out on a table, with a display booth or inside any bag or purse.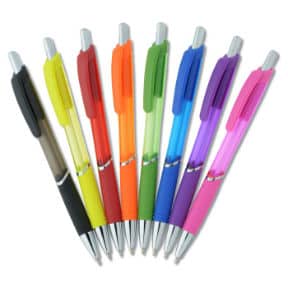 Its comfortable grip and stylish look make this a pen your customers and your team will reach for again and again.
If you like the look of the Gala Pen, but are looking for promotional products that do double-duty, check out the Gala Stylus Pen. This pen lets you multi-task easily as you switch between writing on paper to scrolling on an electronic device.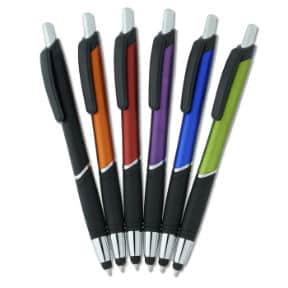 The stylus has a finer tip than other similar products, making it easier to navigate and scroll on a phone or tablet. And, by having a stylus at hand, you'll reduce fingerprints on your screen. The Gala stylus comes in a variety of metallic colors, making these promotional products customers and team members can't wait to get their hands on.
-Suzanne