According to a recent study, people who wear fun socks at work are seen as more creative and successful. Help customers and employees achieve that look when you give cool branded socks.
Creative socks are just about everywhere. Go to any retail store and you'll find stand-out socks in endless colors and patterns to complete any outfit. That sense of style has migrated from home to the office, allowing successful businesspeople to show their fun side—even when wearing a three-piece suit.
Show that your brand is both fashion-forward and fun when you offer your customers and employees unique socks.
Put your best foot forward with cool branded socks
One of the fun things about logo socks is that they provide an unusual way to share your brand at trade shows or other events.
Pick a style that reflects your trade and you're sure to attract customers that are fans of your industry. For example, Unisex Patterned Socks are available in a fun Planes pattern.
They're sure to get interest soaring at an aviation trade show or event.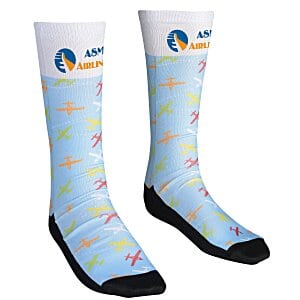 Want to catch the attention of sports fans? Try Golf or Football socks on for size.
Even if they don't get office wear, customers will sport them on the links or when kicking back and watching the game.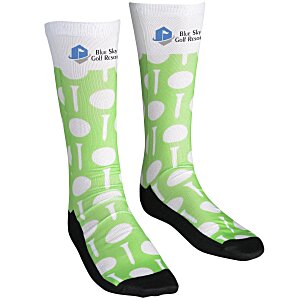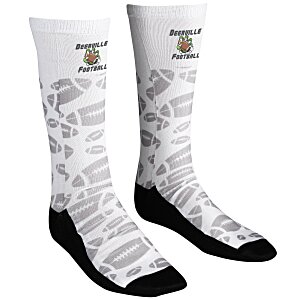 If you're looking to split the difference between casual and button-down, Circles, Argyle,  Stripes and Sweater patterns provide that middle ground.
These custom logo socks make a great giveaway or prize that can be easily displayed on trade show tables to attract extra attention.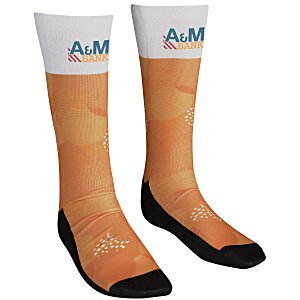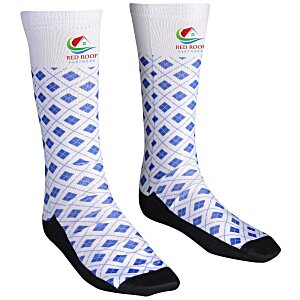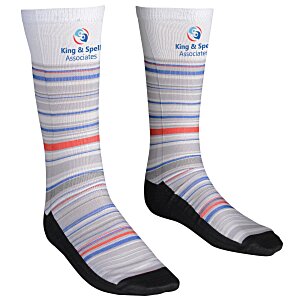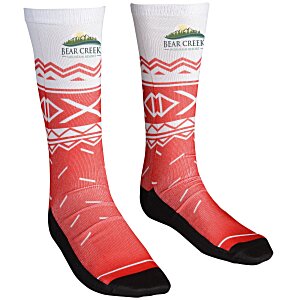 If your group is supporting a cause, sock it to them with Awareness socks.
These make great event giveaways, donor thank-yous and sponsor gifts. Or sell them at a community gathering to raise funds and awareness.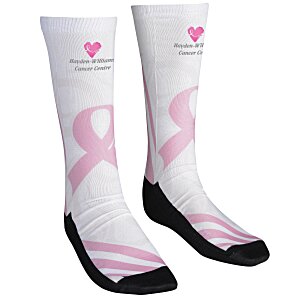 Full color and a perfect fit
Full Color Crew Socks come in a variety of patterns and sizes—small/medium, large and extra large—making them an ideal fit for every body.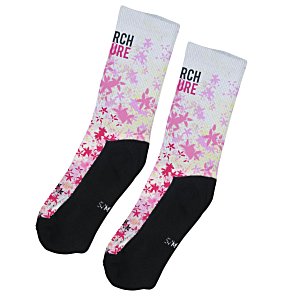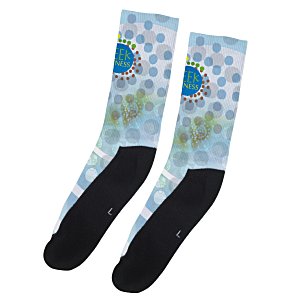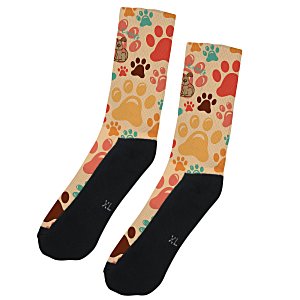 Pair the socks with a mug or tumbler to complete your new employee welcome gift. Or tuck them in a gift bag to hand out during the holidays or on employee anniversaries.
Show your stripes
If you're looking for a creative way to show your favorite customers some love, try giving them a pair of custom logo socks. Send a note explaining why (you're creative/you're fun/you have a great attitude/you always share a great joke on conference calls) along with a pair of SOCCO Striped Crew Socks to put a smile on their face and a spring in their step.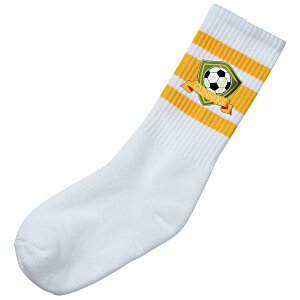 Put your best foot forward
Cool branded socks are a unique way to kick your branding up a notch. With so many patterns to pick from, you're sure to find one that will help your business stand out.