Bluetooth® is everywhere these days. It is an everyday staple in video game controllers, automobiles and even hearing aids. Yearly shipments of Bluetooth devices are forecasted to grow by 1.5 times from 2021 to 2026 making now the perfect time to work Bluetooth technology into your marketing. These unique tech giveaways have something extra to make your message stand out.
Spotlight your brand with a flashlight and Bluetooth speaker combo
The Flashlight with Bluetooth Speaker is sure to be a popular giveaway with clients, prospects and employees. This custom LED flashlight includes three light settings and can wirelessly play music for up to three hours.
This unique Bluetooth tech promotional item would be an excellent prize for social media contests or could be used as a customer thank-you gift.
Surprise speaker duos make perfect tech giveaways
High-end Bluetooth promotional speakers make terrific trade show and event prizes. Enter everyone who gives you their contact information into a drawing and turn these speakers into customer connections.
The Bluetooth Wireless Charger and Speaker merges two trends into one—wireless charging and wireless listening. This impressive promotional item is ideal for technology companies and anyone looking to leave a lasting impression.

The KOOZIE® Chillin Bluetooth Speaker Kooler truly is a cool tech promotional giveaway. With two Bluetooth speakers and lots of space for food and drinks, it's sure to be the center of attention at tailgating parties, weekend campouts and backyard barbecues.
The Wireless Speaker Bottle is ideal for multitaskers. It keeps water cool while they're listening to music and working out. And it keeps them hydrated while catching up on a podcast during their commute.

The Lantern with Wireless Speaker will illuminate your message. Set this tech giveaway up on your trade show table and watch as passersby stop, look and listen.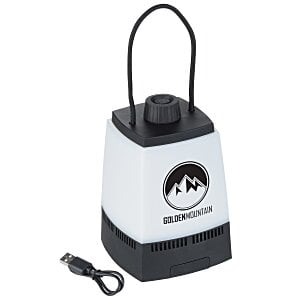 Turn up the volume on your branding with tech promotional giveaways
Premium Bluetooth tech giveaways are ideal for prizes, trade shows and celebrations. These high-end gifts with a little something extra are sure to get your brand message heard. For more wireless tech giveaway ideas, check out our wireless ear bud article.