Flashlights are popular promotional giveaways because they offer durability, usefulness, and a variety of sizes and price points. We've expanded, and improved, our light-up product category with the addition of chip-on-board (COB) lighting.
COB technology is a new form of LED packaging that produces brighter light from a smaller space. Here's the low-down on how COB technology works and why customers increasingly choose COB flashlights for promotional items.
How COB technology works
In basic terms, COB lights are nine or more LED chips, or diodes, attached to a surface to form a single line. The LED chips used in COB lights are packaged differently from other LEDs, making it possible for the chips to be set closer together so that the amount of space they take up is reduced, but they still illuminate a wider area.
Benefits of COB technology
There are many benefits to using COB technology. The lights are more energy efficient and have a longer shelf life. Additionally, flashlights using COB technology offer a higher lumen rating in a smaller size compared to flashlights with fluorescent light bulbs. This means a smaller-than-traditional flashlight creates a brighter light. Finally, thanks to requiring less space, COB packaging offers more flexibility with product design.
Longer usage equals longer branding time
Adding COB technology to flashlight promotional items means your giveaways will last longer for the recipient and work longer as a branding tool for you. The longer a promotional product is kept, the more impressions your marketing message makes. Did you know that more than 80 percent of people keep promotional products (PDF) for more than one year? COB flashlights are the perfect example of a long-lasting item with a long shelf life to keep your brand within reach and top of mind.
Storm COB Carabiner Flashlight
The Storm COB Carabiner Flashlight offers more functions than a traditional flashlight.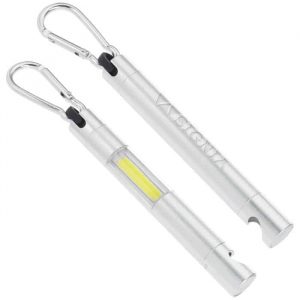 Thanks to COB packaging, the amount of light distributed is impressive for this flashlight's slim design. With the included carabiner, built-in magnet and bottle opener, this is one promotional COB flashlight that will leave an unforgettable impression.
Hanging Magnetic COB Work Light
For a hands-free lighting option, check out the Hanging Magnetic COB Work Light.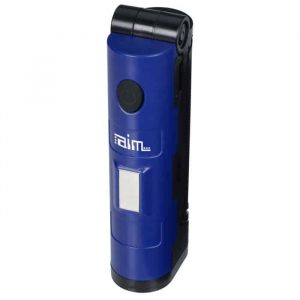 Easily brighten any dark workspace by hanging this light from its strong magnet or built-in hook. The lightweight, foldable design makes it easy to bring this COB LED—and your brand— anywhere.
Mega Super Bright Flashlight
Light up wide spaces with the Mega Super Bright Flashlight.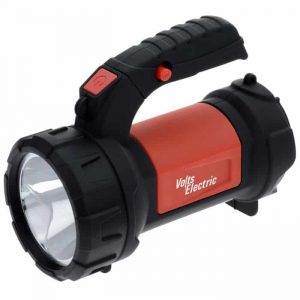 This heavy-duty, versatile promotional product can be held as a flashlight or used as a lantern with its metal hook. In addition to the main spotlight's three modes, the side COB lantern makes it the ideal flashlight for indoor and outdoor use.
Tag Along Super Bright Flashlight
This flashlight giveaway packs a lot of light in a little package. The Tag Along Super Bright Flashlight features a bright six-light COB strip and three small red LEDs on the end for an alternative lighting option.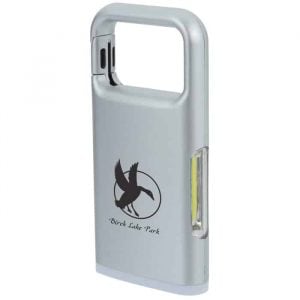 Easily attach to a purse or belt loop with the flashlight's built-in carabiner, or stick the magnet-lined bottom to a metal surface.
COB technology creates top-of-the-line flashlight giveaways
Give customers and prospects a promotional item that will catch their eye and illuminate your brand. Flashlight giveaways featuring COB technology are a long-lasting, useful tool for customers and an enduring marketing strategy for you.
–Suzanne