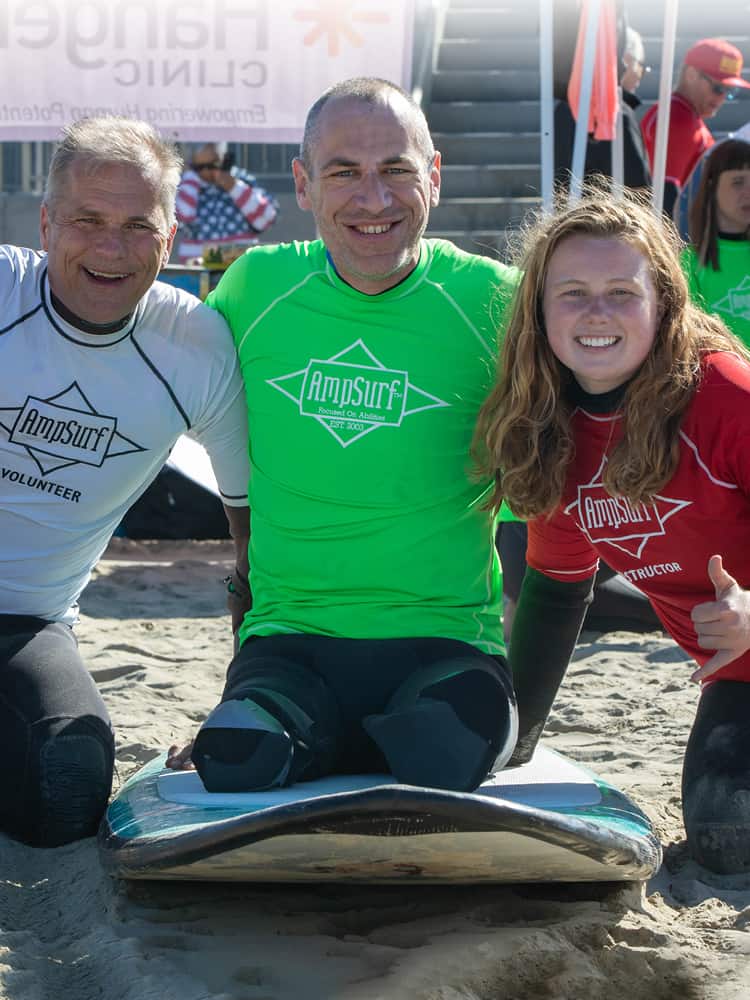 5 steps to help develop inspirational leaders
Cover Story
5 ways to develop inspiring leaders in your organization
Influence through clarity and by example
Empower decision-making and provide autonomy
Set the stage for success
Create long-term impact
Build sincere relationships

Dana Cummings, a software engineer, found himself lying in a hospital bed, grappling with the loss of his leg. As the doctors helped him adjust and prepare to go home, he was asked, "What would you like to do?" The first thing that came to Cummings' mind was surfing—the only activity he'd never been able to master. While the doctors doubted his ability to ride the waves, Cummings' resolve to surf with only one leg strengthened.
Not long after connecting with another person who surfed with one leg, Cummings mastered surfing. From there, he founded AmpSurf® to inspire others with disabilities to overcome adversity and achieve the seemingly impossible, which is something he and other AmpSurf leaders do every day.
"I get to do these amazing things and meet amazing people. Last year we taught almost 2,000 people with disabilities how to surf. We have been the title partner for the ISA World Para Surfing Championships for the last three years. This year, we're doing a worldwide tour with six stops. Losing my leg completely changed my life in the best way," Cummings said.
AmpSurf leaders share the organization's mission by giving away branded T-shirts and ball caps proudly sponsored by 4imprint. With a clearly visible logo on these promotional items, countless people are exposed to the AmpSurf brand, creating the opportunity for many to discover phenomenal possibilities.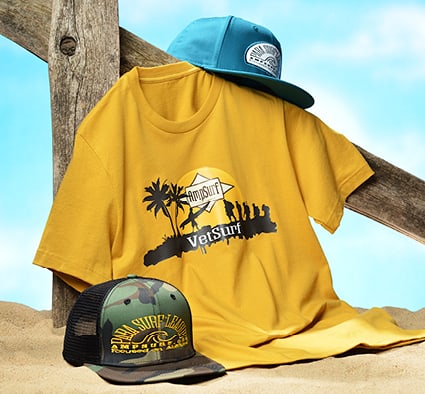 If you're a leader looking for ways to inspire others, give the following five steps for success a try.
1. Influence through clarity and by example
You don't have to be a natural-born leader to inspire. According to research, leadership comes naturally to only 10% of people. This means anyone else can learn and develop great leadership skills.
What's more, just 11% of organizations say their leadership teams are strong or very strong, creating substantial opportunities to develop inspirational leadership. A good leader can clearly communicate a vivid vision that captures their team's hearts and minds. They explain why their team's work matters and how it contributes to a larger purpose or goal.
In addition, good leaders set a solid example. Demonstrate the values, qualities and behaviors expected from your team, and watch them push past perceived limits.
"My buddy José lost three limbs in war. He thought his life was over," Cummings said. "Then he got introduced to surfing. Now he trains other people with amputations how to surf. He mentors them. He's always got the biggest smile on his face. Last year he won gold at the 2021 Pismo Beach ISA World Para Surfing Championships, which is hosted by AmpSurf. His positive attitude and the example he sets are super inspiring for other people with amputations."
2. Empower decision-making and provide autonomy
When employees are given the power to make decisions for themselves and their teams, their loyalty and appreciation are strengthened. To promote decision-making and autonomy:
Involve team members in the decision making process: Seek input and perspectives from employees when making choices that affect them. Foster healthy debates and diverse viewpoints to foster innovation and creativity.
Delegate authority and responsibility: Assign tasks and responsibilities that align with individuals' skills and interests. Provide clear expectations and guidelines while allowing autonomy and ownership of the process.
Provide support and resources: Equip team members with the necessary tools, resources and training to make informed decisions. Offer guidance and support while providing team members opportunities to learn from their own experiences.
3. Set the stage for success
Sunstates Security, a company that provides security personnel services, understands the importance of outfitting team members with the necessary supplies and support to help achieve their full potential.
The corporate office of Sunstates Security buzzed with anticipation as team members from across the country gathered for its annual leadership conference. Throughout the four-day event, managers, directors and other leaders participated in teambuilding activities; further developed communication skills; and discussed what's working well, where improvements could be made and more.
"We have dozens of leaders, and we want to make sure each voice is clearly heard and provide them with the tools and resources they need to continue succeeding," said Meredith Rutledge, marketing manager.
Use promotional products to improve employee communication.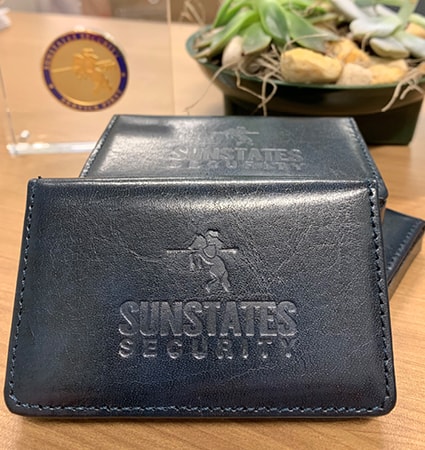 One of the small but effective tools, a magnetic business card case, was provided to conference attendees. "It's important for our team to always have their business cards on them to easily hand out. Instead of having their cards scattered in their bags or isolated at their desk, our leaders can now keep their cards looking crisp, organized and on them all the time," Rutledge continued.
"Everyone was very excited to get the card holders. This will also help them with internal communication, like if an employee needs to know how to contact a manager, they can just hand them their card."
4. Create long-term impact
Inspired team members continue to make a difference even after the original inspiring leader has moved on. According to research, 55% of people say learning and development programs increase morale and job satisfaction (PDF). Help your team invest in themselves through professional development. An inspiring leader provides opportunities (training programs, workshops, conferences, mentorship, etc.) for staff to pursue their goals, develop new abilities and strengthen their skills.
Talk about the greater goal to develop a shared sense of purpose. When team members understand the significance of their contributions and their impact, motivation to excel rises.
5. Build sincere relationships
An inspiring leader invests time and effort into building strong connections with team members. A few ways leaders can build relationships include:
Practicing active listening: Active listening increases emotional intelligence and creates a more empathetic leader. Take the time to truly hear employees' thoughts, concerns and ideas. Show interest and create a safe space for open discussion.
Providing support: Offer mentorship and guidance to help individuals overcome challenges and develop their skills. Show that you care for their wellbeing and personal growth.
Fostering trust and belonging: Consistently demonstrate trustworthiness, fairness and transparency. Create opportunities for team members to build stronger connections with each other.
For Sunstates Security team members, the most powerful parts of the annual leadership conference are the informal moments—the late-night conversations in hotel lobbies, the laughter shared during meals and the bonds formed during impromptu after-hours get-togethers. These connections transcend job titles and geographic distances, creating a network of support that extends long after the conference is over.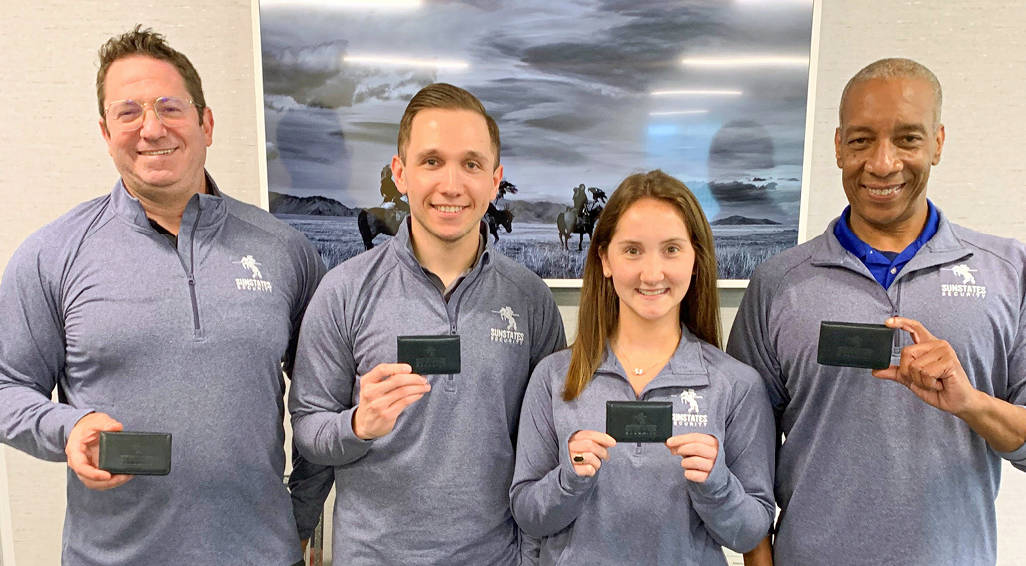 Inspiring outshines commanding
Developing inspirational leadership is a powerful approach that fosters growth, engagement and success. Just like AmpSurf and Sunstates Security team members know how to inspire others as leaders, we know inspiring leadership helps achieve remarkable results, unlock full potential and kindle greatness in all.
Giveaways that inspire team members
Use promotional products to help your teams set goals, plan and showcase their leadership skills.
Note: 4imprint is a sponsor of AmpSurf
Looking for more information about this topic? Email [email protected] with inquiries.
Trademarks:
AmpSurf is an Association of Amputee Surfers non-profit corporation CALIFORNIA P.O. Box 1034 Pismo Beach CALIFORNIA 93448