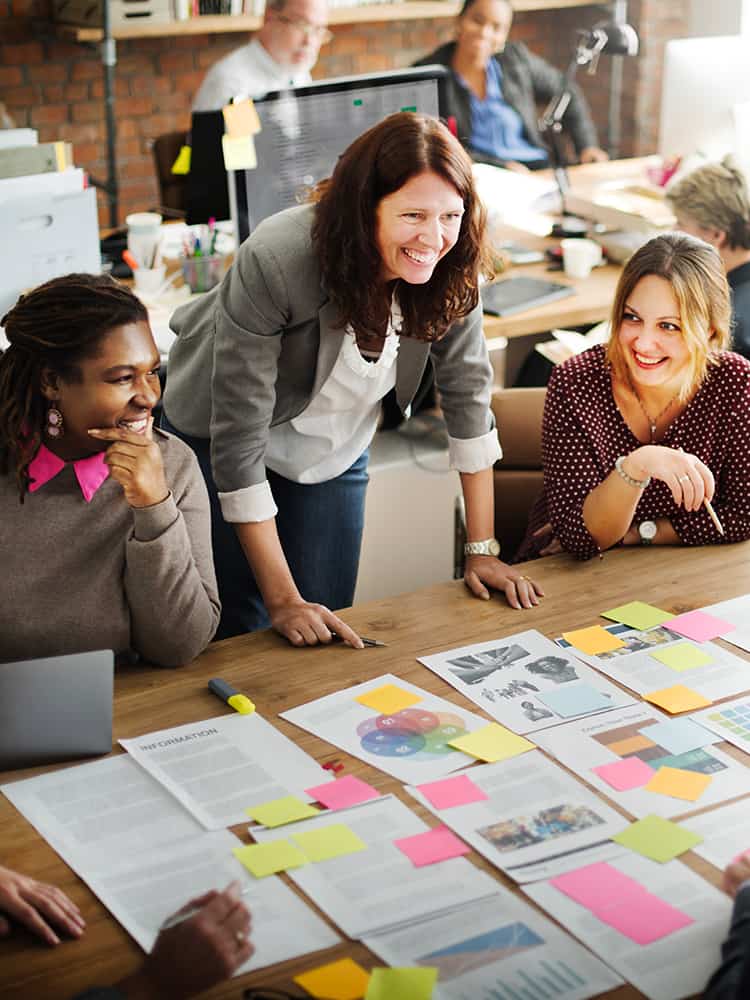 Build your team with training
Cover Story
It's almost impossible to think of a job that requires no collaboration. Even a so-called "solo" worker, like a novelist, will often spend their days conferring with their agent, talking to the person designing their book cover and going over their manuscript with an editor.
So it's probably safe to say that all jobs are team jobs.
Statistics bear this out. In a recent original 4imprint survey, 47.3 percent of respondents said their employees always work within teams, and another 47.8 percent stated their employees sometimes work in teams, regardless of their industry or company size.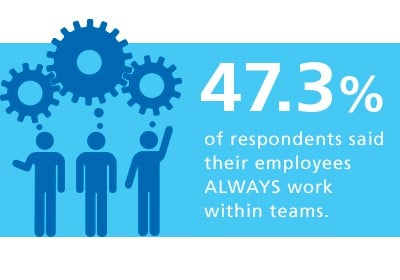 Because teamwork is such a huge part of our working lives, we often look for ways to make teams better—whether it's improving listening skills, giving people more feedback or offering training. Check out how others have found ways to improve their teams that included giving away fun team-building gifts.
The team that talks, succeeds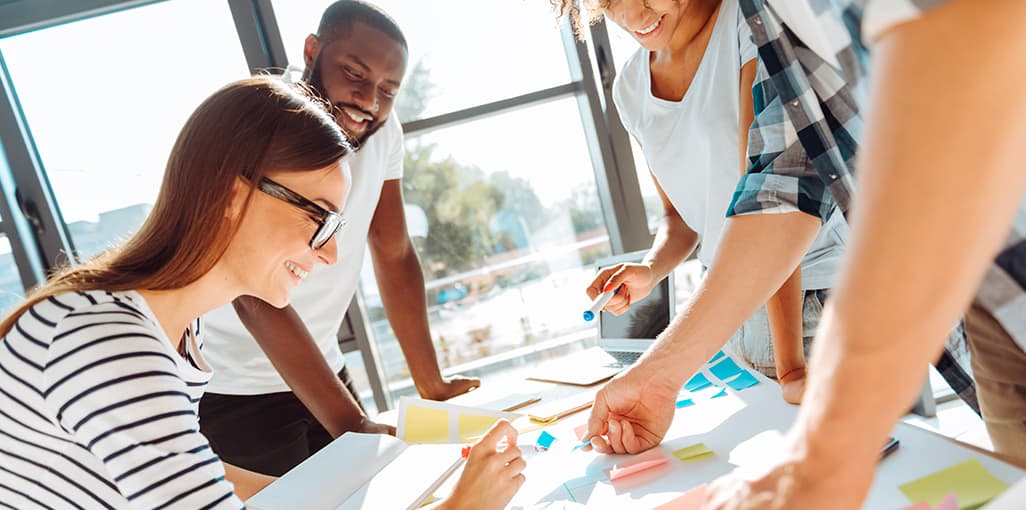 Like many skills, learning how to work well on a team is a skill that can be acquired and improved. 4imprint's survey showed that 50 percent of companies train staff on teamwork skills.
The survey also showed that 62.4 percent of respondents offer communication training, making it the most common type of teamwork training offered across all industries. Notably, effective listening and project management were among the least common offerings.
While more training can certainly help teams succeed, starting the process of improving communication can go a long way. The simple act of helping each team understand how their work helps the organization increases employee engagement.
Managers can take the lead to help improve communication by holding monthly one-on-one meetings, making sure their employees are keeping a good work/life balance and recognizing the hard work of their staff.
Studies show these tactics are a good investment. Companies with engaged employees see 2.5 times more revenue than companies with disengaged employees. So, whether you show appreciation with team-building gifts, or simply take the time to acknowledge a job well done, it's likely you're going to improve your bottom line.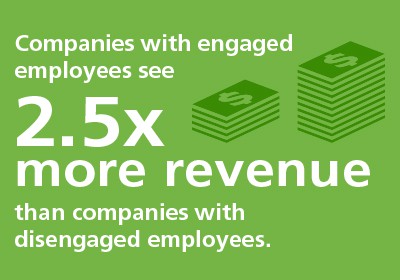 Improve your bottom line with employee engagement!
Common courtesy goes a long way
Employees spend roughly 2,000 hours per year in the workplace, which means they spend nearly as much time with their coworkers as they do with their families.
And much like a family unit, it's often simple compassion that helps the office be a place people look forward to every day.
And simple often means very simple:
Tell people thank you, and let them know you appreciate their help.
Refill the empty coffee pot, or put paper in the printer even if you're not using it.
Bring snacks to a long meeting.
Be a force for positivity—find ways to build people up.
Whether you're a manager or an employee, making your coworkers' work day just a little better will go a long way toward making everyone's work life a whole lot better.
Collaborate: Bring the team together, regardless of location
Shae Sandoval, business development coordinator for Taney Engineering in Las Vegas, Nev., says she found success with a party and a few T-shirts to bring the company together.
"Taney Engineering are huge fans of University of Nevada, Las Vegas Rebel Football," Sandoval said. "For team building and motivation every year we organize an amazing tailgate party for our employees, their family and friends, and every year it gets bigger and bigger. This past year we provided T-shirts for everyone to wear, which was a huge hit and made our party even more spectacular. We will definitely continue to order shirts every year from this point on."
While Sandoval found a way to bring her team closer together with team-building giveaways, for others with remote employees, building a cohesive team can be a bit more challenging. Global Workforce Analytics reports that 63 million Americans worked remotely at least part of the time in 2016. And while finding ways to make everyone both in and out of the office understand how valuable they are to the success of your business can certainly be a challenge, one way to do this is through thoughtful team-building gifts.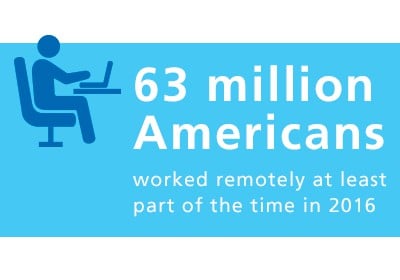 Bridget Kane, marketing coordinator for Fair-Rite Products Corp., knows the importance of building a sense of team with a remote workforce. Every three years, roughly 45 distributors and reps who sell Fair-Rite electromagnetic components come together from around the world for a sales conference at their factory in Wallkill, N.Y. At the conference, they learn about the company's emerging products. But that isn't all.
"We want to build team morale, because we don't see them on an everyday basis," Kane says.
"I think with outside sales reps and distributors, it's kind of important to bring them back in because they are a part of their own companies, but they are here to help our team in the end. Even though they may be affiliated with another company, they are also under our umbrella, and we appreciate them. They are a part of what makes Fair-Rite great."
So, to make everyone feel like part of the team, Kane ordered a wide variety of team building gifts for the sales conference, including the Big Lanyard, the Writers Ring Binder Portfolio and the Ruler Notebook with Flags and Pen.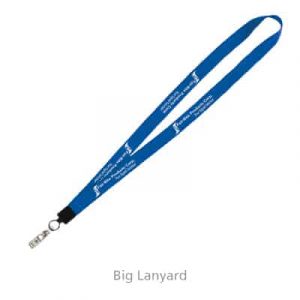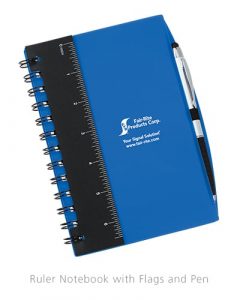 Women received the Devon & Jones Perfect Fit Ribbon Cardigan, while men received the Tipped Colorblock Wicking Polo.
"They left with a whole bunch of Fair-Rite gear, and they were happy about it. I was told by a majority of them that these were the best giveaways they ever received," Kane says.
"It's worth the investment of getting everybody together," she added. "In the end, they are motivated, and they feel appreciated, and it's for the benefit of everybody. Fair-Rite helps them personally, and that helps the business, so I think that's very important."
If you're looking for some teaming-building gift ideas, our survey showed the most popular gifts were: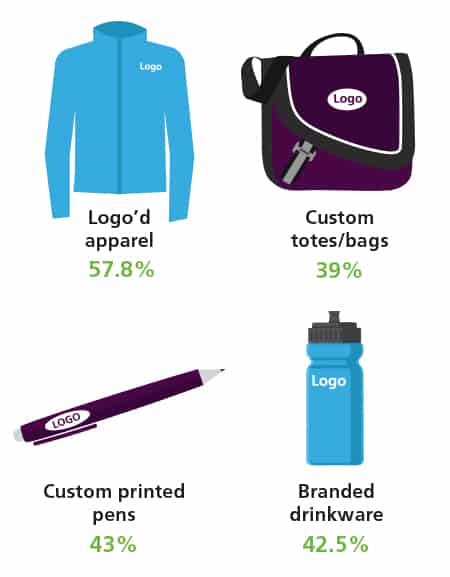 Choose something fun and creative that works for you and your team.
Conclusion – It's all about the team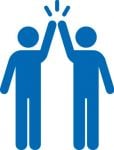 Whether you offer more training, talk things out more often, make sure the coffee pot stays full or use team-building gifts, the most important thing is to make sure your employees know they're appreciated. After all, the most important part of team building … is the team!