Check out the amplify® summer 2019 issue in your web browser!
Featured

articles
Cover Story: Powerful partnerships
Business and universities can build powerful partnerships that build big wins for companies, universities and students. Click here to read about the university promotional products and tips that help maximize business and university connections.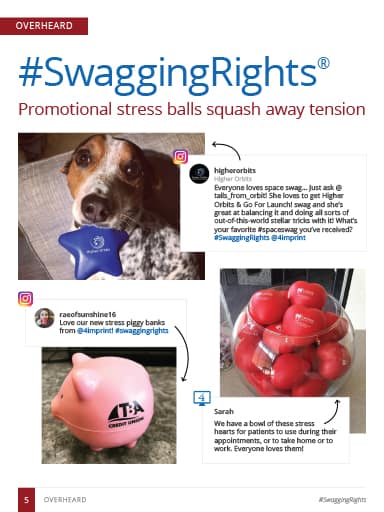 Overheard: Promotional stress balls squash away tension
Click here to find out how customers are using promotional stress balls to target tension, squash stress and earn #SwaggingRights®.
Product Highlight: Cool tech giveaways for the home
Smart tech is a smart gift choice. Click here to read about the smart bulbs, Bluetooth® trackers and other cool tech giveaways that will get eyes on your brand.
Lasting Impression: Supporting safety
Workplace safety is a continuous process. Click here to read how one company's workplace safety program is using training and encouragement to protect their team.
Swag Master: Coming together over a cup of coffee
Swag Masters know that branded giveaways can bring teams together. Click here to find out how a newly designed logo on a premium mug sparked unity.
Trend: Supporting our valued veterans
Searching for ways to connect with local veterans? Click here to discover military giveaways and tactics that will draw veteran attention to your company or nonprofit.
Remarkable Moments: A ringing endorsement
Click here to discover why the CORE Foundation offered supporters promotional cowbells to "make some noise" for important causes in their community.
Would you like to receive an email notification when the next issue of amplify is published? Here's how: Send your email address to 4ideas@4imprint.com – it's that simple!