one by one®: Rapahope Children's Retreat Foundation
A young boy flies down a zipline. A teen girl races a friend through a field. A high schooler rides a horse for the first time. Children are laughing and playing while enjoying everything summer camp has to offer. And they all have one thing in common: they're battling cancer. The Rapahope Children's Retreat Foundation summer camp is a special place where children diagnosed with cancer can experience the joys of summer camp (joys that are often off-limits to people undergoing treatment). This work wouldn't be possible without the help of volunteers and donors, and summer camp giveaways play a small part in thanking the camp's valued supporters.
Bringing smiles with fun camp activities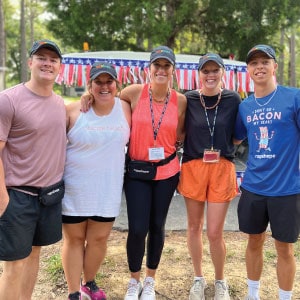 For most patients undergoing cancer treatment, it's too risky to attend a traditional summer camp. Rapahope changes that. There are two doctors and five oncology nurses on staff, all who volunteer to ensure the children's safety and well-being while at camp.
Modifications are available to make the experience more inclusive. Everyone, including children who have undergone amputations due to treatment, can ride horses, zipline and more. The children camp in cabins for seven days, enjoying activities like archery, fishing, arts and crafts, swimming, horseback riding and group activities.
The camp also hosts Dance Night. Businesses donate prom attire and a DJ plays music. Dance Night is a particularly special event for the older girls and boys who may have missed school dances due to treatment.
"My camp experience has been the best experience of my life. Why? It has been the best, because camp is filled with joy, peace, laughter, hope, fun and more," said a young camper. "Rapahope helped me to accept my injuries that I have received from cancer. Rapahope helped me to open my heart to another chapter that I wasn't mentally ready for. So, I thank you, Rapahope, for helping me accept my trials and obstacles. I will never forget this place."
Bringing home the bacon with help from summer camp giveaways
To fund the summer camp, Rapahope volunteers participate in a fundraiser called Bring Home the Bacon. Last year, volunteers raised $40,000. For every $50 donated, volunteers received a T-shirt. People who raised $350 received a special prize. Thanks to a 4imprint one by one grant, Rapahope staff ordered Nike® Performance Caps, a useful giveaway to shade volunteers from the bright summer sun.
A note from Cheryl
A wonderful opportunity for children battling cancer, Rapahope offers a week of fun, friendship and adventure. 4imprint is honored to play a small part in supporting this amazing camp by providing summer camp giveaways. To learn more about a 4imprint one by one grant, visit onebyone.4imprint.com.
Nike is a registered trademark of Nike, Inc. CORPORATION OREGON One Bowerman Drive Beaverton OREGON 970056453