Celebrating 50 years by making history with custom auction paddles
Since 1970, LUK, Inc., has helped change the lives of thousands of children, adults and families. The organization does this through mentoring programs, counseling services, trauma recovery, foster care, substance abuse recovery services and more. But when the central Massachusetts nonprofit set out to celebrate its 50th anniversary, it didn't know that the event would make history.
The agency helps more than 3,700 children, adults and families every year. Another 150,000 people benefit annually from community outreach and trainings. LUK holds fundraisers to sustain these valuable services. And for its 50th anniversary, the LUK team decided to make fundraising more fun. Using a 4imprint® one by one® grant, the team received custom auction paddles for its annual gala. The outcome was beyond exciting!
A small gift that encouraged generosity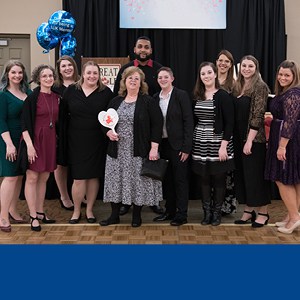 From its humble beginnings as a 24/7 crisis call line 50 years ago, LUK has grown to more than 300 staff members, five office locations across Central Massachusetts, and many volunteers whose mission is to "challenge and inspire youth, adults and families to realize their unique potential," Communication Specialist Shira Tall explained. "We are a multiservice nonprofit agency and we do a lot—from providing positive adult role models to our young participants, offering respite services for parents, supplying housing and case management for youth facing homelessness, and providing trauma services and other behavioral health treatment. We are committed to meeting our community members' needs wherever they are."
Each year, fundraising efforts include an annual event in February: the Kids at Heart mentoring gala. To commemorate its 50th anniversary in 2020, the organization gave attendees custom auction paddles to express their generosity during the gala.
The decision turned out to be historical—Tall and her team raised the largest donation amount ever. "Our guests really enjoyed using the auction hand paddles as it added an interactive piece to the event. It definitely got people excited to donate, and we were thrilled to see the final amount," Tall said. It was the first time LUK used custom auction paddles to create energy during their event, and it was a hit. "The paddles looked great," she said. "They had the shape of a heart with our logo on it. We were so glad to receive the grant as it enabled us to allocate resources to other items in our budget."
After this year's success, the team decided the custom auction paddles would become a must-have for their event from now on.
A note from Cheryl:
Happy 50th anniversary to LUK, Inc.! We love to hear stories about how our clients find creative ways to raise funds. We are happy to have given them the tools to do just that. For more information on our grant program, visit onebyone.4imprint.com.
For more information about LUK, Inc., please visit www.LUK.org or call (800) 579-0000.