one by one® story: The Family and Friends of Jamie Rose Martin
Sarah was tangled up in a domestic violence situation with an abusive boyfriend. After many years, she fled. She tried to get an apartment but didn't have the money required for a security deposit plus first and last month's rent. On top of that, because she left so quickly, her kids had nothing but the clothes on their backs. A friend of Sarah's knew about her situation and reached out to The Family and Friends of Jamie Rose Martin. By providing supplies and monetary support, often raised thanks in part to fundraiser giveaways, staff was able to help Sarah and her kids start their new lives.
The right help, at the right time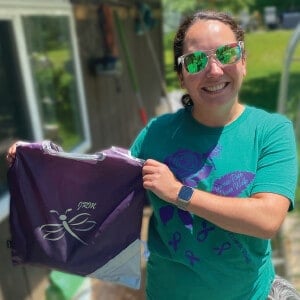 Located in a small community, founders of The Family and Friends of Jamie Rose Martin realized there were few nearby resources for domestic abuse victims. And many people don't know about the resources that are available, so founders and volunteers raise awareness, spread information and expand resources. Not only do they help domestic violence victims, but they also get more people talking about domestic violence.
The organization helps victims in countless ways, from assisting with rent and bills to connecting victims with long-term solutions. The Family and Friends of Jamie Rose Martin also award a scholarship every year to a local high school student in memory of Jamie, whose life was ended by an abusive boyfriend five years ago. They're also big supporters of STOP Domestic Violence, an organization that operates two safe houses, provides education in schools and more.
Spreading crucial awareness with fundraiser giveaways
Every year, The Family and Friends of Jamie Rose Martin hold two fundraisers. One is the Annual Jamie Rose Power Walk. The organization always wants to give participants something meaningful and useful. Thanks to a 4imprint one by one® grant, it was able to do just that.
"Registrants were able to receive bags with adhesive notes and pens with "Stop Violence" written across. Water bottles imprinted with dragonflies and Jamie's initials were also sold at the walk to help raise more money for victims. The giveaways help spread awareness for a long time afterwards," said Amanda Amell, staff member.
A note from Cheryl
Helping domestic violence victims is a much-needed cause. 4imprint is honored to provide fundraiser giveaways for The Family and Friends of Jamie Rose Martin. To find out more about a one by one® grant, visit onebyone.4imprint.com.