one by one®: Friends of Scotsdale Farm
Imagine exploring a sprawling, 531-acre heritage farm. Located on the Niagara Escarpment, which is a UNESCO World Biosphere Reserve located in Ontario, Canada, Scotsdale Farm consists of vast farm fields, mature forests, wetlands and creeks that are home to unique plant and animal species. Bequeathed to the province in 1982, the property includes heritage farm buildings and archeological indigenous settlement sites. This popular destination for photographers and weddings is open to the public for activities such as hiking, dog walking and even the occasional horseback riding or cross-country skiing. It has even become the backdrop for Hollywood films and TV shows.
"There are very few public spaces like this in North America," said Richard Chadwick, founder of Friends of Scotsdale Farm, a not-for-profit organization that helps steward the property. "It is specifically for public use. We're all very conscious of keeping it maintained and up-to-snuff."
How promotional baseball caps help raise funds and spread the word
Chadwick founded Friends of Scotsdale Farm in 2014 with the purpose of overseeing and helping maintain the property. His organization works with the Ontario Heritage Trust Fund and the Bruce Trail Conservancy to oversee the property and its 8 km of hiking trails, manage minor maintenance of the heritage buildings and help raise funds for major maintenance projects.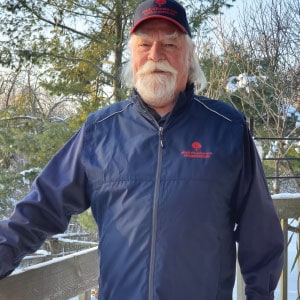 "When I got involved, it was to protect the farm from enterprises or possible things that shouldn't be going on," Chadwick said. "It's a symbiotic relationship between our organizations."
Today, the farm sees many visitors enjoying the hiking trails and natural views, as well as families and engaged couples using golden farm fields or rustic heritage barns as backdrops for photographs. There have also been a number of major films and TV shows, as well as small productions, filmed on-site.
To help keep the farm in tip-top shape for the public to enjoy for years to come, Chadwick and other members wear branded promotional baseball caps to spread the word about the farm and the organization's efforts to preserve it. When he wears his cap, Chadwick says people stop and speak to him.
"It's good word of mouth when people see it," Chadwick said. "People ask questions and we direct them to our website where they can submit a contact form."
Chadwick also offers customized gifts for financial donors on the organization's website, including the caps, windbreakers and toques.
"I like to keep our logo items simple, but good-looking," he said. "We have lots of products, but the baseball caps are probably the most popular."
Chadwick hopes the farm will continue to be a resource to the general public as a breathtaking, relaxing place to visit and de-stress from hectic daily life.
"We try not to close. We had to close two years ago for COVID, but we know that spending time in open spaces is important, especially with kids. The farm, with its size, can accommodate a lot of people," Chadwick said. "It's really a beautiful piece of property."
A note from Cheryl
It is wonderful to see Friends of Scotsdale Farm using promotional baseball caps to help spread the word about a well-loved heritage site. 4imprint is pleased to play a small role in Friends of Scotsdale Farm's mission to steward and maintain this important historic, ecological space. To learn more about a 4imprint one by one ® grant, visit onebyone.4imprint.ca.