one by one®: Envision Wellness WNY
Envision Wellness WNY began serving children, adolescents and their families in the past year. To help get the word out about the new program, it used a one by one grant for promotional stress relievers and fidget spinners that would appeal to children and teens.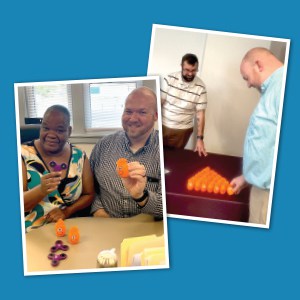 "We wanted to get items that we could also use during therapy sessions and treatment," said Tara Pace, MS, LMHC, chief executive officer. "The fidget spinners and stress balls with the fuzzy head that also cleans electronic devices have been really popular with our young patients."
Envision Wellness WNY fills a niche
While the children's program is new to Envision Wellness WNY, it's been serving Erie County for more than four decades. It also provides a mental health clinic for adults, Personalized Recovery Orientation Services (PROS) and the only continuing day treatment program in the area for people with severe mental health diagnoses. It's the smallest behavioral health agency in western New York, which fills a niche.
"We're able to reach this community in ways others can't through relationship building," Pace said. "We often start with one child from a family, and then other siblings or a parent join and pretty soon, the whole family shows up and works together."
Promotional stress relievers prove to be popular
While relationships are important, Pace says the promotional stress relievers are also helping spread the word about the new program. They've been popular at community events, with people often stopping back to the Envision Wellness WNY table to take one home. The word is spreading—a local high school recently sent supplies for children to use while they're receiving treatment at the agency.
A note from Cheryl
We're glad to know that promotional stress relievers are increasing awareness of the new children's services at Envision Wellness WNY while also helping to improve the mental health of their patients. To learn more about a one by one grant, visit onebyone.4imprint.com.