one by one®: Children First: CEO Kansas Inc.
What started as an idea to include freshly baked bread in an emergency food box for families in need has evolved into a new program called Bread Club for Children First: CEO Kansas Inc. The group used a one by one® grant to purchase promotional cooking items to help volunteers make bread on a monthly basis. The volunteers can take a loaf home, and they also donate a loaf to the emergency food boxes. Bread Club is doing more than teaching children how to bake bread and help others.
"Grandmas are inviting grandchildren to bake with them, and people are sharing family recipes," said Michael Webb, a consultant for Children First. "We're also tapping into local chefs from ethnic minority groups. We've made bread on a griddle like they do in South America, as just one example."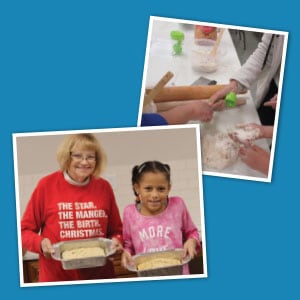 Promotional cooking items encourage healthy eating
Children First provides social workers and other resources for eight K-8 schools in low-income, Wichita, Kansas, neighborhoods. The social workers collaborate with teachers and students to determine what might be impacting a student's performance. It's often because the family can't afford necessities like eyeglasses, clothes, shoes or even healthy groceries. In addition to the emergency food boxes and Bread Club, Children First also offers programs to teach growing, harvesting, eating and preserving fresh food.
"Because of the one by one grant, we purchased spatulas and measuring sets that are needed for Bread Club," said Executive Director Kathleen Webb. "The bonus is that anyone who attends can take the items home with them. We hope it encourages families to cook more healthy food."
Class H2: Inspiring young chefs
Bread Club is inspiring some young chefs, like 8-year-old Mari, who came with her great-grandma Nan and left with a goal. "I wanted to invent a cookie that's made of healthy ingredients," Mari said, "so when people want a snack, they can eat something healthy."
Mari perfected the recipe over months, and she recently taught Bread Club volunteers how to bake her healthy cookies! She was even featured in this local TV news story.
A note from Cheryl
4imprint is excited to hear that our donation of promotional cooking items is not only helping with food insecurity, but also inspiring volunteers and those in need to cook and eat more healthy foods. To learn more about a one by one grant, visit onebyone.4imprint.com.