When you've got important news to share, email can be a great tool for the job. Seventy-eight of marketers feel email is a critical part of their success.

And when your audience not only subscribes to your emails, but engages with them, too, email can be an effective way to keep your business fresh in their minds. And an email re-engagement strategy is the perfect way to make sure your subscribers look forward to each and every message you send.
With a few simple steps (and some email list giveaways), you can capture the attention of your customers, clean up your client list and boost engagement.
5 email re-engagement steps:
Find out who isn't engaged.
Send a check-in message.
Build (or rebuild) your segments.
Fulfill your promises.
Keep your list up to date.
Step #1: Find out who isn't engaged
To discover who isn't engaged, you first have to define what "unengaged" means to you. Is it someone who hasn't:
Signed up for an event in three years? Two years? Or one?
Opened an email in three, six or 12 months?
Purchased a product or service in one, two or three years?
Once you have your list of customers who aren't engaging with your content, it's time to rekindle that connection—or let it come to an end.
Step #2: Send a check-in message
What's better than a 10,000-subscriber email list? A 5,000-subscriber email list where every member is excited to hear from you. Knowing that your email list is full of all-in subscribers allows you to better track what offers, information or other content is motivating your customer to click.
Re-engage inactive subscribers with an email that:
Asks customers to opt in again.
Reminds them of useful information you've shared in the past, from email-only deals to early event access.
Shares a one-time, high-value promotion, whether it's a major discount or an offer to receive an email list giveaway, like a phone holder, pedometer or hat.
Requests feedback about what kind of content subscribers want in the future.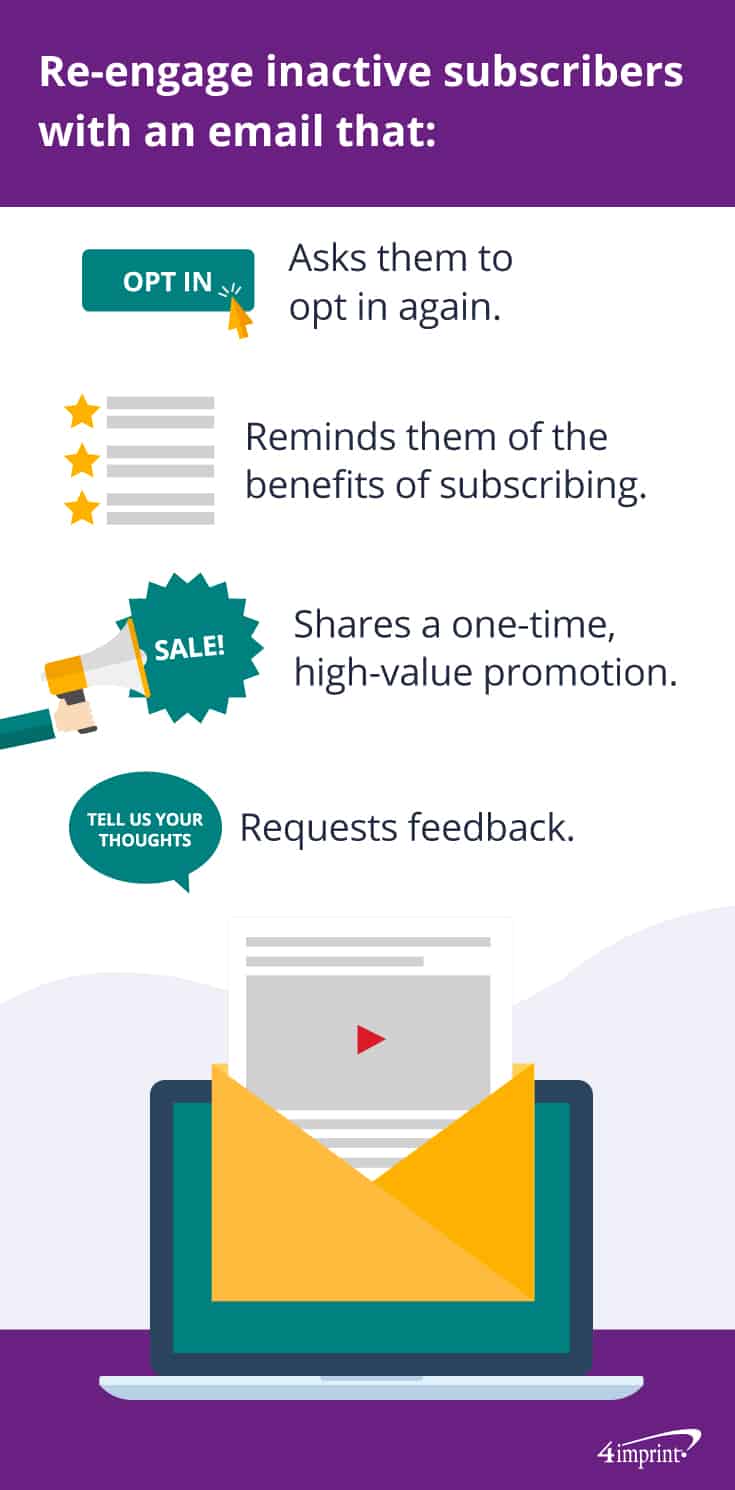 Step #3: Build (or rebuild) your segments
As your "yeas" and "nays" come in, it's the perfect time to sort out your email lists for future use.
Put all your opt-outs into a list and send them a final thank-you message so they know their selection has been accepted.
Then sort the remainder into the segments that your opt-ins requested, including:
Deals
Webinars
New products
Annual check-ins
Specialty topics
Trade show appearances
Building email segments has been shown to boost email revenue by 760%. 
What's more, giving your audience what they want will help prevent them from opting out in the future.
Step #4: Fulfill your promises
Now that you've created your segments, make sure you're making use of them. Instead of creating one or two mass emails or e-newsletters, make sure that every segment is getting the exact content they're looking for, whether it's an annual reminder of your trade show appearances or educational videos about your products.
Step #5: Keep your list up-to-date
Much like the way a car runs better when it has regular tune-ups, staying on top of your email list will help ensure you're making powerful connections every time you press send.
Send out a periodic re-engagement email to all your subscribers every six months or annually and ask them:
To opt in or opt out.
To answer a quick poll on what kinds of information they want to receive from you.
Thank everyone who helps you perform your periodic re-segmentation with an email list giveaway, like a pot holder or seed packet.
Engage
The biggest secret of re-engagement emails is simple: Be engaging. By giving your customers what they want, when they want it, they'll want to be a part of your mailing list for a long time to come.
Key Takeaways
Decide when a customer is considered unengaged.
Give customers an option to opt out.
Provide segmented content.
Perform regular email list maintenance.