Doing something unexpected for a customer can work wonders to raise brand awareness, make a memorable impression and build a good name. In fact, 58% of people will share positive brand experiences on social media.
What's more, using humour to surprise and delight customers can create a more meaningful relationship between a brand and its target audience. If you're trying to find ways to pleasantly surprise your customers, here are some ideas.
 1. Host a cheeky challenge
Challenges are a fun way to get customers involved with your brand.
Take a memorable approach by getting a little cheeky with your challenges. For instance, apparel company Betabrand® took its "dress pant yoga pant" product and hosted an at-home fashion show and contest. Customers competed in different categories by filming themselves walking the catwalk in their own living rooms. Other silly challenge ideas include drawing a picture blindfolded, letting kids do their parents' makeup, building a house out of crackers, or keeping a straight face while eating a lemon.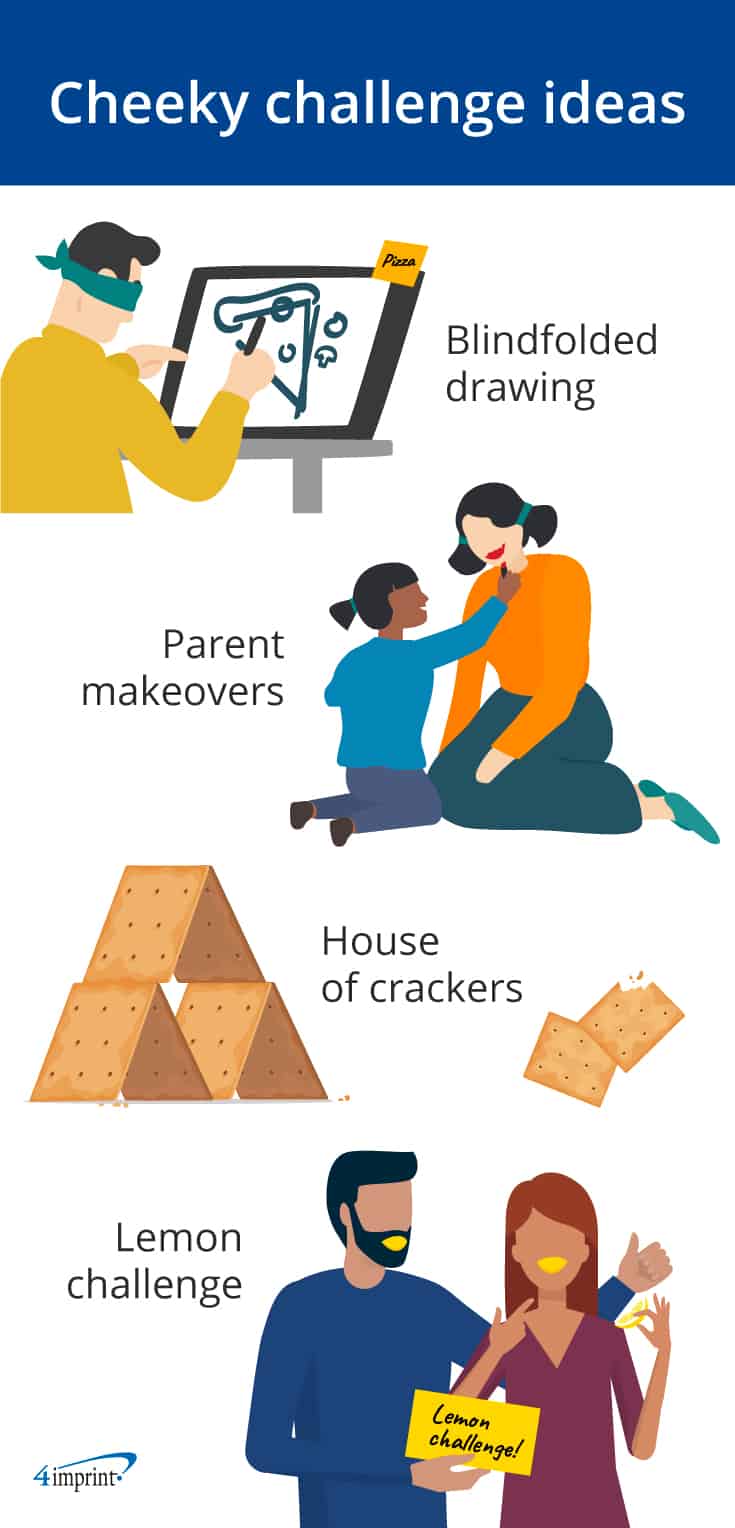 Don't forget to reward participants with funny giveaways as prizes. A goofy-looking plush toy or a cool sun stress wobbler is sure to put a smile on their faces.
2. Recognize funny holidays
Every day is a reason to celebrate!
No matter what industry you're in, there's likely a "national holiday" out there that correlates well with your brand.
Celebrate that holiday by surprising customers with funny giveaways. Does your company sell chocolates or desserts? Send customers an emoji chocolate button case for National Chocolate Day. Are you in the tech industry? A squishy, goofy phone stand is a great item to share on National Smartphone Day. Unexpected and light-hearted gifts like these can make your customers' day—and help your brand be the first they think of when they need something.
3. Hold a "best fail" contest
From beautiful crafts to homemade baked goods, there's no shortage of DIY success stories on the internet. On the flip side, there are just as many DIY fails that have earned funny followings of their own. Turn these unsuccessful attempts into a funny marketing opportunity by announcing a 'best fail" contest: Customers compete by sharing their best DIY fail pictures. People get to show off their not-so-perfect crafts and recipes and have a chuckle at other people's attempts as well. The best part? You get to surprise and delight customers with an unexpected prize for each entry. After all, in a "best fail" contest, everyone's a winner.
4. Send random gifts
Some customers anticipate birthday and holiday gifts from companies. To help make sure your brand is still able to pleasantly surprise your audience, send out giveaways throughout the whole year. Simple gifts, like a BlenderBottle® or a cotton tote, will not only make your customers smile in delight, they'll also help keep you top of mind.
Make customers happy with unexpected gifts
Whether you send them a gift they don't expect or host fun and interesting challenges and contests, you're sure to surprise and delight customers while leaving a lasting impression of your brand.
Top Takeaways:
58% of people will share positive brand experiences on social media
Get customers to engage with your brand by hosting a cheeky challenge
Delight customers by celebrating funny holidays with silly giveaways
Share a chuckle when you let customers show off their "best fail" pictures in a not-so-picture-perfect contest
Spontaneously send gifts throughout the year to surprise and delight customers