Giving is better than receiving, especially for businesses looking to build, maintain or strengthen relationships. Despite the cost, the benefits of a party and business holiday gifts far outweigh the expense.
Even for small businesses, having gifts at your holiday party is a great way to thank customers for their business and show employees you appreciate their hard work. Hosting a holiday party for employees and clients offers more than a cheerful way to celebrate a successful year.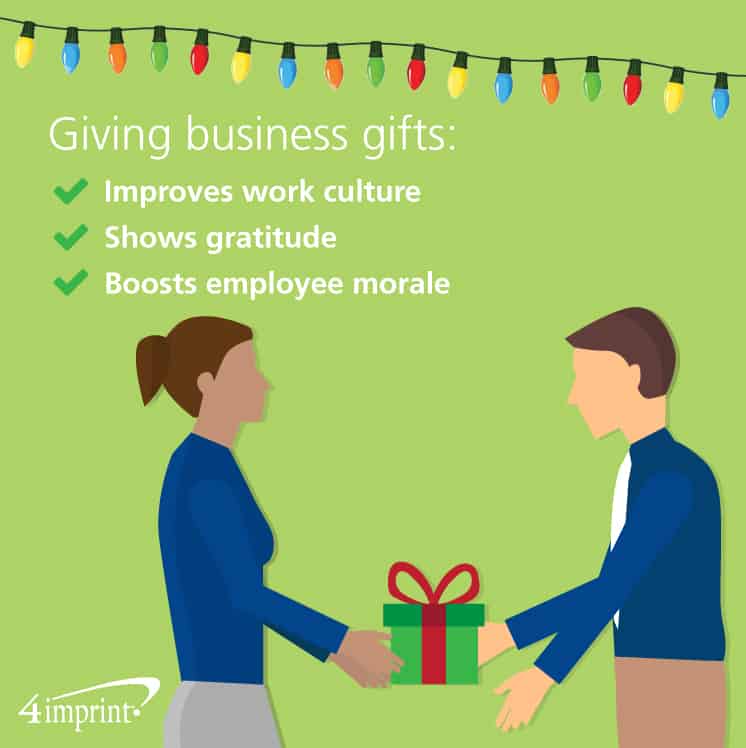 Holiday parties help create a positive work culture within your organization and provide an opportunity to get to know your employees and customers better. A party is also a way to show gratitude to staff and clients and boost employee morale.
Holiday gift ideas for clients
If you're throwing a holiday party for your clients, wrap up some gifts that will create a memorable party experience and a lasting brand impression. The perfect business holiday gifts not only reinforce your brand, but also set you apart from the competition. In addition, the best gifts are useful and personalized, highlighting the importance of knowing and understanding the recipient.
A gift basket with a hand-written card makes a thoughtful corporate holiday gift idea that can be given at a party or delivered in person. The Prestige Collection Treat Tower includes an irresistible mix of cookies, chocolate almonds, truffles and other sweets boxed and tied with a customizable ribbon. The Fromagio Bamboo and Slate Cheese Set, with its removable slate cutting board and bamboo tray, is a functional and elegant kitchen accessory that's sure to be used at every party.
Writing instruments and USB drives (PDF) are among the most useful promotional products to consumers.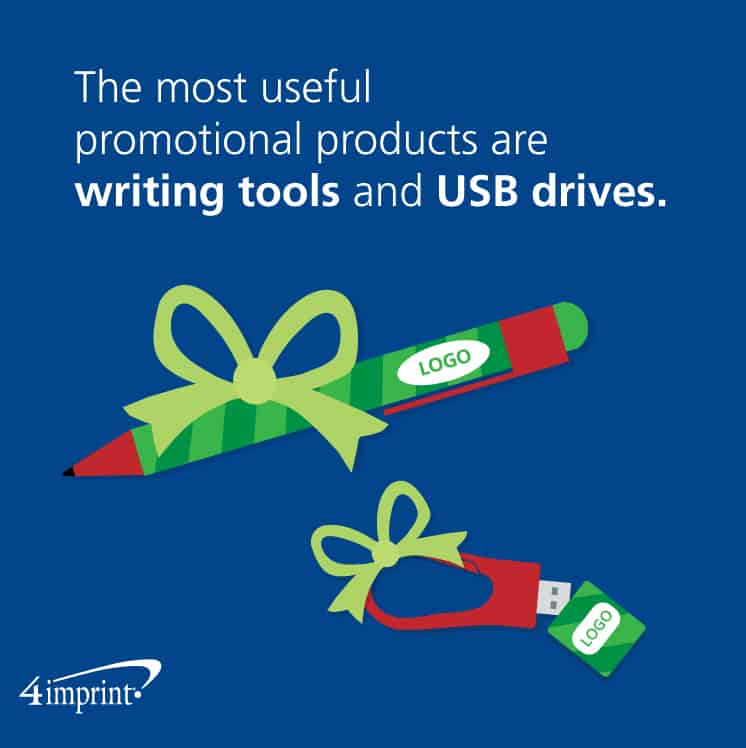 Include the Slide Card Micro USB Drive in holiday cards. The tiny case of this USB is about as big as a business card, so it's easy to keep important files on hand. If your customers would enjoy a writing instrument for a holiday gift, try the Panorama Twist Metal Pen and Rollerball Set. It's made of rosewood and brass and is an elegant choice.
Holiday gift ideas for employees
Nearly 70 percent of people say they work harder when their employer shows appreciation.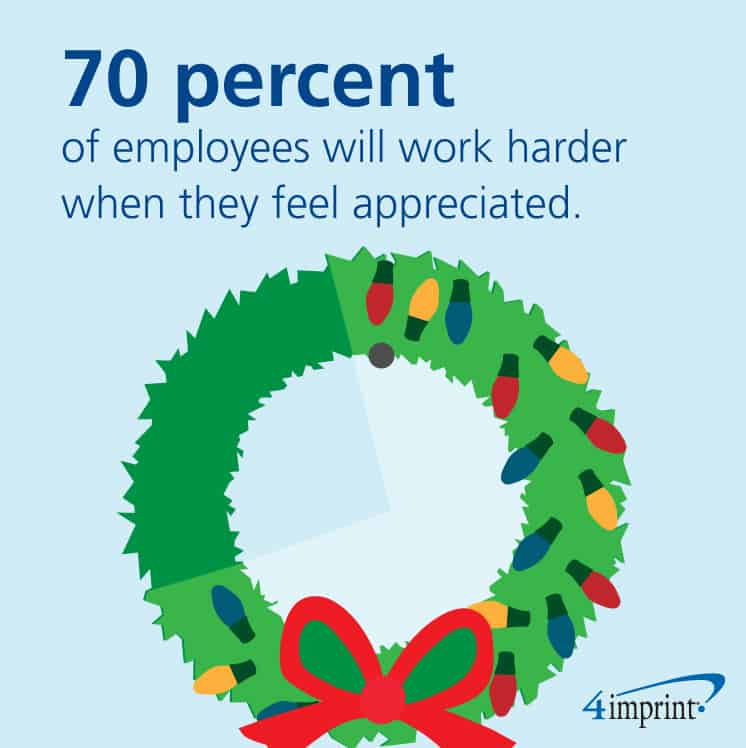 Take the time to show gratitude to your team this holiday season with thoughtful gifts at your company holiday party.
Whether it's for work or pleasure, just about everyone uses a smartphone. Consider one of these phone accessories for your corporate holiday gift. Perfect for a desk or bedside table, the Swivel Gadget Stand with Cleaning Cloth holds and rotates a phone for hands-free viewing. Choose a festive red or green option for the holiday season. The Spectra Ear Buds and Phone Stand come on a keychain, making it easy to take ear buds and a phone stand anywhere.
If you're looking for a more seasonal way to thank employees, try a corporate gift the whole team is sure to love. Tuck an app store gift card in a Santa Tablet Sleeve for an adorable gift that keeps on giving. Set the Holiday Collage Ball Ornament at your holiday party tables for a festive look that doubles as a gift. Employees will spread the holiday cheer, along with your logo, when they hang these ornaments on their tree.
Get in the holiday spirit with business holiday gifts
From small tokens of appreciation to large baskets, business holiday gifts are the perfect way to commemorate the holiday season. Pair a fun gift with your holiday party for an investment that is sure to pay off.