Going green can help you make green. And using eco-friendly promotional products can have a positive impact on your organization's reputation. In fact, 46% of people have a favorable impression of a brand (PDF) that gives them a promo product if that item is environmentally friendly. And more than 80% of people in one survey believe it's "important or extremely important" for businesses to provide environmentally conscious products. If you're ready to highlight the green in your brand, use (and reuse) these ideas.
Recycled promotional items: The "write" kind of gift
Paper is the most commonly recycled product, with around 46 million tons of paper and paperboard being recycled in a year. Notebooks and journals are good places to find recycled materials in use.
The Recycled Paper Cover Notebook with Pen is an easy way to highlight your commitment to the environment. Its hard cover is crafted from 30% pre-consumer recycled paper.
Or, take your brand's sustainability pledge a bit further with the Dew Drops Recycled Jr. Notebook & Pen. The covers and pages contain recycled material, and so does the matching pen!
This sleek cover of the Reclaim Refillable Journal Book is made from recycled leather. And it's reusable too. When you run out of paper, simply add more.
Reusable drinkware: A refreshing eco-friendly promotional product
Reusable plastic drinkware is a very popular alternative to single-use plastic water bottles. Eco-friendly promotional bottles and tumblers are among the growing number of recycled plastic products and reusable giveaways that are fast gaining popularity.
For example, the 20 oz. Safety Helmet Water Bottle is the perfect reusable giveaway to keep your brand top of mind while also helping reduce waste. The bottle and lid can be easily recycled in most areas too.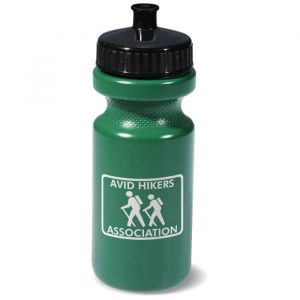 The Bike Bottle helps customers stay hydrated, and it is environmentally friendly. The BPA-free bottle is made with 100% post-consumer recycled content, plus it's recyclable—making it an all-around great eco-friendly promotional product.
Recycled bags: The recycled promotional item that's green to go
Eco-friendly promotional products are getting creative, thanks to innovative designs and technology.
The always useful Jumbo Grocery Tote is not only roomy, it is made from recycled polyester and comes pre-printed with inspiring messages about protecting the environment.
The Tempo Sling Bag is another example of creative innovation. This high-style giveaway is made from 100% post-consumer recycled PET plastic.
The Recycled Cotton Messenger bag gives a new look to the traditional cotton tote and is made from 85% recycled cotton.
Promotional apparel can be sustainable too
Because customers view eco-friendly promotional products so favorably, the range of products available is expanding. In addition to notebooks, water bottles and reusable totes, eco-friendly promotional clothing is becoming more common.
Outfit your team in the Adidas Melange Polo Shirt. This comfortable, business-appropriate shirt has moisture-wicking properties and is made from 100% recycled polyester. It's available in both men's and ladies' styles.
Or, give clients an eco-friendly shirt like the Recycled Polyester Performance Pique Polo. Available in a variety of colors, this polo features UV-protection and moisture-wicking comfort. Best of all, it's made from recycled polyester and polyester pique.
Get a sustainable advantage with eco-friendly promotional products
No matter which eco-friendly promotional products you choose, your customers will appreciate your thoughtfulness and know you're doing your best to help the environment. Hosting an event or participating in a trade show? Go eco-friendly with green giveaways at your next event.