Editor's Note: This blog post was originally published in October 2018 and has since been updated to incorporate the latest data on calendar giveaways.
While it seems like the world is becoming more digital, many people still prefer living in an analogue world. And while some may like to have their calendar or planner live on their device, people still love paper calendars. In fact, paper planners and calendars can help people clear their thoughts, clarify priorities and reframe goals in a way digital planners can't. Many people also prefer paper to help reduce digital overload. This makes promotional calendar giveaways great corporate gifts for clients or anyone else on your list.
The upcoming new year marks a timely occasion to send an updated promotional calendar or planner featuring your brand. According to the Advertising Specialty Institute®, 52% of promotional calendar giveaways are kept for one year or longer (PDF), which helps keep your brand front and centre every day of the year.
Planner giveaways for scheduling on the go
Paper planners are well-liked because they provide a schedule at a glance, plus room for notes. The Budget Pocket Planner — which features writing in French and English —spreads each week over two pages and lets users schedule the details of their day with a line for each hour.
The Academic Monthly Planner is great for students. It displays each month over a two-page spread, making it easy for them to keep their busy schedules organized.
Promo calendars for easy planning
For customers with many important dates and times to remember, calendar space is always at a premium. These promotional calendar giveaways offer plenty of writing room.
The Canada Scenic Vistas Calendar and The Saturday Evening Post Big Block Memo Calendar include plenty of room to write. And the Contractor Memo Calendar offers a month-at-a-glance view plus planning space, making it a perfect planner giveaway.
The Time Management Span-A-Year Laminated Calendar is helpful for determining lead times, tracking jobsite working days and vacation days, recording shipments and more.
Colorful calendars with eye-catching imagery
Everyone knows that a picture is worth 1,000 words. But science tells us that pictures also have mental and physical health benefits.
Some studies show looking at pleasant pictures can be helpful for people dealing with stress.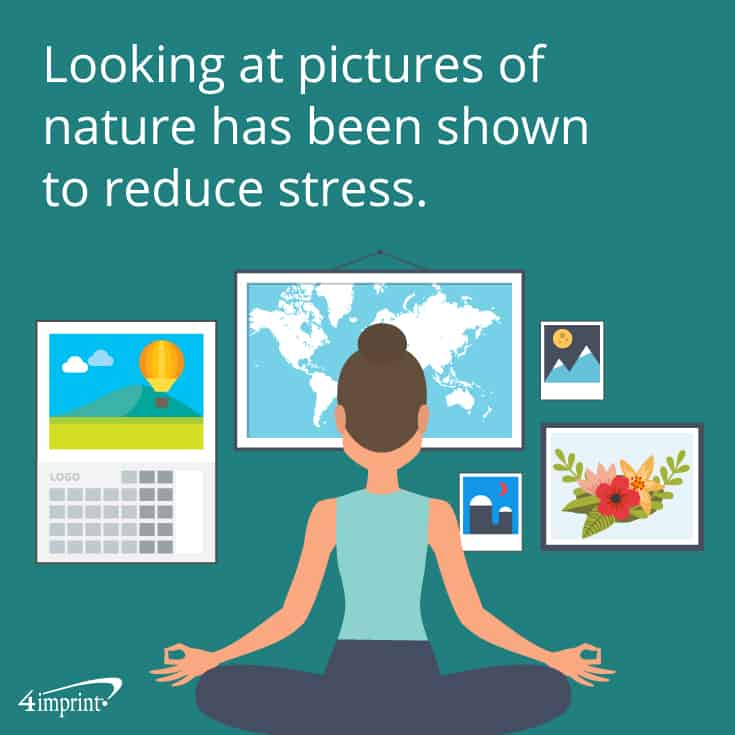 Viewing pictures of furry friends is bound to make someone happy, which is why this Puppies & Kittens Appointment Calendar is the perfect choice to warm associates' hearts. It'll also help them focus on their work (and your brand!).
The breathtaking scenes in the Mother Nature Deluxe Calendar will melt their stress away in no time.
Calendar giveaways with useful features
The Deluxe 15-Month Desk Calendar is a memorable giveaway calendar that goes from December to February. With a full at-a-glance calendar, a telephone index and each page listing the previous and next month for scheduling convenience, recipients will appreciate the convenience of this giveaway. And for the person who just wants to stick a calendar on their fridge, the Medium White Calendar Magnet is perfect.
Just-for-fun hobby calendars
Besides offering a way to plan, calendar giveaways can also help them play—or at least think about doing so.
Antique and tractor enthusiasts will love the Classic Tractors Appointment Calendar, which is packed with images of classic tractors from decades past. World travel enthusiasts will enjoy the World Scenic Desk Calendar – French/English, with photos of beautiful sites from all over the globe.
For those who love to reminisce, the Saturday Evening Post Executive Calendar includes nostalgic artwork from the past.
Promo calendar giveaways make great gifts
Promotional calendar giveaways remind customers that your brand is there to help 365 days a year. And they come in many shapes, sizes and themes, making them the perfect gift for just about anyone.